Cover Stories
Playwright opens eyes, not ears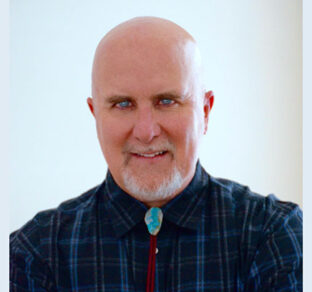 Willy Conley's play Goya: en la Quinta del Sordo will be performed at the Community College of Baltimore County Performing Arts from April 27 to May 1. Conley, a retiree in Hanover, Maryland, has written 45 plays and published his eighth book this month.
Photo courtesy of Willy Conley
If you like Charlie Chaplin films, you'll enjoy an upcoming production from The Performing Arts at Community College of Baltimore County in Catonsville.
Although Goya: en la Quinta del Sordo (Spanish for "in the house of the deaf man") doesn't have any words, it has a little bit of comedy, music and food for thought. It's a play about the works of Francisco de Goya (1746-1828) — a Spanish painter who produced his best works after he went deaf at age 46.
The nonverbal play was written and directed by Willy Conley, a Deaf photographer, painter, educator and theater artist who lives in Hanover, Maryland.
Conley, who has written dozens of plays, hopes this performance will help audiences realize "that there are other avenues of communication to explore and use when faced with a language barrier," he said in an email to the Beacon.
"I think this is a dream that most Deaf people have — that those who do not know sign language become flexible and creative enough to find alternative ways to communicate and work together."
Baltimore County roots
Conley was born and raised in Lutherville by hearing parents who "are amazing people — well-educated, worldly, gregarious and incredibly resilient," he said. Both educators, they encouraged Conley and his sister, who is also deaf, to get a good education and pursue their talents.
Conley's father, who was an elementary school principal, helped him build a darkroom where Conley could develop his photographs. His mother, a special education teacher, "turned me on to literature and often proofread my writings while offering encouragement along the way."
Conley earned a Bachelor of Science degree in biomedical photographic communications at Rochester Institute of Technology (RIT) and initially worked as a pathology photographer.
During his college years, he attended high-quality stage plays at RIT's National Technical Institute for the Deaf. "It was the first time theater became accessible to me," he said, and he was inspired to take some theater classes and perform in some plays. "I fell in love with the theater arts."
After a few years in the biomedical photography field, Conley decided it was time for a change. "I made the jump because I was hitting the glass ceiling at my medical photography jobs due to my deafness," he said.
He auditioned for the National Theatre of the Deaf and won a spot in the world-renowned theater company that performs internationally and has appeared on Broadway, the Disney Channel and Sesame Street.
After a few years touring with the company, Conley decided to study playwriting in graduate school at Boston University. With that degree, he got a job teaching theater arts at Gallaudet University in Washington, D.C.
Conley retired in December after 30 years at Gallaudet, where he was a professor and chair of the theater department. During his career, Conley has published eight books and amassed at least eight awards for his 45 plays.
His eighth book, which will be published this month, is Photographic Memories: Selected Essays, Playlets, and Stories. He's currently working on two more screenplays and a coffee-table book of his photographs.
Product of two creative minds
Conley co-wrote Goya in 2001 with an admired colleague, Russian-born actor Iosif Schneiderman, with whom he wanted to collaborate on a play.
Schneiderman suggested a work about Goya's life. At Conley's suggestion, the play became a "visual, nonverbal movement piece," as he put it.
Conley created a sequence of scenarios based on Goya's paintings and drawings. Schneiderman crafted the actors' masks and taught them creative movement and pantomime.
The play has evolved a bit since it was first performed in 2002. "The newest version delves deeper into my imaginings of the psycho-social impact that Goya's deafness had on his life, art and interactions with people," Conley said.
"Also, when I learned that CCBC's theater program offered projection technology, I decided to add this design element into the play, where we fuse some of Goya's art with the set."
Hearing members of the audience might need a few minutes to adjust to a non-speaking play, Conley said. "But as things progress, and with the help of music, they become used to it and get caught up in the story," he said.
Deaf audiences have enjoyed earlier versions of the play, praising it as a "total theater experience," he said, where they "don't have to strain to understand whatever language is being expressed."
Roots of universal language
The turning point of the play is the moment when Goya, afflicted with a sudden illness that may have been an autoimmune disease, loses his hearing.
For this scene, Conley highlights one of Goya's etchings titled "Dream of Universal Language." Intrigued by the work's title, Conley wondered what Goya meant: gestures, paintings, body language? All of the above?
A shared language may be easier to develop in the absence of sound or sight, Conley suggested.
"When one loses the sense of hearing or sight, does humanity's truth become clearer and more honest? And what happens when an artist strives to reveal the truth?
"Any or all of these thoughts are what I hope may pop up in the audience's mind when they leave the theater."
The Community College of Baltimore County Performing Arts presents Goya: en la Quinta del Sordo from April 27 to May 1 in the theater at the Center for the Arts, CCBC Catonsville, 800 South Rolling Rd. Showtimes will be Thursday, April 27 at 11 a.m., Friday and Saturday, April 28 and 29, at 7 p.m., Sunday, Apr. 30 at 3 p.m., and Monday, May 1 at 10 a.m.
Tickets are $10, $5 for students, seniors, CCBC faculty and staff, and free for CCBC students with ID. Tickets can be purchased at the CCBC Box Office one hour before performances or by calling (443) 840-ARTS (2787), or visiting ccbctickets.com.