Travel
Powwows sustain indigenous cultures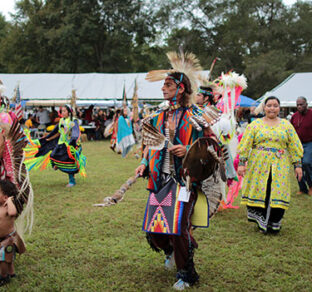 Native American dancers performed at the 67th Annual Chickahominy Fall Festival and Pow-Wow, held every September outside Richmond, Virginia. Several powwows are scheduled nearby for this summer, and the public is welcome.
Photo © Viktoria Lelis | Dreamstime.com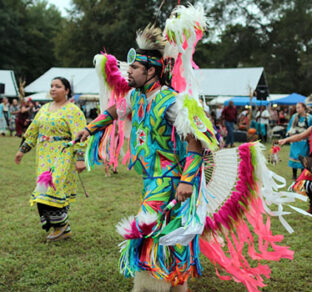 The public is invited to observe most Native tribe powwows in the area.
Photo © Viktoria Lelis | Dreamstime.com
Six men nestled close together in a circle, drumming in a steady, rhythmic beat as others sang along in Native American languages. Drumming like this is central to every powwow, or Native American gathering, providing a mesmerizing live soundtrack.
"The drum is our heartbeat," said Powhatan Red Cloud-Owen, a member of Virginia's Chickahominy Tribe, who attended a powwow last October in Caroline County, Virginia. "It draws you in. It creates a sense of social and spiritual harmony."
A powwow is a one-day or multi-day gathering where Indigenous people, usually from more than one tribe or nation, sing, dance and celebrate their history. The public is welcome at powwows, which take place throughout the year.
Native tribes, nations or organizations hold powwows all over the Americas — even on cruise ships. The world's largest powwow, the Gathering of Nations, took place in Albuquerque, New Mexico, in April.
Several powwows in Virginia and Maryland are scheduled for this summer and fall, as described below.
Coming together
At the Rappahannock Powwow last fall, Dennis Zotigh, a cultural specialist with the Smithsonian's National Museum of the American Indian, explained that these gatherings are a way to connect or make peace.
"A powwow is a celebration of being Indian, where tribes that never met or were historically enemies get together and dance to a common drumbeat," Zotigh said.
Of course, they're also a type of reunion.
"A powwow is a spiritual thing and chance to get tribal members back together, a reason to come home," Upper Mattaponi Chief Kenneth Adams said at one of his tribe's gatherings last fall. Dorothy Gray of Indian Head, Maryland, from the Rappahannock Tribe, said she enjoys "meeting our extended family at powwows."
The events are also a show of gratitude. The Rappahannock Tribe's fall powwow, for instance, is a time "to give thanks for the annual harvest which fed our tribe during the winter so they could survive," said the tribe's chief, Anne Richardson.
Virginia legislator Paul Krizek attended that October event and many similar celebrations. "Native cultures are not stagnant, but a vibrant and a changing way of life. That strength of culture and history comes alive in the powwow. That's why powwows are so wonderful," Krizek said.
These gatherings demonstrate that Native culture survives and thrives. Michael Nephew, Eastern Band of the Cherokee Tribe from Falls Church, Virginia, dances regularly at powwows to show that "Native American culture is not just in the past," he said.
'I live in two cultures'
Archaeological evidence indicates that Native Americans have been living for 22,000 years in what is now Virginia, Maryland and Washington, D.C. Today, about 5,000 Native Americans from a dozen tribal nations live in the Washington area, according to Zotigh.
Indigenous people prefer to be identified by their tribal affiliation rather than simply as Native American, Zotigh said. After all, there are 600 tribes in the U.S.
"We are diverse. There is no 'one size fits all,'" Zotigh said.
Springfield resident Greg Winston, Pamunkey Indian Tribe, said he attends powwows to "connect with people, to be in my culture. I live in two cultures."
Winston passes down that culture to his children, who go to powwows with him. Winston played Native American drumming music when his son, Bryce, now 11, was in utero. Drums helped the boy fall asleep as a baby, he said.
The desire to pass down traditions is what drives many Native Americans to participate in these events. Marylander Maurice Proctor, Piscataway Conoy, said he has danced at powwows for 32 years to "keep the traditions going with another generation and to educate others."
What happens at a powwow
Powwows are usually held outdoors in a circular area called an "arena" — a zone considered sacred and used only by dancers. The gatherings have standard elements and protocols, with an arena manager or emcee who announces each performance.
Powwows open with the Grand Entry, a flag processional including the American flag, tribal flags, and eagle staffs of the Native tribes or nations present. Everyone stands for the procession.
Singing and drumming performances are the heart of the event. Performers sing old and new songs in traditional Native American languages to honor traditions, ancestors, elders, veterans, children and our creator, explained Cloud-Owen.
Dancers wear regalia, clothing and accessories that they often have spent months or years making from buckskin or cloth. The pieces are enhanced with beading, fringes, bones, shells and animal skins. Feathers or leather are sometimes passed down from ancestors.
It is considered inappropriate for visitors to touch or handle any part of a dancer's regalia. The regalia is not a costume, Zotigh explained to a youngster at the Rappahannock Tribe's powwow.
"A costume portrays someone you not really are. We are real. Our dance clothes evolved over time. They are a modern expression of powwow traditional clothing," Zotigh said.
Dance styles vary by region. In the popular chicken dance, men step, crouch and rise, imitating the mating dance of prairie chickens. For the men's fancy dance, dancers wear brilliantly colored feather bustles. For the jingle dance, women wear satiny dresses decorated with tin jingles.
Some powwows feature dance competitions in which dancers compete for monetary prizes. At many events, different generations dance together. Some powwows have a "friendship dance" at the end, when audience members can join in.
Food is also a big part of powwows, with traditional foods like fry bread — flatbread fried in oil, shortening or lard — for sale.
Vendors also sell arts and crafts, including jewelry, knives, blankets, clothes, arrowheads and feather art.
Sage bundles known as "smudge sets" — dried leaves burned to cleanse a room or calm one down — are also popular. At an Upper Mattaponi powwow, a sign promoting smudge sets read, "If it burns, it carries our prayers to the heavens."
Nearby powwows coming up
Several annual powwows, now back on track post-Covid, are within a day's drive of Washington, D.C. For example, the Upper Mattaponi Indian Tribe Powwow will be held on Memorial Day weekend in King William, Virginia.
In early June, Monacan Indian Nation's 30th annual powwow will take place in Monroe, Virginia, three hours south of Washington, D.C.
The Baltimore American Indian Center hosts its annual powwow in November in Timonium, Maryland, while in September the Nanticoke Indian Tribe's annual powwow takes place in Delaware.
Some events are even closer to this area.  On July 15 and 16, the 30th annual Howard County Whispering Winds Pow-Wow/ American Indian Show and Festival will take place at the Howard County Fairgrounds in West Friendship, Maryland. Last July, Running Strong for American Indian Youth and the Udall Foundation Internship Program held what sponsors called an "urban powwow" in Alexandria, Virginia.
At that event, the Zotigh Singers sang and drummed for the entry procession and dancing. When he's not working at the Smithsonian, Dennis Zotigh sings with that popular group, performing at many major powwows.
At the Rappahannock Powwow, held last October just before Indigenous People's Day, Zotigh asked rhetorically, "Why do we need an Indigenous Peoples' Day?"
He answered himself, "It sends a powerful message. We are still here, and we are still proud."
For more information on powwows, including a visitor's guide and calendar, see powwows.com. Or visit the American Indian Society of Washington, D.C. at aisdc.org; the Baltimore American Indian Center at baltimoreamericanindiancenter.org; and the National Museum of the American Indian at americanindian.si.edu.