Features
Praising volunteers of all ages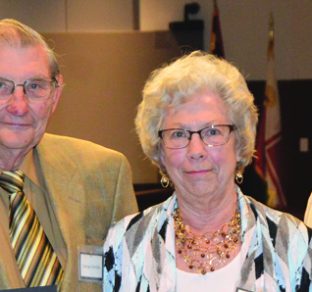 Janice and George Vanisko were named Howard County's Dynamic Duo for their countless hours of volunteering.
Photo courtesy of Howard County Government
Janice and George Vanisko were "sort of embarrassed" to be heralded a few months ago by the County Council and the Volunteer Center of Howard County with the Dynamic Duo Award, one of several awards honoring county volunteers. After all, they say, shouldn't we all spend hours each week helping those in need?
Janice, a 76-year-old retired nurse, and her husband George, 82, a retired electrical engineer, often devote 20 hours a week to volunteering at such county organizations as Grassroots Crisis Intervention Center, Our Daily Bread, Little Sisters of the Poor, St. Louis Church and FISH.
When asked why, Janice said simply, "We were put on Earth to help others." George added, "It goes back to the basic beliefs in our religion. Christ told us to do these things. So we do what we can."
Ad hoc good deeds
Besides the hours they put in helping out at the organizations, the Vaniskos also "freelance," by picking up donated groceries from Giant and delivering them; buying and preparing food for the needy; driving patients to and from doctor's appointments and waiting while they see the doctor, and picking up medicine for people who can't get around.
In addition, George helps people with setting up and fixing computers, TVs, phones, thermostats and other mechanical and tech items, while Janice gives first aid, checks blood pressure, and translates medical reports into plain English. They've also babysat and, in dire family emergencies, taken in people to live in their home.
As if all that weren't enough, George also volunteers to participate in clinical studies of aging at the National Institutes of Health. "I feel that at my age I should give them data to add to their knowledge on the aging process," he said.
George added that NIH is also looking for volunteers of all ages for a study that collects data every four years to garner more information about aging.
The Vaniskos, married for 53 years, have lived 49 of those years in Howard County, raising six children here. They now have 17 grandchildren.
Both insisted they won their award only because they were nominated by a neighbor who felt they needed some attention. But they don't feel they are particularly special.
"All the people we deal with [act] the same way," said Janice Vanisko. "We're not the only ones who do this. We're just blessed to be able to do what we can do in our small way."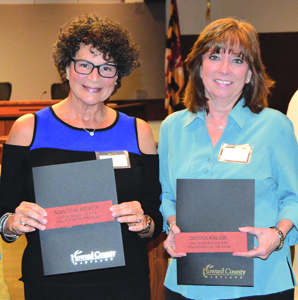 Annual and lifetime awardees
Among other residents honored by the county for giving their time and effort to the less fortunate were Donna Kruzic and Nancy Schieken. They were honored as Volunteers of the Year for their work at "No Boundaries" — a theater program for adults with mild intellectual disabilities.
The program, sponsored by Howard County Recreation & Parks in cooperation with the Howard Council Arts Council, brings together people interested in acting, dancing and singing to rehearse together for several months, followed by a performance.
The program, which has run for 20 years, depends heavily on volunteers. Kruzic and Schieken have both volunteered there for the past 10 years.
Kruzic's nominator said she "spends multiple hours typing and organizing directors' notes and…creating the master CD to which the participants perform." With a background in dance, and as the assistant director, she adapts the dance moves and musical pacing and timing to accommodate each individual performer's abilities.
Schieken "volunteers two or three hours every week, and up to 20 hours [a week] in the weeks leading up to each performance. Nancy always has a listening ear for the actors who want to talk about what is going on in their lives….She is never afraid to jump in where needed," her nomination said.
The April ceremony also honored Julie Casey and T.J. Swiney, two longtime volunteer firefighters, who were given Lifetime Achievement Awards.
Casey has been a member of the Howard County Volunteer Firefighters Association for more than 25 years, and has served for three terms as the organization's president. She was cited for her "vital role in fostering diversity and inclusion, particularly for women firefighters."
Swiney is a 44-year veteran of the Elkridge Volunteer Fire Department, working his way up over the years to the rank of captain. He spends almost every night at the station, putting in at least 25 hours a week doing volunteer work — such as overseeing the station's observer and rookie programs, and helping new members prepare to become firefighters.
The Non-Profit Volunteer Organization of the Year Award went to the Metanoia Church of Ellicott City. Church members were cited for being the first to volunteer to help after the July 30 flood last year, which caused major damage to the historic section of the city. And they are still helping.
The church's award nominator told county officials: "As a shop owner, I was overwhelmed and needed serious help. A phone call was all it took to get (Staff Pastor) Jesse Florida or (Reverend Dr.) Adam Feldman to make it happen. If I needed volunteers, Jesse made it happen. If I needed a few tubs, brushes, bleach or whatever, Jesse or a church member would appear with it.
"Tasks which were impossible [to complete] alone, were accomplished with a team of volunteers from Metanoia Church. Their presence was constant…their service has been invaluable."
The next generation
While many of this year's honored volunteers were over the age of 50, Rees Draminski, who just celebrated his 17th birthday, was cited by Howard County as Youth Volunteer of the Year.
"I want to be a computer scientist when I grow up, and I want to serve other people through computer science," Draminski said.
The award was given to the rising senior at Mount Hebron High School for the 10 hours a week he has spent tutoring inner-city kids in Baltimore. Many of them attend Title I schools that have few computers and teachers who are often overworked.
Draminski is an integral part of the Ellicott City high school's student-run Te(ch)Canal, which aims to be a "canal," or link, between technology and the communities that will benefit from it. The program attracts Mount Hebron students interested in STEM subjects (Science, Technology, Engineering and Mathematics).
For his tutoring lessons, Draminski brings along his laptop computer and tries focus the students on STEM basics.
"I try to expose the students to these fields, which are mostly new to them. I hope they will find and follow a path they will enjoy, and want to go on to college and further study it for a career," he said.
Draminski acknowledges that he sits at his computer "many hours" each day. But he also swims "almost every day" with county teams, and "reads a lot" — mostly science fiction, but also non-fiction science.
His days at the computer started when he was seven, he said, and he began writing his own computer programs at age 11.
Among other things, the young computer "nerd" — "I embrace the term," he said — invented "Speedy Math," a math practice game for kids who lack access to the Internet. He has also helped raise money to enable poor students to obtain Internet access.
"I'm still a teenager," Draminski observed. "But some people will say I have an older soul. I may not always love school, but I love learning something new."
His future goal?
"To be out there, solving problems with the computer — social problems, or those for industry."
The adult Draminski, said the teenager, will be content "as long as I'm making some kind of difference."
He was in good company at this year's County recognition of volunteers.