Arts
Prolific African American artist celebrated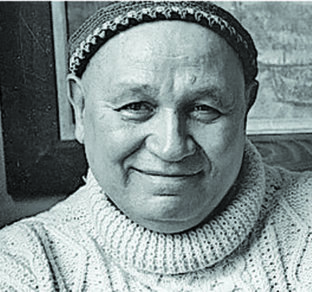 The work of pre-eminent African American artist Romare Bearden (1911-1988) is now on exhibit at the Reginald F. Lewis Museum. Bearden's innovative collages, watercolors and drawings focus on social realism, and he also encouraged artists to shape work in response to the tumultuous 1960s.
Photo courtesy of the Reginald F. Lewis Museum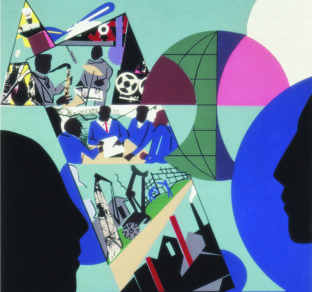 This painting by Romare Bearden appeared on the cover of Black Enterprise magazine in June 1978.
Photo courtesy of the Reginald F. Lewis Museum
The Reginald F. Lewis Museum celebrates the work of the pre-eminent African American artist Romare Bearden in its current exhibition, on view through March 3.
"Romare Bearden: Visionary Artist," organized by the museum and the Romare Bearden Foundation in New York, features more than 70 works in a variety of media that showcase Bearden as one of the most important visual artists of the 20th century.
Throughout his prolific career, Bearden, who was born in 1911 and died in 1988, fought against racial stereotypes through images inspired from history, literature, the Bible, the African American community and his imagination.
The diverse collection of original collages, watercolors, drawings and limited edition prints, many of them from Maryland collectors of his art, reinforce Bearden's reputation as an innovative artist who experimented with social realism, abstraction and, ultimately, the collage medium for which he was best known.
Through his steadfast devotion to the African American community, Bearden was instrumental in encouraging his fellow artists to create work that responded to the turbulent times of 1960s America.
According to the Romare Bearden Foundation, Bearden's life and art are distinguished by his exceptional talent and expansive range of intellectual and scholarly interests, including music, performing arts, history, literature and world art. He was also known for his lifelong support of young, emerging artists.
Bearden began pursuing his interest in art while completing his studies in education at New York University, where he took extensive courses in art and was a lead cartoonist and then art editor for the monthly journal The Medley. He also began writing on social and artistic issues, interests he would pursue throughout his life.
In 1935, Bearden joined the staff of the Baltimore Afro-American as its editorial cartoonist.
Day job in social work
From the mid-1930s through 1960s, Bearden was a social worker with the New York City Department of Social Services. He worked on his art at night and on weekends, drawing inspiration from Western masters ranging from Duccio, Giotto and de Hooch, to Cezanne, Picasso and Matisse, as well as from African art (particularly sculpture, masks and textiles), Byzantine mosaics, Japanese prints and Chinese landscape paintings.
His art began to draw notice with his first solo exhibition in Harlem in 1940 and his first solo show in Washington, D.C., in 1944.
During his lifetime, Bearden was a prolific artist whose works were exhibited throughout the United States and Europe. His collages, watercolors, oils, photomontages and prints are filled with visual influences and metaphors from his past in Mecklenburg County, North Carolina, Pittsburgh and Harlem, and from a variety of historical, literary and musical sources.
In addition to his visual art, Bearden also designed costumes and sets for the Alvin Ailey American Dance Theater, and programs, sets and designs for his wife's dance company, Nanette Bearden's Contemporary Dance Theatre.
Bearden's work is included in many important public collections including the Metropolitan Museum of Art, the Whitney Museum of American Art, the Philadelphia Museum of Art, the Museum of Fine Arts, Boston and the Studio Museum in Harlem, among others.
Related events
Coinciding with the exhibition at the Lewis Museum will be several related events. Romare Bearden Family Day will be held on Saturday, Feb. 2, from 11 a.m. to 3 p.m., where visitors can enjoy family-friendly activities: tour the art gallery with storyteller Diane Macklin; build a musical instrument inspired by Bearden's jazz art works incorporating collage, printmaking and cardboard; and enjoy youth performances by Muse 360 Arts and the Peabody Preparatory Improvisation and Creative Composition Ensemble. This event is free.
On Saturday, Feb. 9, at 1 p.m., Dr. David C. Driskell, one of the world's leading authorities on the subject of African American art, will give a lecture discussing his personal memories of Romare Bearden and his works. This lecture is included with museum admission.
The museum is located at 830 E. Pratt St. Hours are Wednesday to Saturday, 10 a.m. to 5 p.m., Sunday, noon to 5 p.m. Closed Mondays and Tuesdays.
Admission is free for members, Maryland teachers and children under 6; $6 for students, veterans, those 7-17 or 65+; $8 for the general public. For more information, call (443) 263-1800 or go to www.lewismuseum.org.