Travel
Puerto Rico once again enchants visitors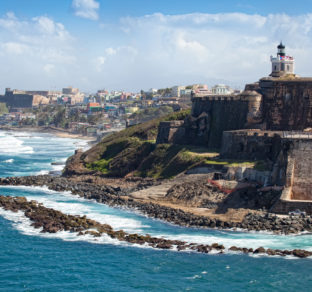 The Spanish fort Castillo San Felipe del Morro, known as El Morro, was built nearly 500 years ago to protect Old San Juan, Puerto Rico. Administered by the National Park Service, the six-story fortress is a UNESCO World Heritage Site open to the public.
Photo by Ruth Peterkin/dreamstime.com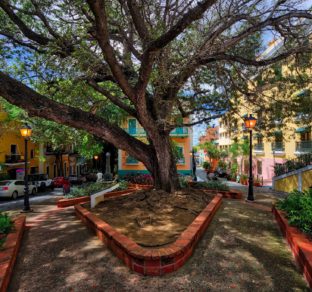 Old San Juan's colorful Spanish Colonial and Art Deco buildings, along with its cobblestone streets and plazas, give a European look and feel to the National Historic Landmark district.
Photo by Brook Ward
The sprawling 300-year-old Nispero tree — in the outdoor courtyard of the former Carmelite convent that dates back to 1651 — stretches up 50 feet, beyond the fifth floor of what is now the El Convento hotel in Old San Juan.
In September 2017, Hurricane Maria's 155-mile-per-hour winds savaged the tree, along with the rest of Puerto Rico. Hotel management called on expert arborists, but they had no luck resuscitating the tree.
It would have been cut down but for the hotel's longtime gardener, who, inspired by a dream, announced that the tree needed 40 pounds of larvae. Somehow the odd cure worked, and the tree is thriving today.
An estimated 2,982 people died after the dual hurricanes of Irma and Maria, only two weeks apart. Although not every resident's life is back to normal after two years, the lush island remains a premier destination.
Resilience, community, ingenuity, hard work — those were the themes of every conversation I had this fall with people in Puerto Rico about the island's recovery.
On an earlier visit via Caribbean cruise last winter, my husband and explored San Juan's historic, colorful architecture and sampled the island's unique cuisine. Intrigued, we returned to the city in November to see more.
Tourist dollars are crucial to people of this U.S. territory, who have made impressive strides since the hurricanes with perseverance and positive attitudes.
Any resentment toward the federal government's response was expressed with a shrug of acceptance of bureaucracy. Today's focus is on lessons learned — and the future.
Nature blossoms again
Since Christopher Columbus arrived in Puerto Rico in 1493, it has stood the test of time, hurricane season after hurricane season.
Mother Nature recovered quickly after Irma and Maria. Mountains so battered that they looked burned returned to vibrant green after just a few months. Smaller plants emerged, and today there's no shortage of flowers. It's the tropics, after all.
In El Yunque — the only tropical rainforest in the U.S. National Forest system — new growth is steadily restoring the lost tree canopy. Visitors can access about 70% of the trails now, according to Carolyn Krupp of the Forest Service, who recommends a stop at the temporary visitors center in Palmer, about an hour's drive from Old San Juan.
 Tourists are returning to the island, too. Last summer, Frank Comito, CEO of the Caribbean Hotel and Tourism Association, reported that Puerto Rico's recovery is ahead of schedule, with at least 90% of hotel rooms open.
Walkable Old San Juan
Beginning in 1520, the Spanish settled in Old San Juan, constructing many of the buildings that still stand in the seven-square-block historic district.
The Spanish forts of El Morro and San Cristóbal, the latter of which is the largest fort built by the Spanish in the New World, protected the city of San Juan from the English and Dutch. They have been preserved as National Historic Sites, and are open to the public seven days a week.
We found a great way to get familiar with Old San Juan: a culinary walking tour. The guides at Flavors of San Juan combine personal stories, informative observations and historical facts.
Walking around Old San Juan, where some streets are 400 years old, we delighted in the pastel Spanish Colonial and Art Deco architecture. The district is chock full of small restaurants, boutique hotels, specialty shops and a few luxury-brand stores.
Historic sites
One of the most peaceful, beautiful places to visit is the Casa Blanca Museum, at the edge of Old San Juan near the immense fort of El Morro.
The two-story white house, which also served as Puerto Rico's first stone fort, was built in 1523 for Spanish explorer Juan Ponce de León, the island's first governor. (By the way, his supposed search for the Fountain of Youth is today considered a myth.)
Although he died before he could move in, his family and their descendants lived there for 250 years. It has been open to the public as a museum since 1974.
As I walked around the serene rooms and lush grounds full of palms and flowers, I felt envious. Facing the sea, with a warm, perfumed breeze on my face, I thought about the lucky people who lived at this post. Worth much more than the few dollars' mansion entrance fee, and no charge at all for the grounds, Casa Blanca is a lovely oasis to explore.
Juan Ponce de León is buried in a marble tomb at the nearby Catedral de San Juan Bautista, or Cathedral of Saint John the Baptist. The second oldest church in the Western Hemisphere, it will be celebrating 500 years in 2021. Its placement near the city's main entry gate from the sea was deliberate, offering arrivals a place to give thanks for a successful journey.
Like many wooden buildings on this island and others, the original was destroyed by a hurricane, and another took off its thatched roof. The current stone cathedral, first constructed in 1540, has survived, along with the rest of the island.
Where to stay
Choose a hotel in historic Old San Juan or a resort in the Condado, a pedestrian-friendly oceanfront area about a 15-minute cab ride away.
For those who love history, Old San Juan's El Convento, across the street from the cathedral, is a charming choice. Its rooftop restaurant offers stunning sea views at sunset.
In addition to the Nispero tree, its priceless antiques include a lobby tapestry, iron bell and a convent gate. In a ground-floor meeting room, there's a full-wall tiled kitchen mural that was hidden and forgotten for six decades until a ceiling leak repair revealed it.
Hurricane winds blew out all the windows in the Caribe Hilton, a 1949 waterfront resort in the Condado, whose claim to fame is the invention of the piña colada. The resort, along with its spectacular grounds, was repaired and finally reopened in May 2019.
Another top-tier beachfront hotel is the Condado Vanderbilt Hotel, celebrating its 100th anniversary this year.
Where to eat and drink
Puerto Rican coffee has a wonderful, mild flavor; sugar is unnecessary. Try the island-grown coffee at Cuatro Sombras.
Two of the many places that serve authentic island dishes are Triana and Hecho en Casa. Triana Tapas & Flamenco restaurant not only has great Puerto Rican and Spanish food, including paella, but live flamenco and rumba music and dancing Tuesday through Sunday.
You'll find a delicious dish called mofongo all over Puerto Rico. It's made with fried plantains mashed with a mortar and pestle, with lots of garlic and either meat or beans. Try mofongo or empanadillas at Hecho en Casa, a family restaurant whose name means "made at home."
There is plenty of upscale dining in San Juan. Mexican-born Puerto Rico resident Chef Paulina Escanes offers guests locally sourced organic food at Paulina Escanes -Gourmandize.
As delicious as the main courses are, desserts are another level of nirvana. The bread pudding has a flan-like element, and her key lime pie is piled with an unusual marshmallowy meringue.
Mario Pagán Restaurant is the flagship of chef's chef Mario Pagán, friend of celebrity chef José Andrés. Both chefs procured major donations and fed the masses after the hurricane.
Pagán's signature black Chilean sea bass, with its port wine, veal stock and foie gras reduction, is not to be missed. From the octopus tacos to the chocolate souffle, a divine meal can be had here on earth.
A great treat after walking San Juan's cobblestone streets are handmade popsicles from Señor Paleta. Pure, grown-up flavors include peanut, pistachio and tropical fruits.
Daytime or dusk, enjoy Chocobar Cortés, where chocolate pancakes and marbled waffles are listed along with more unexpected savory dishes like a chili cocoa chicken. High quality, local, sustainably sourced chocolate makes a welcome edible souvenir.
By boat or plane
San Juan, a popular cruise port, was our final destination on a 10-day Silversea cruise to Grand Turk, St. Bart's, Antigua and Virgin Gorda last winter.
Silversea's Silver Wind is an ideal ship for travelers who like quiet luxury. Because the ship has a capacity of fewer than 300 people and almost as many crew members, the service is exemplary.
Our fellow passengers were friendly, sophisticated travelers who enhanced our journey with stimulating conversations. Internet service was excellent, unlike on many cruises.
We took a few onboard Spanish classes, a nice bonus that enabled us to talk with the resilient people of Puerto Rico.
San Juan is serviced by short, direct flights from D.C. and much of the East Coast. A direct, round-trip flight from the D.C. area to San Juan in January costs $438 on United Airlines.
For more information about the island, visit Discover Puerto Rico at discoverpuertorico.com. For Silversea cruise schedules, call 1-877-382-6908 or visit silversea.com.