Travel
Put these adventures on your bucket list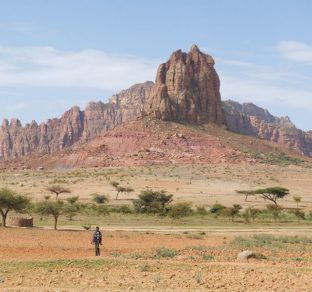 Ethiopia's diverse topography includes landscapes resembling those of the American West. The country's majestic scenery, stone medieval castles, churches carved into rock formations and delicious food make a thrilling trip for travelers of all ages.
Photo by Don Mankin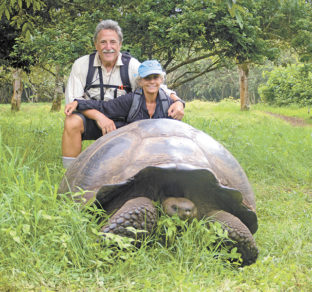 The author and his wife visit with a giant tortoise in the Galapagos Islands, known for protected and unique species of animals.
Photo courtesy of Don Mankin
When we get back on the road after COVID-19 subsides, we'll be "lookin' for adventure," as the rock band Steppenwolf put it.
In anticipation of this hopefully not-too-distant day, I've put together a list of my favorite adventure trips for active older adults. So, if you need something to look forward to in the months or years ahead, here are a few destinations to consider:
Whitewater rafting in Oregon
Rogue River Rafting, 3 to 4 days from $895, ROW Adventures, rowadventures.com, 1-800-451-6034
The Rogue River is one of the most famous whitewater rivers in the world, one of the first rivers in the U.S. to be run commercially, and one of the original eight rivers named in the Wild and Scenic Rivers Act of 1968.
The Rogue has something for everyone: Class III and IV whitewater for adrenaline junkies; scenery similar to a Winslow Homer watercolor for artists; and eagles, ospreys and kingfishers for birders. Not to mention history ranging from thousand-year-old Native American artifacts to early 20th-century pioneer houses.
What makes this trip different from most other rafting trips is that instead of camping in tents on the shore, guests stay in comfortable lodges with hot showers and flush toilets.
The lodges are beautifully sited — one on the edge of a broad lawn in a valley between two ridges; the other overlooking the river with a great outdoor deck. There is nothing like a hot shower and a comfortable bed after a day of paddling through churning rapids and getting slapped in the face by monstrous waves.
Adventure cruise in Panama and Costa Rica
Pure Panama & Costa Rica Cruise, 12 days from $7,645, UnCruise Adventures, uncruise.com, 1-888-862-8881
How could such a small country, only about 30 miles wide at its narrowest point, offer such a variety of experiences?
There's kayaking and snorkeling among tropical islands in two oceans, walking in the jungle to visit indigenous people, and, of course, one of the most spectacular engineering achievements in the world. It is this intersection of natural history and man-made wonders that makes Panama so special.
More than three million years ago, the Isthmus of Panama emerged from the sea, separating the Atlantic from the Pacific Oceans and eventually serving as a land bridge between North and South America, making Panama one of the most biologically diverse countries in the world.
The ship is small, only 34 cabins for 66 guests, but offers a wide range of amenities, including an air-conditioned lounge with a 270-degree view.
Most important for older travelers is the launching platform at the rear of the ship, which lowers and raises to make it easy to get in and out of the skiffs and kayaks. As an added bonus, they have added several days in Costa Rico to the trip I took in 2017.
Galapagos Islands expedition
M/V Evolution Galapagos Cruise (luxury small boat cruise and wildlife tour), 8 days from $6,700, Quasar Expeditions, quasarex.com/galapagos, 1-888-502-9503
The Galapagos are arguably the most biologically diverse marine habitat on Earth. Charles Darwin did most of his groundbreaking work on natural selection and the theory of evolution there in 1835.
Today, the 13 major islands and dozens of smaller islets and rocks that make up the Galapagos are filled with extraordinary populations of unique species that have been protected from human impact.
On this trip you can experience the Galapagos in comfort and privacy aboard a yacht that retraces Darwin's footsteps. The style of the Evolution is roaring 20s, but the amenities and service are decidedly modern.
The 32 passengers are accommodated in spacious, recently renovated suites, and encounter wildlife far from the crowds, guided by naturalist guides with years of local experience.
I will be hosting a Galapagos tour on the Evolution in summer 2021. For details, call the number listed above and tell them you are interested in that cruise.
Ethiopian exploration
Paths of Ethiopia, 18 days from $7,480, Anastasia's Africa, anastasiasafrica.com, 1-888-303-2085
As the ancient crossroads between Europe, Africa, Asia and the Middle East, Ethiopia absorbed customs, practices and ceremonies from all different peoples.
It's one thing to read history; another to experience it. While the practices, dress and decorations reflect the religious roots of the West, the familiar is often counterbalanced by the strange in this evocative, mysterious land.
On this trip you will explore the stunning, rock-hewn, subterranean churches of Lalibela, encounter animistic tribes in the Great Rift Valley, and visit Axum, Ethiopia's holy city and legendary resting place of the Ark of the Covenant.
Trips can be timed to include Ethiopian festivals such as Christmas, the annual Epiphany celebration of Timkat in January, or Meskal in September with its roaring bonfires, priests with ornate crosses, and thousands of worshippers in robes.
Trans-Siberian Railroad journey
Moscow to Beijing via private train, 16 days from $6,140, Lernidee Trains & Cruises, trains-and-cruises.com
It's easy to see why Lernidee Trains & Cruises calls this railroad trip "one of the last great travel adventures in the world." Take a famous train from the capital of Russia, the world's largest country, through Siberia, Mongolia and the Gobi Desert to the capital of China, the world's most populous country.
Along the way, our group toured the Kremlin, skirted the edge of Lake Baikal, stopped in Ulan Bator, and visited Beijing's Forbidden City and the Great Wall of China. We even paused in the middle of the Gobi Desert for an early morning concert while camels grazed in the background.
The train is a comfortable way to explore this region. But more than that, it pulled together all of the stops along the way into a seamless, integrated whole that felt more like a movie than a sequence of photos.
One of my favorite experiences on the trip was the vodka tasting, which opened my eyes further to the wonders of the region — until the vodka and the swaying train lulled me to sleep. In a way, it was the perfect ending to an adventure movie.
Peaceful Laos
Serenity, Spirituality, Scenery and Culture in Northern Thailand and Laos, 12 days from $5,850, Explorer-X, explorer-x.com, (206) 212-0227
Laos — Luang Prabang, in particular — is one of my favorite destinations. Beautiful, serene and seductive, Laos has some of the most sacred Buddhist temples in the world.
Most important of all, it is not yet overrun by tourists. There are no beach resorts, discos or loud parties; just lush jungles, graceful mountains, varied architecture, ethnically diverse hill tribes and some of the best food in Southeast Asia, a region renowned for its cuisine.
A visit to Laos is all about peace, reflection and immersion in a world very different from our own.
I recently designed my ideal trip to the region and will be leading a tour next year. The trip will begin in Chiang Mai, the historical and cultural capital of Thailand. From there we will head to the notorious Golden Triangle where we will begin a leisurely two-day cruise down the most scenic section of the mighty Mekong to Luang Prabang.
After several days in Luang Prabang, exploring tree-shaded pathways and back streets leading to graceful, peaceful temples, we head to the capital city of Vientiane, stopping in Vang Vieng along the way for a balloon ride and to admire dramatic karst formations.
The emphasis throughout will be on authentic community-based tourism, with visits to local families and enterprises, and cooking classes, music and dance performances by members of the community.
Whale-watching in Antarctica
Antarctica Whale Safari, 14 days from $9,995, Wilderness Travel, wildernesstravel.com, 1-888-895-5417
I've been to Antarctica three times, and I'd go a fourth, if I could. Antarctica is just that great a "bucket list" destination.
But this trip is different: It has whales. Lots and lots of whales. The month of March, when this trip runs, is prime time for whale-watching in Antarctica. And there is no greater thrill than spotting a whale up close from a Zodiac inflatable boat or kayak.
These huge creatures arch their backs and slide into the icy waters, flipping their tails in the air, rivulets of water dripping from the edges, before disappearing below the surface.
Antarctica has some of the most spectacular scenery in the world: mountains, glaciers and sculpted chunks of floating ice, some as large as city blocks. It's a wonderland of shapes and texture, painted with the most intense blues and whites you have ever seen.
And, of course, there are the usual attractions — penguins, seals and birds. If Antarctica isn't on your bucket list, why not?
Note: Don Mankin was hosted by the travel companies mentioned in this story. Most of these tour companies offer discounts to the readers of the Beacon. Call or email the operators for specifics. Read more at his website, adventuretransformations.com.