Cover Stories
Put your lips together and blow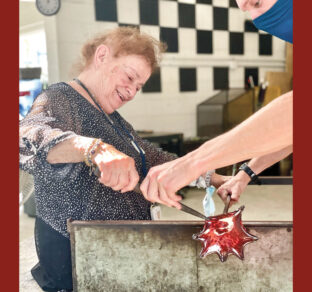 Helen Matthesen, a resident of Atrium Village in Owings Mills, learns glassblowing techniques at McFadden Art Glass in Baltimore. The studio, founded by artist Tim McFadden, offers classes for all ages.
Photo courtesy of Atrium Village
Janice Ford, 70, a retired Baltimore and Howard County public school art teacher, spends one or two afternoons each week glassblowing at McFadden Art Glass, located just off I-95 in East Baltimore.
"I found out that age does not limit you at all," she said. "Extraordinary strength is not needed for blowing glass through a metal tube."
All that is needed, Ford said, "is the ability to stand the heat" from the furnaces used in the process.
Learning the process was not easy, Ford admitted. But once she caught on and began turning glass into the form of her choice, she was hooked on the art.
"I'm starting to sell my glass now at crafts shows in the area," Ford said proudly.
"I recommend that grandparents bring their grandchildren to a [glassblowing] studio."
An ancient discipline
The art of glassblowing goes way back. The technique involved is generally credited to the first century B.C.E. Syrians, with further methods developed by the glassblowers of the Roman Empire.
During the Middle Ages, Venice became a major glass center. Gradually, the industry moved to the nearby island of Murano, where it remains today. Murano's magician-like glassblowers attract tourists and patrons from all over the world.
Until modern times, glassblowing techniques were kept hidden by governments. In fact, glassblowers were at times kept like prisoners, unable to travel abroad for fear they would spread their valuable knowledge.
In the first century C.E., for instance, Phoenician glassmakers were not permitted to travel, while during the Middle Ages, Venetian glassblowers were isolated on the island of Murano to protect their secrets, according to historians.
How does one blow glass?
For the uninitiated, glassblowing is more or less what it sounds like: a procedure that mostly consists of blowing air through a metal tube to shape molten glass at the end of the tube into various designs and useful objects.
"It's not that hard to blow the glass," said Baltimore native Tim McFadden, owner and operator of the studio bearing his name.
"But there is technique involved. It's like learning to play a musical instrument. The more you practice, the more comfortable you feel doing it."
McFadden, 39, said he has been glassblowing since 2001, when he started as a student at Salisbury University on Maryland's Eastern Shore. He opened his first glassblowing studio in Baltimore at age 26.
In addition to regular "date night" classes on Friday evenings and other classes for adults, his studio offers one-time, 30-minute classes for kids ages five and up, and extended courses for ages 11 and up.
McFadden described how it all works: "The glassblowing process starts with getting some molten glass out of the 2,000- degree furnace on the end of a metal rod.
"That hot glob of glass will then be shaped by rolling it onto a large metal table and using various specific hand tools. The glass will be reheated multiple times in a separate heating chamber to keep it molten for continual shaping and blowing to make the object hollow, larger and thinner."
Shaping, reshaping, then — voila! — there is a very good chance that the intended product will result (perhaps with some surprises that please).
Another Baltimore studio
Anthony Corradetti, 67, a Philadelphia native who moved to Baltimore in 1981, runs Corradetti Glassblowing Studio and Gallery on Clipper Park Road near Hampden.
A graduate of the Tyler School of Art at Temple University in Philadelphia, Corradetti opened his first studio when he moved to Baltimore in 1978. "I needed a place to make my art," he explained.
His studio offers workshops and classes that include "mostly private lessons" where novice glassblowers work with trained assistants to learn the craft.
Corradetti said that his studio also has been rented out for weddings and corporate parties, where the participants get into the glassblowing spirit and come home with newly blown vases, jewelry, curvy bowls, etc.
"They love the classes," he said. "There is an upsurge of interest in glassblowing as a result of the program 'Blowing Away' on Netflix, which is a competition show like the baking and cooking shows, but this one is about blowing glass."
How difficult is it to learn the skill? You can pick it up quickly, but to get to the level of Corradetti and McFadden, whose works are displayed in museums, takes years, Corradetti said.
"It takes from five to 10 years to really get good at it. To really develop the skill, you have to practice every day."
Glassblowing brings smiles
For some glassblowers, an occasional class is enough. Patti Berman, 59, who said she works at home "16 hours a day as a developer of software," finds time to visit the McFadden Art Glass studio at least every other week.
Her studio visits allow her "to see people and things not connected to computers," which, for her, is "a whole different, and pleasing, universe."
She is currently finishing work on a swirling green-purple-gold bowl, which will be a wedding present for a friend.
Berman said she greatly enjoys "the creative process of choosing colors and designs" for her glass projects.
Another plus, Berman noted, is "the smile on my husband's face when he sees me come home content with my day at the studio."
For more information about McFadden's studio, visit mcfaddenartglass.com or call (410) 631-6039. For information about the Corradetti studio, visit Corradetti.com or call (410) 243-2010.