Cover Stories
Reaching out to older Muslims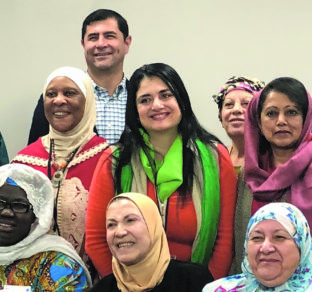 Mona Negm, in the center of the first row, founded the American Muslim Senior Society (AMSS) last year to help underserved Muslim elders learn about and obtain community services. She is shown here at a community dialogue event at the Islamic Center of Maryland, where "ambassadors" trained by AMSS, together with Montgomery County officials, met with older area Muslims to share information about healthy aging and local resources. Gabe Albornoz, former director of Montgomery County's Recreation Department and newly elected to the County Council, is at the rear of the photo.
Photo by Barbara Ruben
Nargis Rehman worries about her father, who is ill and lives alone. Over 50 herself, she has limited energy after work to help him, and has had a difficult time finding someone to drive him to the mosque for prayers.
"He sits in the house and can't travel; has no money. He's very ill. Nobody comes to visit. He's lonely. I have to work, and when I get home, I'm just exhausted," said Rehman, who lives in Rockville, Md.
So she was excited to attend a November meeting at the Islamic Center of Maryland for older adults to discuss their needs and find resources to help them. "This is like my second home," she said of the center, located in Gaithersburg, Md.
The meeting was one of four "Healthy Aging, Community Services and Supports Dialogues" held by a new nonprofit, the American Muslim Senior Society (AMSS), this fall.
Connecting communities
The program was led by "ambassadors" from within the community, who were trained by AMSS to help older Muslims throughout Montgomery County access services provided by both the Muslim community and local government.
It is the first coordinated effort to help older Muslims in the Washington area, and one of the first in the country, according to Mona Negm, a resident of Silver Spring, Md., who founded AMSS here last year.
The 76-year-old Negm is known to many in the community as Mama Mona, both because of her longtime role working with Islamic seniors and her nurturing nature.
Many Islamic centers have programs for seniors, such as the Dar Al-Hijrah Islamic Center in Falls Church, Va. Its Friends Over 50 group meets every Thursday morning to learn about such topics as Social Security, brain health and affordable housing.
The nonprofit Montgomery County Muslim Foundation's Senior Program offers trips, a weekly social hour, and rides on Fridays to the Islamic Center of Maryland for prayer services.
Montgomery County offers information and programs dealing with long-term care and caregiver support, healthy aging, coping with dementia and more.
AMSS's role is to help connect these programs for older adults with those who need them, reaching out to underserved communities in a culturally sensitive way.
The 37 AMSS Health and Long Term-Care Outreach ambassadors are generally older than 50 themselves, selected from the county's 11 Islamic centers. They have attended 18 training sessions not only to become familiar with issues of aging and local services, but to help them better understand the needs of the diverse population of older Muslims.
Unique needs
Older Muslims may have a hard time accessing services because they do not speak English well. Meals in the hospital or at senior centers may not be halal (food permissible by Islamic law). And many may feel adrift because their children aren't able, or live too far away, to provide care.
"Part of Islamic culture is that parents are holy, and serving them is not only a beauty, but will gain you a reward in heaven," Negm said. "Therefore, a lot of our tradition is to take care of our parents and serve them in every way possible."
As a result, when older Muslims need help beyond their families, it's hard for them to reach out.
"It's like airing your dirty laundry, saying I can't depend on my kids, and I don't have enough money," Negm said. She said an older adult called her recently and said, "Please, please don't tell anyone I need help."
"The tradition is, 'I can't say I need help. That will reflect badly on my kids.' Then kids feel tremendous guilt," Negm added.
From this, Negm deduced the need to train fellow Muslims to identify isolated seniors and their caregivers, and reach out and offer assistance to their peers.
"Ambassadors are known in their community. That is so important. [For example,] they know me. I've done outreach, corresponded for years. They know Mama Mona. If they get a stranger to say the same words [of help], they're going to block them out," she said.
AMSS also intends to offer intergenerational and interfaith educational programs of interest to diverse communities.
The interest in AMSS's early programs has confirmed that it is identifying and addressing a need, Negm said. At the October community dialogue, 125 older adults and family members showed up at the IMMAM Center in Silver Spring, which serves primarily Indonesians. They had to turn 25 people away as the room was only large enough for 100.
At the November dialogue in Gaithersburg, 70 people crowded into the room. They divided into smaller groups, each led by an ambassador, to determine the most pressing needs for themselves and their families.
Ranking priorities, the attendees said that transportation, home healthcare, recreation and respite care were the most important areas in which they needed help.
County officials at the program discussed such options as free Ride On bus rides for seniors, and a new program that offers daily phone calls to older adults who request them.
These needs echo those found in a 2016 national survey of Muslim seniors by the Institute for Social Policy and Understanding. As in the Washington area, Muslims come from a diversity of cultures, from Arab Americans to African Americans, and needs vary to some degree by population.
Those of Arab and Middle Eastern descent reported the highest need for support, while South Asians reported the highest need for home care.
Overall, men tend to support traditional family roles for caregiving, while women have a more pragmatic approach to both care and social needs, and are more willing to seek long-term care options outside the home.
Ambassadors reach out
Salma and Farouq Musa became ambassadors together. The Silver Spring couple has cared for Farouq's mother, who has dementia, for seven years. They said Negm helped find a program for her.
"We didn't know about so many programs the county offers for seniors. We wanted to pass this [information] on to other seniors in the community," Salma said.
Gihan Tammam is one of the younger ambassadors. She said she joined because, "I like to help people. I have been volunteering in many places and found that it would be good to help seniors because one day I will be a senior.
"Especially in this country, when you are from a different culture, with people from many different countries, you need to feel whole," said Tammam, who immigrated from Egypt and lives in Rockville.
"Something like this makes you feel good, especially with Mama Mona. She is very good, and we all feel like her daughters. She inspires us all. My parents are not living here yet, but I see seniors in the community you can help who don't have families."
Ambassador Aizat Oladapo said she cares for her parents in Nigeria from afar. She is a program manager with Montgomery County's Dept. of Health and Human Services, so she is familiar with the resources available to older adults.
"But it's really difficult to get that [information] out into the community, she said. "Now that senior programs have started springing up in all the mosques, it's easier to give out the information.
"[The AMSS dialogue] was a good example, giving voice for the first time about the needs people have. So now we take that back to our own senior programs," Oladapo said.
In the coming year, the ambassadors will help implement priorities determined at the dialogues, and more may be trained to help.
AMSS would also like to hold an interfaith dialogue to reach out to churches with primarily Hispanic and African American congregations, as well as to synagogues.
Other priorities listed on the group's website include offering cultural sensitivity training for health and long-term care providers, advocating on behalf of those most in need, and identifying gaps in research and services.
"And then we want to take it nationwide," Negm said. "It's a partnership. It's an innovative design. People bought into it. People welcome it and started adopting it.
"I couldn't do it by myself. It had to be done by the whole community."
More information about the American Muslim Senior Society is available at www.amssmd.org.