Travel
Reasons to love the Dominican Republic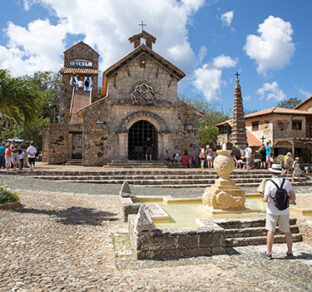 Built of coral stone, St. Stanislaus Church dominates the central plaza of Altos de Chavón, a re-creation of a 16th-century Mediterranean village located within the Casa de Campo resort in La Romana, Dominican Republic.
Photo © Antonella865 | Dreamstime.com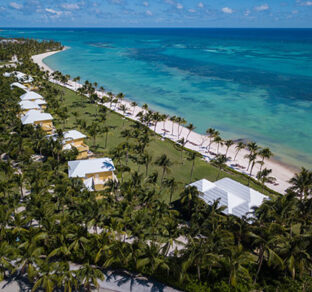 Oscar de la Renta designed the beachfront villas at Tortuga Bay Puntacana Resort & Club, known for its Corales golf course. Mother Nature provided the stunning blue-green water, more of which fills the freshwater lagoons at the nearby nature preserve.
Photo courtesy of Tortuga Bay Puntacana Resort
My husband and I were drawn to the Dominican Republic last winter for the weather, white-sand beaches and golf courses. We left loving the food, the people and their commitment to the environment.
I have to admit I had to check a map to locate the Dominican Republic, also known as the DR. I learned it's between Puerto Rico and Cuba, shares the island of Hispaniola with its neighbor Haiti, and is situated between the Atlantic Ocean and the Caribbean Sea.
Direct flights are always a big plus for me and my husband, Paul, and there are daily non-stop flights from BWI and Dulles.
To try out as many golf courses as we could, we split our week between two resorts about an hour away from each other. Our first resort, Casa de Campo, arranged for a driver to pick us up from the airport — it was a relief not having to get a taxi.
Casa de Campo sits on 7,000 acres by La Romana, a small city on the island's southeastern coast. Wanting to see and learn about La Romana, we had the concierge book us a tour, even though it was the DR's Independence Day and most places were closed.
Our driver, David de la Cruz, spoke English and was very knowledgeable. He told us that while several foreign powers had occupied the DR, Independence Day celebrates its independence from Haiti on February 27, 1844.
David drove us through the industrial area of La Romana to show us the cigar and sugar factories. The DR exports more than 200 million pounds of sugar to the United States annually. And it was the Cuban-born Fanjul brothers who founded the famous Casa de Campo resort, thanks to their sugarcane fortune.
The DR claims the "Cigar Capital of the World" title, surpassing Cuba. When Cuba could no longer sell tobacco to the United States, the producers migrated to the DR.
Tabacalera de Garcia, the largest handmade cigar factory in the world and makers of Montecristo and Romeo y Julieta, to name a few, offers tours. I'm not a cigar lover, but walking through every step of the process and watching an expert roller wrap a cigar was fascinating.
Celebrations were in full swing in La Romana, with happy revelers flooding the streets and plazas. Heading back, we stopped at a bodega to taste the local beer.
Resort's extensive activities
Casa de Campo has everything guests could want within the vast resort. Every guest receives a golf cart to get around, and shuttles can take guests to the resort's extensive amenities (horseback riding, golf, tennis, fitness center, spa, a 245-acre shooting center, kayaking and paddleboarding). If that isn't enough, they can arrange off-property excursions.
We opted for the all-inclusive dining option, which includes full breakfast, snacks, lunch, dinner and cocktails at five different restaurants. Nothing says "tropical vacation" like frozen strawberry daiquiris available at any hour of the day.
We couldn't wait to play the most famous of the resort's three championship golf courses, the Teeth of the Dog, situated along the Caribbean Sea with seven dramatic holes near sheer cliffs above the water. The Dye Fore course (as in "to die for") is 27 holes, features five cliffside holes dropping 300 feet, and plays along the river. Both courses require a caddie. The third, the Links, is the tamest.
Altos de Chavón is an unbelievable site on the property, a replica of a 16th-century village crafted entirely of stone — including the streets, so wear comfortable shoes.
The village sits 300 feet above the Chavón River, and sites to see include St. Stanislaus Church and the Altos de Chavón Archaeological Museum, which has a comprehensive collection describing the indigenous culture in the DR. There's also a 5,000-seat open-air amphitheater for concerts, not to mention shops and restaurants, of course.
With so many options at the resort, it was impossible to do everything. Although we had no time to hit the crowded beach, it looked popular with families.
Instead, we drove our golf cart to the marina, where mega-yachts docked. From there, you could go deep-sea fishing, sailing or snorkeling. At the marina, there were more restaurants and places to shop. Though beautiful, the shops were too pricey for me.
Off to Punta Cana's resort
Punta Cana is another major tourist destination, with many hotel accommodations, white-sand beaches, calm turquoise water and nightlife.
The Puntacana Resort and Club is just minutes from the Punta Cana International Airport, which the resort built in 1983 — the first privately owned international airport in the world.
We chose to stay at the Puntacana Resort's Tortuga Bay, a boutique resort-within-a-resort with just 30 suites, each with a front-row seat to the beach, tall coconut palms and views of the unbelievably blue, clear waters. Breakfast is included, and here, too, rooms come with a golf cart.
During our two-night stay, everyone on the staff knew our names. At dinner, the chef came to our table, introduced himself and gave suggestions.
Our favorite restaurant, La Yola, serves freshly caught seafood and Mediterranean cuisine. Modeled after a fisherman's boat, this dramatic open-air restaurant offers live music with Caribbean views.
One evening, a fabulous saxophone player serenaded guests. At breakfast the next day, the saxophonist was our waiter! He told us the owner had hired him as a waiter but gave him his "big break" as a performer.
Responsible ecotravel
The next day, we drove our cart to the Indigenous Eyes Ecological Park & Reserve, a 1,500-acre nature preserve with a dozen crystal-clear freshwater blue lagoons, five for swimming. We walked to a lagoon (wear sneakers), where we saw birds, reptiles and flora. So mesmerizing, it beckoned us to jump in.
The land for the reserve was donated by Grupo Puntacana, part of a network established by a group of 40 American developers, including Ted Kheel, who in 1969 bought 30 square miles of land in the Dominican Republic and began building resorts. Today, the group is a leader in the sustainable tourism industry.
One of the reasons we chose this resort was to see how they're helping the planet. [Ed. Note: Research suggests golf courses are not environmentally friendly.]
Jake Kheel, an American sustainability innovator and vice president of the nonprofit Grupo Puntacana Foundation, gave us a tour (available even if you don't stay at the resort.)
Kheel showed us a large beehive area, thousands of wiggly worms composting garbage, an expansive coral restoration project, and several hydroponic experiments (growing vegetables in water instead of in dirt conserves water).
At the gift shop, we could buy purses made from vibrant-colored plastic grocery bags by local women.
If you go
Southwest has one nonstop flight daily from BWI, and United has one from Dulles. Check Kayak.com or Expedia.com for current flight prices.
Depending on your hotel, you may be eligible for VIP treatment at the airport, including skipping the long customs lines, which can take 45 minutes to over an hour, or other perks. When departing, you can access a private lounge with a swimming pool, all free for Tortuga Bay or Puntacana Estate guests (and available to others for a fee).
Casa de Campo rates start at $319 per night; all-inclusive rates start at $499. Group discounts are available. You can save by booking an apartment within the resort via Vrbo or Airbnb starting at $117 per night.
Tortuga Bay rates start at $747 (including breakfast) per night, but again, if you search for the resort on Vrbo or Airbnb, you may find a much cheaper room within the resort. At the nearby Westin Puntacana Resort & Club, rates start at $324 and include breakfast (no all-inclusive option).
For more information, visit casadecampo.com and puntacana.com.