Cover Stories
Recalling a beloved puppeteer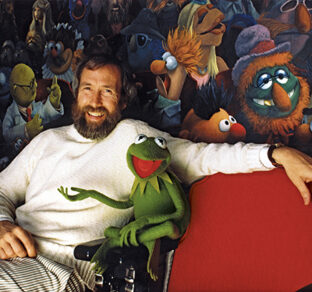 This photo of the late Jim Henson, snuggling his iconic creation Kermit the Frog, shows him in front of a mural of his other puppet characters painted by Coulter Watt. An interactive exhibition on Henson's life is on display now through December at the Maryland Museum of History and Culture.
Photo by John E. Barrett. Kermit the Frog © Disney/Muppets. Courtesy The Jim Henson Company/MoMI
"As children, we all live in a world of imagination, of fantasy, and for some of us, that world of make-believe continues into adulthood."
These words by the late puppeteer Jim Henson set the stage for an immersive museum experience into his enduring entertainment legacy.
Henson's remarkable contributions to pop culture will be showcased at "The Jim Henson Exhibition: Imagination Unlimited" — an exhibit that runs from May 26 to December 30 at the Maryland Center for History and Culture (MCHC) in downtown Baltimore.
Marylanders consider Henson a native son, though he was born in Mississippi. In the late 1940s, his family moved to University Park, Maryland, where Henson, who attended Northwestern High School, first began entertaining friends and family with puppet shows.
When Henson was a student at the University of Maryland, in the early 1950s, he created his first Muppet — a hybrid marionette and puppet. His first show, Sam and Friends, aired on local television, and a career was born.
The traveling exhibition celebrates his creations, which span four decades and include The Muppet Show, Sesame Street, Fraggle Rock, The Dark Crystal and other beloved works.
A puppet innovator
The exhibition features hundreds of objects from Henson's career: sketches, storyboards and early versions of now beloved characters. A 1969 sketch of Oscar the Grouch shows the same eyes as the finished character, and some of the early puppets on display resemble future Muppets.
One part of the exhibit shows how Henson innovated the primitive technique of puppeteering. For instance, he used cloth instead of wood, which made it easier to manipulate the puppet's eyes, nose and mouth into human expressions.
Covering 5,000 square feet, the exhibition is immersive and interactive. Screens, scripts, sketches and prototypes show what went on behind the scenes.
A life-sized replica of The Muppet Show's famous arches provides a fun photo opportunity for museum visitors.
Visitors can also see a different side of Henson in ventures he explored outside of children's entertainment. For instance, in the 1960s, Henson worked as an experimental filmmaker on commercials, documentaries and short films, one of which was nominated for an Academy Award
in 1965.
As a television pioneer, Henson maintained the eye of a filmmaker, emphasizing consistency of character and message.
Admirers worldwide
Though Henson's life was tragically cut short at age 53 (he died of pneumonia in 1990), what he created connects us all: Bert and Ernie, Big Bird, Kermit the Frog.
After all, images we come to love in childhood, uncrowded by other memories, often become the best-remembered lessons and emotional experiences. With its global reach, Henson's work may be one of the things much of the world has in common.
One display reveals what Henson scribbled on a script for the 1980s television series Fraggle Rock: "What the show is really about is people getting along with other people, and understanding the delicate balances of the natural world."
Henson imagined new worlds and new ways of seeing our world. In a 2007 press release for an earlier tour of his work at the Smithsonian, Sesame Street producer Jon Stone captured the spirit of Henson's magic:
"Jim didn't think in terms of boundaries at all the way the rest of us do. There are always these fences we build around ourselves and our ideas. Jim seemed to have no fences."
Traveling exhibit
"The Jim Henson Exhibition" is actually the traveling version of a permanent exhibit at the Museum of the Moving Image (MoMI) in New York City, which explores the art, history and technology of the moving image in all its forms.
Its Jim Henson exhibit started with a major donation by Henson's family to MoMI in 2013. The final production is a collaboration between the museum, the family, and the multiple companies, workshops and studios that encompass the Henson universe.
Since 2017, the traveling version of the MoMI Henson exhibit has delighted museum visitors across the nation. MoMI's director of curatorial affairs, Barbara Miller, said the Henson family was eager to bring the exhibition to Maryland, where Henson first established his creative genius. The Maryland Center for History and Culture is the tenth venue to host the show.
MoMI works with each venue to ensure a smooth installation. Since "the puppets are essential to the experience," Miller explained, a puppeteer from the Jim Henson Company visits each venue to "pose the characters in order to bring them to life."
The Maryland Center for History and Culture — a combined museum, library and virtual learning center, founded in 1844 as the Maryland Historical Society — considers itself the oldest cultural institution in the state.
Today, under its first female president and CEO, Katie Caljean, the center is embracing its purpose with renewed energy. Caljean's vision of a "warm and welcoming" place where "everyone can find themselves and feel accepted" aligns with Henson's delightful vision of caring communities.
It is an ideal environment to display the depth of Henson's vision. Miller explains that "Henson's career was truly unique, as it is realized across generations, media platforms and spans history from the earliest days of television to the early days of digital puppetry. Henson and his team of writers, builders, composers and performers conceived a model of collaboration that is timeless."
The MCHC is located at 610 Park Ave., Baltimore, and is open Wednesday to Saturday from 10 a.m. to 5 p.m. and Sunday from noon to 5 p.m.
 "The Jim Henson Exhibition: Imagination Unlimited" opens May 26. Tickets are $19 for adults, $18 for seniors, $17 for students and children, and free for MCHC members and those under 2.
On Saturday, June 3, is an all-day "opening festival" featuring puppet shows, films, live music and more. The museum will also host a puppet-making workshop on June 10 and a screening of The Muppet Movie on July 15.
For more information on these and other events around the exhibition, visit the MCHC website at mdhistory.org or call (410) 685-3750.