Money
Red flags in cryptocurrency investments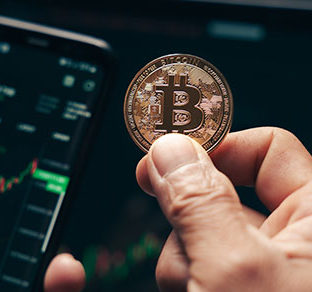 A retired teacher was concerned that his savings might not cover his retirement living costs and rising medical bills.
One day, while browsing the internet, the teacher, who we'll call Henry, stumbled upon an article about cryptocurrencies. Intrigued, he came across a particular cryptocurrency we will call "BitGem" that promised incredible returns on investment.
The BitGem website was slick and professional, with testimonials from satisfied investors and predictions of exponential growth.
With excitement and trepidation, Henry invested some of his retirement savings into BitGem. He kept a close eye on the BitGem charts, watching the value of his investment go up and up. Little did he know that this apparent success was only a mirage.
A parable based on fact
Henry's story is a synthesis of the reports the Montgomery County Police Department receives on a weekly basis. He and BitGem are not real, but this story reflects the losses many local retirees have suffered from cryptocurrency scams.
Cryptocurrency scammers will go to great lengths to create elaborate websites and marketing materials that give the appearance of legitimacy.
However, upon closer inspection, these scammers usually provide little to no information about the team behind the project or how they will generate their promised returns.
In the hypothetical BitGem example, a sham website urged victims to buy and deposit a cryptocurrency. The scammers manipulated the apparent value of BitGem through artificial inflation, using fake trading volumes and manipulated market data to lure in unsuspecting investors.
In reality, the victim's funds went into crypto wallets controlled by these high-tech criminals. From there, the perpetrators would "tumble" or "mix" their ill-gotten gains among numerous other crypto wallets and currency exchanges to obscure the transaction flows.
Authorities had been investigating BitGem and soon uncovered the fraudulent activities behind it. Suddenly, the BitGem website disappeared, and the creators went into hiding overseas.
Although BitGem investors reported the incident to the authorities, the chances of retrieving their investments were slim.
Types of scams
Cryptocurrency scams come in multiple forms, each with strategies and tactics to deceive unsuspecting investors.
Some cryptocurrency scams are classic Ponzi schemes, where new investors' money is used to pay off earlier investors' returns without any legitimate investment.
Another scheme is the rug pull, where they suddenly exit the market (pulling the rug out from under investors), taking all the invested funds with them.
Such scammers may initially appear to have a legitimate project, but once they have attracted enough investors and accumulated significant funds, they suddenly disappear. Unfortunately, this leaves investors with worthless tokens or coins and no way to recoup their investment.
In the pig butchering scam, the victim is lured by a seemingly chance text message or email, perhaps accompanied by promises of an online romance scam.
The conversation then shifts to an investment opportunity in cryptocurrency. This virtual friend or paramour may ask the victim to buy cryptocurrency using a legitimate exchange and then instruct the target to transfer the funds to a website wallet address where it will be "invested."
Alternatively, the victim may receive a message through social media announcing cryptocurrency winnings.
Another common scam is the creation of fake initial coin offerings, where scammers promise high returns on a new cryptocurrency that either doesn't exist or has no real value.
Phishing attacks occur when scammers pose as legitimate companies or individuals to trick users into giving away their account login credentials.
Lastly, there are fake cryptocurrency exchanges that steal users' funds by not allowing withdrawals, or manipulating the market to their advantage. These scams constantly evolve and adapt to exploit the cryptocurrency market's vulnerabilities and lack of regulation.
Watch for red flags
Crypto exchanges are not regulated, and customer deposits, even when real, are not insured. Always thoroughly research any website or app before making a transaction or investment.
One red flag is anonymity. Many scammers hide behind anonymous identities, making it difficult to track them down, hold them accountable for their crimes, or recover stolen funds.
Be wary of unrealistic promises of high returns in a short period, a classic indication of potential fraud. If it sounds too good to be true, it could be a scam.
Houser, a volunteer with the Montgomery County Police Department's Fraud Unit,  will be making a presentation on the subject of cryptocurrencies on Thursday, October 19, from noon to 1 p.m. at the ignITe Hub, Montgomery College, 900 Hungerford Drive, Room 109, Rockville, MD 20850. Admission is free.