Cover Stories
Reenacting historical battles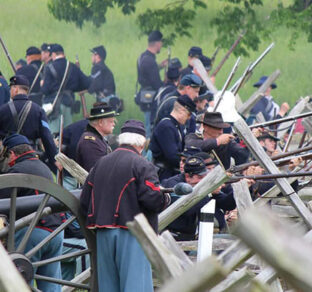 Civil War reenactors participate in a weekend-long battle in New Market, Md.
Photo courtesy of Bill Hart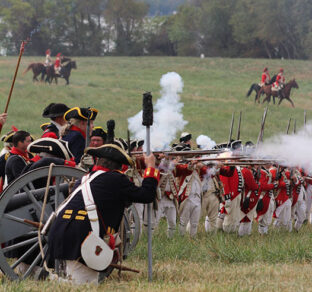 Revolutionary War reenactors met last fall for a skirmish at Mount Harmon in Earleville, Maryland. Marylanders of all ages participate in weekend war reenactments for the excitement of experiencing historical battles and enjoying the spirit of camaraderie.
Photo by Grafton Howard
White-walled A-frame tents dot the field where Union soldiers dressed in their blues march nearby in formation, muskets propped up straight against their shoulders. The sun catches serious faces under their distinct forage caps; these soldiers are marching to battle.
Soon, a cloud of smoke hovers over the field as a line of soldiers fires a volley at the enemy, stars and stripes on the flags barely visible through the white, cloudy air.
No, this isn't 1861; this is a reenactment, a hobby — and a passion for many.
The reenacting of battles from major wars has been going on, in one form or another, since Roman times. Today, it's done as a way to experience camp life and battle (without risking one's life), and to reproduce the camaraderie of shared experience.
Reenactors come from all different backgrounds: They are teachers, masons, newspaper photographers, retirees, ex-military — both men and women. But they all seek out the same spirit of friendship that bound the original soldiers together almost two centuries ago.
"Going on the battlefield and firing your weapon and maneuvering around, that's one thing," said Bill Hart of West Friendship, Maryland, who has been participating in Civil War reenactments for 19 years as a member of the 7th Maryland Volunteer Infantry Regiment.
"But I enjoy the camp life more. It's sitting around talking, exchanging stories. That's the fun for me."
Hundreds gather for weekends
Reenactment groups are often organized into historical military units from the area that fought in a particular conflict. In the U.S., the American Civil War and the Revolutionary (or Rev) War are two popular periods to reenact.
Each side of the conflict has its own regiments, and once a person joins a regiment, they typically stick with it for years.
In our area, the 7th Maryland Infantry Regiment, of Union soldiers, attracts dozens of participants. Reenactment groups attend weekend-long events and participate in activities throughout the year.
Some are battle reenactments, like the "Getty Annual" — the reenactment of the Battle of Gettysburg (July marks its 160th anniversary). One of the most famous Getty reenactments took place in 1913, attended by more than 50,000 Union and Confederate veterans.
These kinds of reenactments are play-by-play recreations of actual historical battles, based on well-documented contemporaneous or historical information.
The Civil War is one of the best-documented conflicts in existence. Regiments practice drills ahead of time so reenactors can learn their roles.
Other gatherings are known as "living history" events, which primarily serve to educate the public about the lives and lifestyles of the people of a given period. These include craft and cooking demonstrations, and leisure activities like period baseball.
"I really wasn't interested in the Civil War until I moved to Maryland about 15 years ago," said Erik Schwetje, a Frederick resident who does both Civil War and Revolutionary War reenactments.
"I just realized how right in the heart of the Civil War…here in Maryland we were. I wanted to know what it was like — the soldier's experience, to be in the field, the whole nine yards."
Many of today's reenactors are history buffs. Around the campfire in the evenings they tell stories based from the relevant time period — but also talk about more recent history, like previous events that were fun or memorable or both.
Some sing songs and play music, too, particularly drums and fifes, which were used as signals during battle because not much else could be heard through the commotion.
"I just love the immersion into the Civil War for two straight days," Schwetje said. "We wind up talking about books we've read and movies about the war. It's great information sharing, but it's mostly the friendships that keep me coming back."
A family tradition for some
It isn't uncommon for people to get involved in what's called "the hobby" due to family members' interests. A few even choose to join specific regiments their ancestors belonged to.
"I was pulled into reenacting because my husband was reenacting, and his dad was reenacting, and his grandfather was reenacting," said Baltimore County resident Amanda White, a member of the First Maryland Regiment. "And now my children [ages 9 and 7] are reenacting as well." White's 89-year-old grandfather, John White, has been bringing his family to reenactments since shortly before the American Revolution Bicentennial in 1976.
Eventually, White started his own business selling goods to reenactors. These purveyors of period goods are called sutlers, "a term that was used for guys who had a wagon and went out and sold goods to the soldiers: canned oysters, pies, pieces of uniform, buttons, whatever," Hart explained. Today's sutlers also sell souvenirs like coffee cups, flags, hats and T-shirts.
Annapolis resident Dawn Giovannini initially attended events to mind her young stepson while her husband was on the battlefield. She made herself a period-appropriate dress and joined other women as a "camp follower."
Later, when her stepson was old enough to be on the battlefield as a bugler, Giovannini found herself "sitting in camp, in layers of cotton in the heat, cooking over a campfire while all the men are out, and they're coming back…with huge grins on their faces," she recalled. "What's wrong with this picture?" Giovannini asked herself.
Giovannini then read the book They Fought Like Demons: Women Soldiers in the Civil War, a historical account of hundreds of women who adopted male personas and fought as soldiers.
Deciding to follow their lead as a reenactor, she began going out in uniform with the men. "It's much easier to wear pants than a dress in camp," Giovannini said with a chuckle.
Before the ban on women in combat was lifted in 2015, Giovanni would listen to talking heads debating "about women not [being] fit for combat. And I'm sitting here in a Civil War uniform going, 'Um, I beg to differ. They did it…150 years ago; they did it successfully.'" Giovannini enjoys sharing this lesser-known piece of history with the kids at the educational events where her regiment participates.
It's not exactly a cheap hobby, however. Participants are responsible for obtaining their own uniforms and battle gear. Fortunately, items ranging from axes to shoe horns and all types of uniforms (from vintage to replicas) are available online.
Assembling a "kit," a uniform and accessories, can cost about $1,000. But beginners usually can borrow items from seasoned re-enactors to give it a try before going all in.
Why do reenactors step out of the 21st century for a weekend to don period clothing, sleep in un-airconditioned tents and cook over an open fire?
"It's fun to be an amateur historian," White explained. "It's a nice hobby for any age… from the little itty bitties to our older generation."
For more information about local reenacting groups, visit 7thmaryland.com (for Civil War-era reenacting) and 1mr.org (for Revolutionary War-era reenacting).
Members of the public can observe a Revolutionary War reenactment in October, including living history presentations and craft demonstrations; see mountharmon.org. To learn about the 160th Battle of Gettysburg Anniversary reenactment event, visit gbpa.org.
Ed. Note: Bill Hart is the author's father-in-law.