Arts
Rep Stage begins its 25th theater season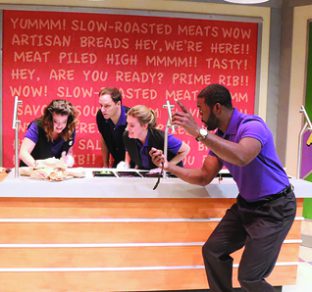 Rep Stage presented the play American Hero during its 2016-17 season. The new season starts with Wendy Wasserstein's Pulitzer Prize-winning play The Heidi Chronicles on Sept. 6.
Photo courtesy of Rep Stage
Rep Stage, the professional regional theater at Howard County Community College, will mark its 25th anniversary season with three award-winning contemporary American plays —The Heidi Chronicles by Wendy Wasserstein, Lady Day at Emerson's Bar and Grill by Lanie Robertson, and True West by Sam Shepard — along with a world premiere about two eccentric sisters from Baltimore.
The premiere, All She Must Possess, is by Baltimore playwright Susan McCully, who teaches at the University of Maryland Baltimore Campus. The play traces the strange-but-true lives of the Cone Sisters, two art collectors who happened to help discover such onetime struggling painters as Henri Matisse and Pablo Picasso.
Rep Stage is the only Equity-associated professional theater in the country that is part of a community college. Equity refers to the Actors' Equity Association, an American labor union that represents more than 50,000 actors and stage managers nationwide.
While not connected to the college's theater department, Rep Stage occasionally casts students in its productions and uses them for other work. The nonprofit company has the use of the Horowitz Center theaters on the HCC campus in Columbia.
A 25th season anniversary event for Rep Stage donors was held last spring, and discussions are underway for a larger event to celebrate the special year.
Opening act
The season opens Sept. 6 with Wasserman's 1988 Tony Award- and Pulitzer Prize-winning comedy about the coming-of-age of art historian Heidi Holland. The play soon became a feminist classic.
Rep Stage Artistic Director Joseph Ritsch said that, after reacquainting himself with the play, he was "surprised how current the themes still are." It raises questions about the position of women in the world that still have not been answered, he said.
The Heidi Chronicles, directed by Jenna Duncan, will run through Sept. 24 in the Studio Theatre at HCC.
Lady Day at Emerson's Bar and Grill, which imagines one of the final performances of jazz icon Billie Holiday four months before her death in 1959, will run from Nov. 1 to 19, also at the Studio Theater at HCC.
The 90-minute one-act play was written in 1986, then recently revived with Audra McDonald, who won her sixth Tony award for her performance.
The play features performances of more than a dozen Holiday classics, such as "God Bless the Child," "Strange Fruit" and "My Man." Between the songs, the singer reminisces about her hard-knock life.
While the play itself did not receive the accolades that went to MacDonald for her performance, Ritsch said Holiday's monologues in the play are "beautiful and heart-breaking. She talks about race and politics in a sensitive and important way."
The play will be directed by Danielle Drakes, with musical direction by Cedric D. Lyles.
World premiere in February
All She May Possess, which will have its world premiere Feb. 7, 2018 and run through Feb. 15, looks at the lives of Claribel and Etta Cone (née Kahn) — upper-class daughters of German-Jewish refugees, whose turn-of-the-19th century adventures in collecting "modern" art bemused and amused their supposed peers.
Ritsch, who will direct the work, noted that several great Matisse paintings at the Baltimore Museum of Art were donated by Etta, who reportedly was a lover of writer and fellow art collector Gertrude Stein, before Alice B. Toklas came on the scene.
Among the characters in the play, besides the Cone sisters, are Stein, Toklas, Matisse, and the artist's famous Blue Nude, who steps out of the canvas for a short performance.
The regional theater's 25th season will end with a production, April 25 to May 13, 2018, of True West by the recently deceased playwright and movie actor Sam Shepard. The 1983 play has reached the designation of "true contemporary American classic," according to Ritsch.
True West is about the sibling rivalry of two brothers who turn out to be not as different as they, and the audience, believe themselves to be. Ritsch described the work as both "heavy drama and very, very funny."
It has also been called by critics "opaque," "terrifying," "surrealistic" and "naturalistic"— all part of Shepard's contradictory genius. "You think you are watching one thing, while at the same time he's presenting another," according to the San Francisco Chronicle.
True West will be directed by Vincent Lancisi, artistic director of Baltimore's Everyman Theater.
Ritsch, 48, has been artist director at Rep Stage going on five years. He said he chose the four plays "to honor the Howard County regional theater's tradition of presenting contemporary American classics and new works."
Tickets to all plays are $40 for adults, $35 for those age 60+, and $15 for HCC students. However, Thursday tickets are just $10 for everyone. For more information, such as show times, or to buy tickets online, go to www.repstage.org or call the box office at (443) 518-1500.