Housing
Residents who look beyond themselves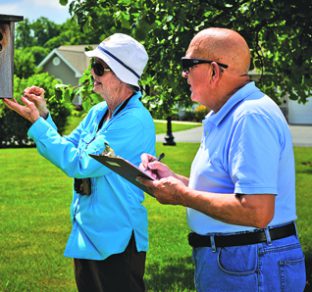 Betsy Read and Mike Scalzi check a bluebird house at Brooke Grove Retirement Village in Sandy Spring, Md., where residents help maintain nesting space in 30 bird boxes scattered across the grounds.
Photo courtesy of Brooke Grove
Today, so many retirement communities take such good care of their residents, you might think they were waited on hand and foot, as my mother liked to say.
Restaurant-style dining, a plethora of clubs and activities, pools, golf courses and state-of-the-art exercise facilities, movie theaters, beauty salons — you name it, and there are places that offer it.
But a seldom-heralded benefit of many communities is, perhaps unexpectedly, the fact that they offer their residents opportunities to help others; to give something back.
The joys of reading
For example, over at the Greenspring retirement community in Springfield, Virginia, some 2,000 residents live in 12 apartment buildings.
There, Elaine Sorenson makes sure that neighbors who can no longer make library visits still get books to read (or listen to). She coordinates book-by-mail services offered through Fairfax County's public libraries for her fellow residents.
"If one day you suddenly realize that, for one reason or another, you cannot go out of your home to go to the library, the library will come to you," Sorenson said. "And the books can take you to many other places," she added.
She also helps schedule visits by county library staff to Greenspring three to five times a year to issue library cards to residents who need them.
Usually, 25 to 50 residents show up at every visit to get new cards or have old ones reactivated. The access to a world of materials the cards provide allows them to brush up on their Shakespeare, or the latest Harlan Coban mystery, or whatever else comes in book form and can be sent through the mail.
There is also a delivery service of "talking books" for residents with eyesight or other problems, Sorenson noted. And books can be put on digital tablets for those who like that new technology or have trouble holding books.
She helps residents "deemed eligible" for these various services get enrolled in the free system.
Why has the 90-year-old, 15-year Greenspring resident taken on the responsibility of keeping her neighbors reading?
"At first, I said [of the library service], 'Who needs this?'
"Then I got older, and I looked around and realized that a lot of us need this! When I gave up driving my car, I realized how wonderful to have books come to me. If you are limited in your mobility, you should not be without books," she said.
"I realized it was important to have such a service," so she took it upon herself to make sure it was there, and that her fellow residents knew about it.
For the birds?
Some who live in communities like to focus their energies more on their furry or feathered friends.
For the past five years, Mike Scalzi, 87, has spent time trying to make sure that bluebirds still fly — not just over the rainbow, but over the 220-acre campus at Brooke Grove Retirement Village in Sandy Spring, Md., where he lives.
He helps keep the bluebirds flying by giving them comfortable nesting locations among the trees and fields of Brooke Grove. For Scalzi, it's a way to show his feeling for the non-human living world.
"They were here first, before we took over," said Scalzi of his admiration for non-human beings. ""We have to take care of them," he said. "If they fail, we fail."
About 30 birdhouses built for bluebirds are cared for by the eight or so Brooke Grove residents who, like Scalzi, make weekly visits to several sites to which they are assigned.
The Eastern bluebird population was reduced by nearly 70 percent in the 1970s, according to the Maryland Bluebird Society. But an upsurge was reported in 2005, attributed largely to volunteers establishing and maintaining bluebird trails.
Scalzi said his duties include making sure the nest in a house was actually built by a bluebird, rather than by other birds — most specifically sparrows, who "tend to take over," he said.
"You can tell a bluebird's nest from that of a sparrow's; it is higher and made of softer material, grasses, milkweeds."
The nests of sparrows, mice and other "intruders" are destroyed, leaving the houses available when the bluebirds move back in, usually in early spring, and lay their eggs, which have light blue shells, Scalzi noted.
"If the eggs are hatched, then I close the box and don't inspect it for two or three weeks," said the retired IBM employee, who worked with computers in the early years when they were run by vacuum tubes. "When I check the box again, if the chicks have gone, I assume that they have fledged," he said.
Between 30 and 50 bluebird eggs are hatched in the houses each year, according to Susan Phillips, Brooke Grove's life enrichment coordinator. The Bluebird Trail program was started in 2003.
There's another way Scalzi expresses his love for nature: by exhibiting at Brooke Grove his many photos of the foxes, deer, other birds and various insects he comes across doing his duties in the surrounding woods.
On-call for repair
At Falcons Landing, a community for retired military officers and former senior government officials located in Sterling, Va., former Air Force Colonel Howard Schue, 75, is proud to be one of the Woodworkers. That's a group of Mr. Fix-It volunteers who spend time in the community's woodworking shop repairing, refurbishing and building chairs, tables, shelves, lamps and other home furnishings for their fellow residents, almost always free of charge.
They service the 400 to 500 former military officers and one-time high-level government officials, as well as their families, who live at the community whenever something needs to be fixed or spruced up.
Schue said he spends about 10 to 12 hours a week doing volunteer woodworking — a "trade" he taught himself over the past 30 or so years.
The former president of the Military Officers Association of America, Schue also arranges a monthly gathering to hear "speakers of interest" at the community. And not just any old speakers, either. The most recent visitor was former CIA Director Michael Hayden, who spoke about his recently published book, Playing to the Edge.
A sample of Schue's woodworking ability was on display last month at the Falcons Landing Chapel in a 10-foot-tall-by-five-foot-wide crèche.