Cover Stories
Restaurateur: Let them eat steak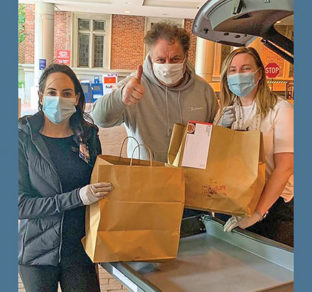 During the pandemic, restaurateur Mark Bucher, center, provided free dinners to 25,000 older adults in quarantine. He also founded Feed the Fridge, a nonprofit that works with area restaurants to make free meals available to anyone in need. Bucher is being honored with Seabury's Leadership in Aging award for his service.
Photo courtesy of Seabury Resources for Aging
When D.C. restaurant owner Mark Bucher has a gut feeling, he acts on it.
In the early days of the pandemic, Bucher, who owns Medium Rare, a chain of steakhouses, sent out a message over Twitter: "If anyone knows of anyone over 70 in the DMV that is quarantined, at home and needs a meal tonight, please [contact] me. We will make sure they get dinner."
Bucher, 53, acted on instinct, he said in an interview with the Beacon. "I didn't think about it; I just did it."
Older adults, like the rest of us, had to isolate. Bucher remembered how his father, who had died two years earlier at age 82, would skip meals unless Bucher or his sister cooked for him.
Soon after Bucher's tweet on March 12, 2020, he heard back from hundreds of people. He and his wife, four daughters, neighbors, Uber drivers and restaurant staff pitched in to cook, organize and deliver steak dinners to those in need, and to keep doing so as more names came in.
Bucher brought together 40 to 100 volunteers a night, he said. "They were brave. It was scary back then."
More than two years later, Bucher and his nonprofit estimate they have delivered 100,000 free meals to older adults and underprivileged families.
For his efforts to fight food insecurity in our area, Bucher will receive the 16th annual Leadership in Aging Award from Seabury Resources for Aging on May 19.
"His inventive solutions to hunger really make the region a better place to grow old," said Dawn Quattlebaum, Seabury's chief executive officer. "His efforts really align with our mission to combat social isolation and food insecurity."
An 'unconventional thinker'
Bucher's instinct to take risks may have started during childhood in Cherry Hill, New Jersey. "My mother said once, 'May you have a child just like you,'" Bucher laughed. "I've always been somewhat of an unconventional thinker."
Bucher moved to D.C. to attend American University and never left the area. One day more than a decade ago, when Bucher was working in commercial real estate, he noticed an ad about a vacant smoothie shop near his home in Bethesda, where he lives with his family.
On a whim, he bought it and opened a hamburger shop there. The Burger Joint, or BGR, caught on, expanding its locations all over the area, and Bucher sold the chain in 2013 for a profit.
In 2011, he co-founded a sit-down steak and frites restaurant in Cleveland Park called Medium Rare, which expanded to more locations in Arlington and Bethesda.
Then the pandemic hit. With restaurants shuttered, Bucher struggled to retain his beloved staff, putting them to work preparing and delivering food for five months or so.
He began meeting people who were hungry, particularly older adults. "When we would go to their homes, we would start checking on them: 'Do you have family?…Why didn't you tell them you were hungry?'" he asked.
Often, they would reply, "Because I didn't want them to worry," Bucher said. "That was the turning point for me."
Feed the Fridge
Bucher also works to feed hungry children. In the summer of 2020, when it became clear that schools might not reopen, Bucher began to worry about students who rely on free meals from public schools. But how to reach all of them?
That's when Bucher devised an idea to deliver meals to various drop sites where kids might gather: schools, community centers, recreation centers.
Ever scrappy, Bucher borrowed a few refrigerators from National Stadium, the site of one of his Medium Rare locations, and stocked them daily with steak, salad, fries and dessert.
That's how he launched the nonprofit Feed the Fridge, which provides healthy meals to those in need while also helping restaurants stay in business — no small feat during the pandemic.
Feed the Fridge raises money to pay local restaurants to fill public refrigerators with fresh meals daily. Anyone can stop by a fridge and pick up a meal for free, prepared by restaurants such as Cava, Olazzo, Alatri Bros, Duke's Grocery, Chaia Tacos, Pie Shop DC, Little Sesame, and Call Your Mother Deli. Restaurants receive about $6 per meal.
Bucher makes sure the meals are nutritionally balanced and delicious: "dignified meals," as he puts it. "Nothing processed."
The meals, which are snapped up every day at the 29 refrigerators located from Prince George's County to Gaithersburg, Maryland to Washington, D.C., fill an important need.
People who pick up free groceries at food pantries often don't have the money for pots and pans to prepare them, Bucher pointed out. And older adults may have trouble cooking.
"The elderly typically have pots and pans, but they can't hold them if they have arthritis," he said.
It costs about $100,000 to stock one refrigerator every day for a year, so Bucher's nonprofit staff — one full-time employee, six part-timers and other volunteers — seek donations from individuals, restaurants and corporations.
Next are D.C. senior centers: Bucher is working with the D.C. government to place free meals in several senior centers.
In the meantime, Bucher's nonprofit will "hand-deliver holiday meals to seniors who cannot leave their homes," he said.
Free meals on holidays, too
Mother's Day is coming up in May, and Bucher, who lost his mother when he was just 17, tries to ensure "no mom is forgotten," he said. His nonprofit delivers between 2,000 and 3,000 brunches to mothers who are alone on the holiday.
"Hunger has no holiday, and we deliver every day," Bucher said. (DoorDash now partners with Bucher to deliver meals.)
Thanksgiving is a busy time for Bucher, too. Since 2007 he has spent the day deep-frying turkeys for free, hoping to prevent the kitchen fires that happen every year.
That first year, after working the fryer for hours, Bucher returned to his car, exhausted and "burned from my wrist to my elbows on both arms," he recalled.
A scrap of paper fluttered on his windshield — at first glance, he thought it was a parking ticket. Instead, it was a handwritten thank-you note from a family he had helped. "'Without you,'" they wrote, "'we wouldn't have had our Thanksgiving.' I still have that note…I never can stop this now. That drives me," he said.
Bucher says he's determined to solve the problem of hunger in our area over the next decade — and he'll use every entrepreneurial instinct and unconventional thought to do so.
"I've got to stand up for people who don't have a voice. I take that really seriously," Bucher said.
"Hunger is still as bad as it's ever been or even worse…What we're doing [as a society] isn't working. Let's try a new approach, and even if it doesn't work, at least we've tried it."
If you know a mother who will be alone on Mother's Day and would like free brunch delivered to her door, email ilovemymom@mediumrarerestaurant.com or contact@feedthefridge.org. For the locations of the 29 refrigerators with free meals, visit feedthefridge.org.
For tickets to the Seabury Leadership in Aging awards on Thursday, May 19, call (202) 414-6318 or visit seaburyresources.org/lia.