Cover Stories
Retired admiral tells her story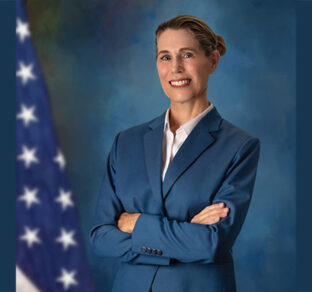 After growing up in Ellicott City, Sandy Stosz joined the U.S. Coast Guard. She rose to the rank of vice admiral, becoming the first woman to command an icebreaker ship, and the first to lead a U.S. Armed Forces service academy.
Photo courtesy of Koehler Books
Sandra "Sandy" Stosz, 63, fondly recalls her "tomboy years" in Ellicott City before joining the U.S. Coast Guard, working her way up to commanding vessels and becoming the first woman to be in charge of a U.S. military academy.
Newsweek named Stosz one of the 150 Women Who Shake the World in 2012 — six years before she made history by being appointed superintendent of the U.S. Coast Guard Academy.
You can read all about Stosz's 40 years in the Coast Guard in her autobiography, Breaking Ice and Breaking Glass: Leading in Uncharted Waters, published in 2021 by Koehler Books.
Spent her youth in Maryland
Stotz grew up in Maryland with three younger brothers, all fewer than four years apart.
"My parents were both athletic, and since I was in constant company with three athletic brothers and their friends, it was natural for me to become a tomboy. I never played with dolls," she said in a recent interview with the Beacon.
Stosz was born in Silver Spring, Maryland, and her family spent some time in Takoma Park before moving to Ellicott City.
She spent her school days at Northfield Elementary and Mount Hebron High School. There she played varsity basketball, set a record as a senior for the discus, and played tennis and swam at the Forest Hill Swim and Tennis Club.
These sports were accessible to Stosz and other girls because of Title IX, the 1972 federal law that prohibited sex-based discrimination at any school or institution that receives federal funds.
"I am continually thankful to have been born at exactly the right time to benefit from Title IX," she said in her 2012 testimony at a U.S. Senate hearing that marked the 40th anniversary of Title IX.
"Athletics shaped and focused me and gave me the confidence to realize that, through perseverance and hard work, I could pave my own way to success."
She coupled this athleticism with a love of science, which she got from her chemical engineer father, Max Stosz.
Stosz earned a bachelor's degree in government from the Coast Guard Academy in New London, Connecticut, and a master's degree in national security strategy from the National War College in Washington, D.C.
In addition to completing an executive fellowship in national security through an MIT seminar program, she also has an MBA from Northwestern University's Kellogg School of Management.
9/11 patrols and icebreakers
Between educational stints, Stosz spent 12 years at sea, commanding, among other vessels, a Coast Guard cutter that patrolled the waters off New York City after the 2001 terrorist attack on 9/11.
She was the first woman to command an ice-breaking tugboat, on the Great Lakes. In fact, during those years, Stosz was one of the few women — or the only woman — aboard her ship (hence the title of her memoir, Breaking Ice and Breaking Glass).
During her Coast Guard career, starting as an ensign and eventually becoming a vice admiral, she traveled the world's oceans, visiting Haiti, New Zealand, the South Pacific and Antarctica.
"Antarctica is my favorite place," she writes in her book. "It is the most amazing, remarkable and ruggedly beautiful place on earth." Surprisingly, it is one of the driest places on the planet, she noted, and also has the world's southernmost active volcano.
"The Adelie penguins are my favorite. Incredibly cute and very curious, they would waddle right up to the ship to get a closer look at us," she writes.
Unfortunately, Stosz points out in her book, the ice of Antarctica is in danger of disappearing. Scientists have noted that Antarctica is actually melting at a rate that has tripled since 2007.
They note that between 60% and 90% of the world's fresh water is frozen in the ice sheets of Antarctica. If all that ice were to melt, it would be enough to raise the world's sea level by 200 feet.
"That's the canary in the coal mine," Stosz said. "People don't know how incredibly sensitive the South and North Poles are. What is happening there is an early warning, an indication of the effect of climate change here."
Coming home
The retired three-star admiral now lives on Cape Cod in Falmouth, Massachusetts, with her husband, retired Lt. Commander Bob Volpe, who spent 27 years in the Coast Guard.
Cape Cod was a natural choice because Stosz spent summers visiting her grandparents in Falmouth, paddling in her grandfather's rowboat, and finding an early passion for a life at sea.
She's not exactly retired, though. Stosz is a frequent keynote speaker for graduations, leadership conferences and podcasts. She created and writes a weekly column called "Leading with Character," a blog published by the Homeland Security Today website.
She hopes to have time to visit Ellicott City soon to see the grave of her brother, who was killed at the age of 17 in an automobile accident.
"Whenever my travels take me back home, I visit my brother Tom in St. John's Cemetery on St. John's Lane," she said.
And she has sweeter memories of her time in Howard County, too. Stosz remembers those "wonderful trips" to the now defunct Leidig's Bakery on Main Street, she said, which had "the best doughnuts anywhere."
When Stosz looks to the future, she ponders what we as citizens can do to strengthen our country.
"We're a nation that derives its strength from uniting people around shared values," Stosz said. "Yet we've allowed ourselves to become divided, which weakens us.
"I believe it's the responsibility of every one of us to approach our fellow Americans with humility and with the sincere intent to respectfully understand them, not to undermine them."