Housing
Robotic companion can make life easier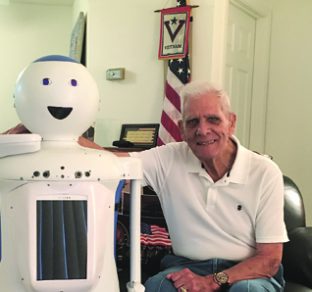 Rudy the robot can help older adults age in place by issuing medication reminders, calling for help in emergencies, and even offering companionship. Its screen allows two-way communication between the resident and their doctors and family members as well. Created by INF Robotics, Rudy is soon to hit the Washington, D.C. market, and plans to expand nationwide next year.
Photo courtesy of INF Robotics
Those who live alone and need some assistance to continue aging in place may get by with a little help from a friend — a cute white and blue robot named Rudy.
INF Robotics, based in Fairfax, Virginia, has spent the last six years building Rudy specifically to assist older adults and individuals with disabilities with a range of tasks, and to serve as a sentinel in case of falls.
Rudy, who can be summoned by name (and whose name can be changed, by the way), can track its owner's movements, detect if they fall, and summon help if needed. It can also retrieve and carry light objects and, since it can speak, remind you to take medications and when you have appointments.
Rudy is about the size of a 10-year-old, and is designed to look friendly and accessible. In fact — with its round head, cartoonish features, and white and bright blue colors — it
almost looks like a snowman.
More than a companion
The idea for the robotic companion came to CEO Anthony Nunez while he was still a teenager — when his grandmother fell and lay undiscovered for days, prompting her loss of independence and increased reliance on his mom. Seeing the difficulties on "both ends of the spectrum" is what caused him to look for the out-of-the-box solution that became Rudy, he explained.
In addition to his other functions, Rudy can also act as a medium between a person and their doctors and caregivers. In fact, doctors can operate him remotely and check in on the robot's owner on a regular basis.
"For caregivers or family members, they can take control of Rudy and see how the senior is doing" explained Nunez. "The interface is extremely simple. We know seniors haven't grown up using computers."
A blue video screen on its chest enables chatting between the owner, their caregivers and doctors. Through a camera, doctors can "see the senior, observe them as they move around, and talk to the senior to become informed of certain things that may be concerning them health wise that are not visible to the doctor or the caregiver," Nunez added.
For privacy reasons, Rudy does not record information, but Nunez said this can be altered in the next model if customers decide they want it.
Aside from its practical uses, Rudy can also be a major source of companionship, fun and social interaction for its owners. The video-chatting screen on its chest can be used to play games with its owner, and the robot can even dance and join in simple conversations.
Helpful in emergencies
Though emergency call buttons have been popular for years, many people who have them don't wear them or forget to put them on, according to Nunez. Enter Rudy, who both talks and understands commands, making him an invaluable companion in the event of an emergency.
INF Robotics has partnered with AlertOne Services so Rudy can call for help in the event of an emergency. The robot currently requires owners to actually say "help" to activate this feature, but the INF team is working on a way to summon help in cases where a person cannot themselves utter the word.
The robot was always designed primarily for older adults and their unique needs. "We have kept seniors in the loop from the very beginning," Nunez said, "and constantly evolved the design and operation based on their feedback and needs."
According to Nunez, it was important to INF Robotics to have potential consumers test the robot to see if there were any issues that needed resolving and to see if they enjoyed it. They decided to test him in senior living communities and with home care companies, both within their target market.
"With the senior community living facilities, we had seniors volunteer themselves to test with Rudy," he said, "and we would also have the faculty recommend seniors whom they would like to see Rudy working with, to get the senior out of their rooms to move and interact more."
The robot was tested in several senior living communities around the Fairfax area, including Vinson Hall, Woodlands, Somerset and Goodwin House in Virginia, and Knollwood in Washington, D.C.
It was also utilized by several home healthcare agencies, including Comfort Keepers, SenCura and Home Health Options Group. All three will continue their partnership when it hits the market.
Though primarily for seniors, Rudy is also suitable for an individual of any age with disabilities. Nunez said they are also looking to assist veterans, especially those who were wounded or now need assistance. Because of this, Rudy has been tested and approved by the Department of Veteran Affairs.
The expected cost of each unit is $5,000, a hefty price for some, but with the monthly cost of non-medical home care at roughly $16 to $26 an hour, it could be worth the investment.
Nunez said they are also seeking reimbursement options through Medicare and Medicaid, and hope that the robot "will be little to no cost to the user" in the near future.
Rudy is just beginning to hit markets in the Washington, D.C. metro area, with national sales projected for late 2018. For more information, visit www.infrobotics.com.