Arts
Sample Baltimore's markets and food halls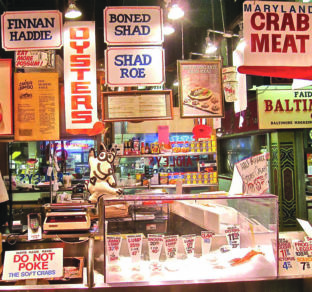 Lexington Market is the oldest market in America, founded in 1782. In recent years, Baltimore has spawned several other markets and food halls that, like Lexington Market, offer a huge smorgasbord of offerings.
Photo courtesy of Visit Baltimore
Several years ago, food trucks were all the rage. Now food halls are popping up all over the country, giving restaurateurs the opportunity to lower their overhead by sharing space, while also giving diners the opportunity to partake of a variety of food offerings in one location.
Baltimore has long had its own version of food halls, with its traditional city markets. These include some of the oldest public markets in the country.
Whether you want to go the traditional route or sample the city's new food halls, here are some to choose from.
Lexington Market
400 W. Lexington St.
(410) 685-6169
www.lexingtonmarket.com
In 1782, Revolutionary War General John Eager Howard donated a portion of his family pasture land to be used as a market. That land was situated between what are now Eutaw and Greene Streets, stretching out to the present locations of Baltimore's Washington Monument and General Howard statue.
The site was originally known as the Western Precincts Market, but was soon renamed in memory of the Battle of Lexington, the first battle of the American Revolution.
Founded in 1782 at the site where it stands today, Lexington Market is the oldest market in America. Today it houses more than 75 vendors offering everything from fresh produce and fried chicken, to Baltimore's famous Faidley's crab cakes and Berger's cookies.
Broadway Market first opened in 1786, and was called Fell's Point Market until 1797, when it was moved to the center of Broadway to accommodate the immigrants and sailors of the neighborhood.
The market, located in historic Fells Point, once consisted of four long sheds that extended to the harbor, with vendors selling fruits and vegetables brought by farmers who came by wagon, boat and ferry.
Today's offerings are even more varied, and include offerings from pierogis to fish tacos, seafood, made-to-order sandwiches and much more.
The market's north shed, located between Broadway and Fleet and Aliceanna Streets, has undergone a $3 million renovation and is re-opening this month, with the south shed scheduled to re-open this summer.
In a former automobile showroom located near Johns Hopkins University and the Baltimore Museum of Art, R. House showcases nearly a dozen casual, chef-driven menus within a 50,000-square-foot space.
Their kitchens surround a 350-seat food hall with roll-up garage doors, booths, communal tables, and a neighborhood bar at the center of it all.
Mount Vernon Marketplace is located around the corner from the Walters Art Museum and a block away from the Maryland Historical Society.
There are more than 14 food purveyors offering gourmet cheese, artisanal sandwiches and charcuterie, fresh local oysters and seafood, noodles and dumplings, crepes, Ethiopian cuisine and coffee, vegetarian and vegan fare and more.