Travel
Scenic Oregon, unpretentious Portland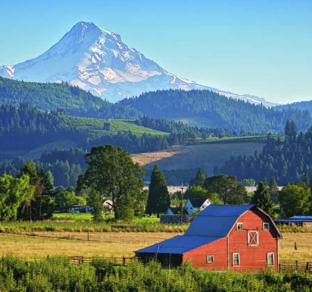 The 11,250-foot-peak of Mt. Hood rises above Oregon's pristine farmlands and vineyards. It is literally the high point for many Oregon tourists, offering the longest skiing season in North America. Mt. Hood valley is home to many organic farms and vineyards.
Photo by Kimberly Shavender/Shutterstock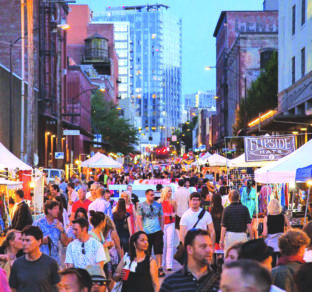 Art Walks in Portland's Pearl District have attracted regular crowds since the monthly street festival started three decades ago. Once an industrial area, today the Pearl is a vibrant neighborhood of breweries, restaurants, stores and galleries.
Photo by www.visitportland.com
Visitors to Oregon soon come to admire its varied landscapes, be fascinated by intriguing chapters of history, and enjoy its well-deserved reputation as a cornucopia of tasty fruits, vegetables and outstanding wine. No wonder the state has ranked high on many "best of" lists.
At the same time, Oregon is as much a lifestyle as a destination. It's among the most environmentally-friendly states in the country, tops in recycling and producing renewable energy.
In addition, a combination of other endearing traits beckons many people to follow in the path of the historic Oregon Trail. (More about that later.)
Diverse in many ways
Laid-back and laissez-faire were among the first words that crossed my mind shortly after I arrived in Oregon. Those impressions were underscored by locals whom I encountered.
"We're very accepting of various lifestyles," a 30-something woman told me. "A lot of eccentric characters live here," according to a gentleman whose gray hair was twisted into a long ponytail.
Another distinction is the pronunciation of places, some because of their Native American roots. Any version of the state name other than OAR-uh-gun is a source of amusement to the native-born. Other local dialect includes the Willamette (which comes out as will-AM-ette) River, named for an Indian tribe, and the towns of Helvetia (hel-VAY-sha), Tigard (TIE-gurd) and Tualatin (too-WALL-uh-tin).
The diversity that characterizes Oregon's populace translates to its landscapes. They range from rugged ocean coastline to dense evergreen forests, from glaciers to barren desert, from grassy prairies to volcanoes.
That variety provides a wide choice of to-see's and to-do's. For some, it means opportunities to visit wineries that invite guests to learn about their craft, sample their products and understand why they're advancing in the world of fine wines.
Those who follow wine trail routes enjoy a combination of sipping and scenery. For example, the 60-mile-long Vineyard and Valley Scenic Tour Route winds through serene countryside and showcases the commingling of outstanding wine with history and agriculture. Farms and orchards line the route and, when in season, produce stands offer fresh-picked fruits and vegetables.
The agricultural riches of the area attracted Native Americans who settled in the northwest at least 14,000 years ago. An 1855 map of the Oregon Territory referred to various Indian tribes, including the Atfalati Tualatin Klpuyan Indians, hunter-gatherers who made the fertile Tualatin Valley their home.
Lewis and Clark and beyond
After the Lewis and Clark expedition traveled to, and through, the Oregon Territory from 1804 to 1806, a trickle of pioneers followed, then a wave of farmers, hunters and others.
As word spread about the ideal farming conditions and other inviting characteristics of the area, a growing number of people took what became known as the Oregon Trail, willing to accept the very daunting challenges it presented.
The route ran more than 2,000 miles from its start in Missouri, and was the most heavily used trail in the westward expansion. Visitors today may follow sections of that trail and others that provide an immersion in various aspects of the local lore.
The past comes alive along the Mt. Hood Territory Heritage Trail. It includes stops at the Museum of the Oregon Territory and the End of the Oregon Trail Interpretive Center.
A different experience awaits those who take the Mount Hood and Columbia River Gorge tour, which combines dramatic views of the breathtakingly beautiful canyon with plummeting waterfalls and stunning mountainous terrain, including the tallest mountain in the state.
And the 35-mile-long Hood River County Fruit Loop leads to 28 farm stands, berry farms and wineries.
For those who prefer walking tours, a self-guided stroll through the town of Canby traces its history from serving as a stop along a section of the Oregon Trail to a logging community, and introduces the fascinating cast of characters who played important roles in its past.
In an area of mountainous terrain, the snow-capped peak of majestic Mt. Hood, which tops out at a height over 11,200 feet, reigns supreme. On clear days, it can be visible 100 miles away. Given that elevation, it's not surprising that the dormant volcano offers the longest ski season in North America, including runs on 12 glaciers and snow fields.
In summer, the dense wilderness, fields of wildflowers, Alpine lakes and rushing rivers in the million-plus acre Mt. Hood National Forest attract hikers, campers, fishermen and sightseers, along with experienced mountain climbers.
Humans share the woods with black bears, elk, mule deer and an occasional cougar.
Art all over
Not to be outdone by the beauty provided by Mother Nature, a number of Oregon's cities and even small towns compete with collections of outdoor art that augment the splendor of the surroundings.
Among works that greet folks who follow several interconnected art trails in Tualatin are a 20-foot-tall metal statue representing the town's history and the Tualatin River, and another that depicts a flock of geese.
The Gallery Without Walls in Lake Oswego includes both permanent and loaned pieces, some of which are for sale. Other communities, including Hillsboro and Forest Grove, host monthly art walks during which galleries extend their open hours and local artists showcase their work.
Art also enhances outdoor spaces throughout Portland, Oregon's largest city. A collection of statues ranges from Abraham Lincoln and Theodore Roosevelt to the Greek god Orpheus. An inviting open-air sculpture mall is decorated with statuary and a created waterfall.
The sites of Portland
Visiting neighborhoods that comprise Portland is a perfect way to experience and enjoy much that the city has to offer.
The Alberta Arts District is home to a number of quirky galleries, and hosts a monthly street festival that pays homage to art, food and other facets of that community.
Houses in the historic Old Town district, where the city was born in 1843, display a never-never land of ornate cast-iron scrollwork and filigree along with human and animal figures.
West End stretches between Powell's City of Books — said to be the largest independent new and used bookstore in the world — and the downtown retail core, which is home to a growing number of fashion boutiques and design shops.
The Pearl District has evolved from a setting for warehouses, light industry and railroad yards to a collection of art galleries, specialty stores and upscale residences.
Strolling the streets also helps visitors understand the attitude and atmosphere that are unique to the city and its residents, and how it continues to cling to its special character and much of its small-town charm.
One aspect of its attitude is the motto, admittedly borrowed from another city: "Keep Portland Weird." Simple, unpretentious and "real" could be substituted for the last word to describe Portland and its people.
Another well-deserved boast is the city's extensive and inviting collection of parks and gardens. The 160-plus parks range in size from massive to minuscule.
Hikers may find wilderness within the city limits in Forest Park, which is crisscrossed by 30 miles of trails.
Waterfront Park includes a riverside promenade that passes boat docks, shops and restaurants.
Council Crest Park sits on a 1,073-foot hill and offers dramatic views over the city and to distant mountains. Mount Tabor Park occupies the only extinct volcano within city limits in the continental United States.
Against the backdrop of multi-hued shades of green provided by Portland's parks, numerous gardens add dramatic splashes of color.
The sprawling International Rose Test Garden, which contains 400 varieties of roses displayed on more than 10,000 bushes, has spawned an annual rose festival and is a major reason why Portland is known as the City of Roses.
The nearby Japanese Garden is a tranquil sanctuary that includes a traditional sand and stone setting and a ceremonial tea house. The Lan Su Chinese Garden in the Old Town neighborhood is an oasis of winding paths and reflecting ponds.
Graceful tea houses and lovely gardens, towering mountains and forested fields are among many attractions that beckon people to visit Portland, and Oregon.
Nearly two centuries ago hardy pioneers braved extreme hardships and overcame daunting challenges to seek a better life in what today is the state. The trip now is much less strenuous, but the rewards can be just as satisfying.
If you go
Accommodations can fit comfortably in Oregon's idiosyncratic reputation. The McMenamins Grand Lodge near Portland gives new meaning to the word whimsical.
Quaint, comic paintings and historic photos line the hallways, decorate guest rooms and even show up on headboards and exposed piping. Hidden rooms and a resident ghost add to the atmosphere.
Rates begin as low as $60 for a room with shared bathroom and $105 with private facilities. For more information, call (877) 992-9533 or visit mcmenamins.com/grand-lodge.
The setting is very different at Timberline Lodge, perched 6,000 feet high on Mt. Hood. It was built during the Depression as a Works Progress Administration project, furnished by artisans and decorated by artists.
Wood, stones and other local materials are among features that are used to pay tribute to Native Americans, European-born pioneers and Oregon's wildlife. Rates begin at $127. For more information, call (800) 547-1406 or see timberlinelodge.com.
Visitors soon come to appreciate Oregon's abundance of local fresh food from rivers, sea and land. In Portland, with its well-deserved reputation as a foodie mecca, even the proliferation of food carts parked around the city serve up a wide selection of cuisines.
Typical of casual restaurants with a colorful history is the Rock Creek Cavern in Hillsboro. Its past includes being bombed, run over by a car and destroyed by a fire of questionable origin.
Try them for comfort food. For more information, call (503) 645-3822 or visit mcmenamins.com/rock-creek-tavern.
For fine dining, the Imperial in the historic Hotel Lucia offers Pacific Northwest cuisine at its best. Along with wood-fire grilled specialties, the menu includes rotisserie roasted half chicken ($23) and wild king salmon ($36). For more information, call (503) 228-7222 or see imperialpdx.com.
For Oregon tourism information, call (800) 547-7842 or see traveloregon.com. The least expensive roundtrip airfare from the Washington area to Portland in late March is $542 from Dulles on United Airlines.