Travel
Sea-to-table in a small Colombian town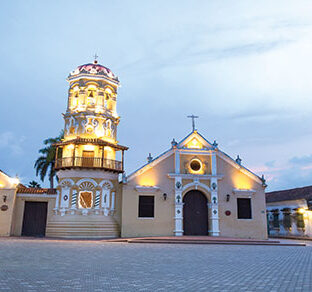 The Church of Santa Bárbara in Mompox, Colombia, has stood on its historic square since 1733. Visitors can climb to the top of the bell tower to overlook the riverfront town where Nobel Prize-winning author Gabriel García Márquez spent time as a child.
Photo © Danaan Andrew | Dreamstime.com
Colombia's capital city of Bogotá, situated on a plateau in the Andes Mountains, merits a visit for its fabulous museums — the Gold Museum and the Botero Museum most notable among them. Its distinct neighborhoods and upscale market lie within a cooler climate than Cartagena, which travelers consider more of a party city.
Sitting on the Caribbean coast with a tropical climate, Cartagena, too, makes an excellent visit for its Spanish Colonial history, architecture, shopping and dining, though it's more expensive than Bogotá.
But I'm the kind of traveler who chooses to spend minimal time in populous, congested areas. I prefer to visit with ordinary people engaged in their daily lives. In fact, I often harken back during my travels to my farm-and-seashore childhood on Virginia's Eastern Shore.
So, before I left Virginia to join other journalists in Bogotá last September for a meeting of the Society of American Travel Writers, I and three other women journalists asked the travel agency arranging our trip to suggest a visit to one of coastal Colombia's smaller cities.
Crabbing in Mompox
As part of our three-day visit, the agency arranged a crabbing experience in Santa Cruz de Mompox with a couple of young Colombian men. They had recently begun crabbing and fishing as a fledgling industry to help supply local restaurants.
Donning our shorts and oldest tennis shoes, we met them early in the morning along a small tributary of the Magdalena River outside Mompox.
This area was the homeland of one of my literary heroes, Gabriel García Márquez, author of One Hundred Years of Solitude and Love in the Time of Cholera, and winner of the 1982 Nobel Prize in Literature. His image is on the Colombian banknote for 50,000 pesos (about $12), and banners with his picture hang all over Mompox.
Walking along the sandy shore and taking a boat trip along the Magdalena River, I felt a kinship with Márquez's coastal childhood. Even with many years' remove from having cut bait for crabbing with my dad near Metompkin Inlet on the seaside of Virginia's Eastern Shore, the sight of a small bucket of floppy minnows in Mompox brought back the experience of putting minnows in a wire crab trap at low tide.
I was the only one in this group previously exposed to crabbing, and the young Momposinos chuckled as they noticed the American women's queasiness at cutting a live minnow in half to use as bait. (Though minnows are tiny, frugal Colombians cut them in half to multiply the bait).
Their occasionally humorous, empathetic reactions reinforced what I'd come to realize in traveling with very limited foreign-language skills: Body language conveys a lot.
In parts of coastal Colombia, villagers fashion crab traps from old metal. But on this day, the young Momposinos catch crabs using fishing nets with minnow bait attached.
Here, crabs are used as much for fish bait as for soup or a stand-alone entrée for diners. This food chain is so laborious that I thought the image of the gold fish in Márquez's One Hundred Years of Solitude to be apt.)
I tried unsuccessfully to emulate the young men's frisbee-like cast of the net, but the beautiful spiral landing in their demonstration became, in my attempt, like a plate falling out of a cabinet.
Thanks to the more successful village crabbers, the yield of an hour's work was five crabs — enough for a small pot of soup to accompany our catfish-and-rice lunch, served with plantains, of course.
Native handcrafts and architecture
The women who seasoned the tasty, fried catfish also sold native handicrafts. I couldn't believe my eyes — and ears —when I found out a pair of earrings I admired were made from fish scales!
I thought I'd misunderstood until a woman grabbed a raw, unscaled fish and, with her fish-scaling knife, indicated the scaling process. Cleaned and dyed fish scales are turned into jewelry — a souvenir apropos for this daughter of a different shore.
Mompox is becoming a rags-to-riches tourism story: Like other formerly isolated places, it's a backwater gem. (Though I saw evidence, in riding around the edges of the town, of rapidly rising backwaters, where coastal residents pack up and leave in the face of unusually high tides and return when the water recedes.)
With Mompox's abundance of religious architecture, visitors shouldn't miss the church of Santa Barbara, situated on the street of La Albarrada, parallel to the river.
Buildings such as the Museum of Religious Art and the Justice Palace along Main Royal Street were constructed using the ancient, low-maintenance rammed-earth method, which builders still use because it's sustainable and energy efficient.
On our last day in the village, I stepped into a silver shop where women artisans were making filigree jewelry from fine strands of sterling silver. They took time to explain and demonstrate the process of hand-manipulating the delicate silver.
Later, our group found an eating spot that featured queso de capa, a mozzarella-like cheese made from cow's milk by a handful of families in this remote riverside town and distributed widely.
Whether street vendors or artisans, everyone hailed their local hero, Márquez. They're proud of the man who had been, in turn, so proud of his people that he captured — and embellished —their lore, turning their stories into poetic tales beloved by readers worldwide.
If we showed the slightest interest in or knowledge of Márquez, a lively conversation ensued, especially with musicians, whose faces lit up as they relayed a story of their own.
I admired these people who, despite having little, were so cheery and joyful.
If you go
The Casa Hotel Villa de Mompox, where we stayed, is very simple in design and décor, but economical, quiet and within a 10-minute walk of the town center. Fresh fruit and strong Colombian coffee with baked goods are standouts at breakfast.
The Cartagena-based agency Impulse Travel planned our itinerary based on our request for the "magical realism" for which the Mompox area is known. What we liked most was their arranging visits to local musical groups in informal settings, many of them extended families.
I recommend the Bogotá Hilton for travelers who like, as I do, to feel a bit pampered after flying into a foreign city. Its front-desk personnel are very knowledgeable and protective of their guests when choosing taxis and related services.
Allow a minimum budget of $2,500 per person for the trip (including flights to Bogotá and Cartagena), and use a travel agency, which can negotiate discounts that individual travelers cannot. For general information visit colombia.travel/en.