Arts
See Shakespeare under the summer sky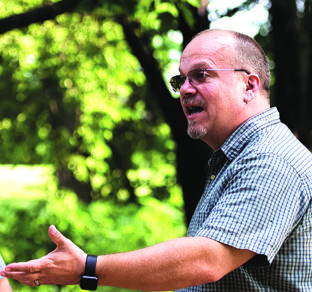 'Twelfth Night' director Bill Gillett works with Howard Community College students during a rehearsal of the Shakespeare comedy, which will be performed al fresco from June 28 to 30.
Photo courtesy of HCC
Summer is a comin' in, which means that Shakespeare plays are moving out to stages under the stars.
There is something about Shakespeare that suits outdoor productions very well. There are struggles against universal forces through beautiful language; a largeness of images; sometimes a need to conjure up magic. And there are powerful themes with stories so strong, yet still human.
That, more or less, is why director Bill Gillett said he is prepping a cast of Howard Community College students and members of the community who long for the stage (teachers, doctors, etc.) for a presentation of the Bard's comedy, Twelfth Night.
Admission is free for the three performances, June 28 to 30, starting at 8 p.m. at HCC's outdoor Dreier Stage, which is located behind the Horowitz Visual and Performing Arts Center.
For all ages
Gillet, 47, who, among other things, is the chair of theatre and dance at HCC and heads the college's professional theatre company, Rep Stage, noted that Shakespeare is ageless in more ways than one. He said that teenagers, some of whom are in the cast, "relate to the beautiful language" just as well as playgoers 50 and older.
For those who want entertainment "for the whole family," Shakespeare plays will more than do, the theater director said. "I've always seen audiences of all ages at the evening performances" of the Bard's works, he said. "Shakespeare has been speaking to all of us for 400 years."
In fact, he noted that his 8-year-old daughter, Mari Lu, was enthused upon seeing A Midsummer Night's Dream staged outdoors at HCC last year. "She understood the story, if not all the language," he said.
How does he direct Shakespeare for students, and others, who have not yet qualified for their Actor's Equity card?
"First, we make sure the actors understand the language and the stories. Then we make sure they understand the characters and their journeys," said Gillet.
"Then we find the large life being lived. [Theatre is] not like modern realism, like something on TV. Many of the characters live lives as though on steroids; it is life elevated."
For those who may not remember the comedy's plot, Twelfth Night follows the romantic adventures of twins, Viola and Sebastian, who are shipwrecked and separated in the dukedom of Illyria.
Mistaken identity, cross-dressing and gender confusion ensue. Among other memorable characters are the mean, self-inflated Malvolio and Sir Toby Belch, often described as "ribald."
The HCC production is brought into the modern world by being set in a beachfront community in the 1970s. The time and place may be changed from the original, Gillet said, "but we're still celebrating the language, not changing anything in the plot. We're just finding a way to speak clearer to a modern audience."
HCC recommends that audience members come early, bring some food, blankets and lawn chairs, and hang out on the lawn near the stage. Seating is first-come, first-served. In case of rain, the show will be moved indoors to the Horowitz Center.
Call (443) 518-1500 for more information.
Dreamy productions
Meanwhile, the Chesapeake Shakespeare Theater, the professional group that brings the Bard outdoors to the county each summer, is recreating the Forest of Eden at Patapsco Historic Park in Ellicott City for A Midsummer Night's Dream. Performances are set from June 20 to July 29 starting at 8 p.m., with gates opening at 6:30 p.m.
Proceeds from the June 20 and June 21 preview performances will be go to the Howard County Community Relief Fund for those who suffered recent flood damages in Ellicott City. All seats for those performances will be $16.
For the other performances, tickets range from $29 to $38 for those 65 and over, and from $33 to $45 for other adults. Up to two children 18 or under will be admitted free with each ticket-buying adult.
Meanwhile, the plays are also being performed a bit south of Howard County as well. A Midsummer Night's Dream will be performed at Brookside Gardens in Montgomery County at 6:30 p.m. on Tuesday, July 10. The free production is by Prince George's County Shakespeare in the Parks.
Brookside Gardens is located at 1800 Glenallan Ave., Wheaton. To learn more, call (301) 962-1453 or see montgomeryparks.org/events/shakespeare-in-the-park-at-brookside-gardens/
Twelfth Night will also be performed in the District of Columbia by the Shakespeare summer troupe known as the Fat and Greasy Citizens Brigade (its name is taken from a line in the Bard's As You Like It).
They are putting on the play outdoors at Grace Episcopal Church in Georgetown, 1041 Wisconsin Ave. NW, Washington, D.C. Remaining performances are on June 16, 21, 22 and 23 at 8 p.m. Admission is free. Gates open at 7 p.m. You can bring blankets and picnic baskets.
For more information, see http://www.fgcitizens.org or call (202) 546-4141.