Cover Stories
Senior Olympians go for gold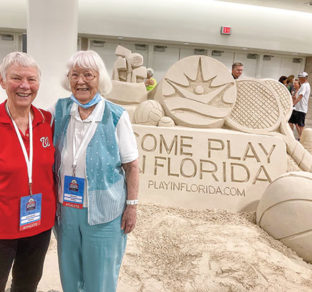 Eva Sorensen and her daughter, Peg Moyer.
Courtesy of Peg Moyer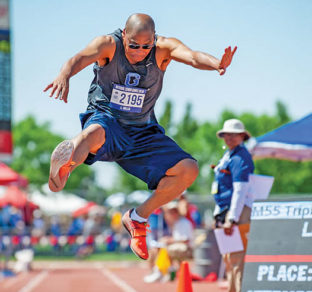 Each year, local athletes who qualify for the National Senior Games by medaling at the prior year's Maryland Senior Olympics, Northern Virginia Senior Olympics or DC Senior Games, participate in the national competition, which was recently held in Fort Lauderdale, Florida. The local competitions are getting underway again soon in this area.
Photo by NSGA
Alexandria retiree Eva Sorensen, 98, and her daughter, Peg Moyer, 76, made an athletic pilgrimage together last spring. As they've done for the past decade, the two traveled to the National Senior Games — held in Fort Lauderdale, Florida this year — and returned home with some shiny medals.
"We're pretty modest," said Moyer, who with her softball team, the Fairfax-based Golden Girls, won fifth place. Her mother "likes to brag, though," Moyer said.
"It's hard not to be big-headed when you get so many medals and compliments," said Sorensen, who took home a gold medal for women's single bowling and silver for shuffleboard.
Sorensen, who has been bowling since she was a teenager, said the sport takes her back in time. "When I bowl and I'm around the other young people, I don't feel my age at all," she said.
Since 2006, mother and daughter have been participating in the Senior Games in Northern Virginia, the Huntsman World Senior Games in Utah, and the National Senior Games, Moyer said.
"That's one of the reasons [my mother] is doing so well," Moyer said, "because she has that to look forward to every year."
Many older adults from D.C., Maryland and Northern Virginia participated in the National Senior Games in Florida from May 10 to 23 this year. Almost 12,000 athletes over 50 participated in the 21 sporting events, many of them beating records. In fact, 154 athletes established new National Senior Games records this year.
Pickleball most popular event
Competition for some events can be fierce. Pickleball, a racquetball-type sport played in teams of two, is the most popular and widely attended event at the National Senior Games, with 1,600 players on 40 courts.
D.C. resident Robert Gordon, 76, participated in the Fort Lauderdale games in May and won one of his mixed doubles pickleball matches.
"We didn't get any medals, but we played well, and we really had a lot of fun. I learned a lot for next time," he said.
Gordon, a retired engineer and current partner at Little Beast restaurant, started playing pickleball about six years ago, after he saw a segment on NBC News about the hot sport.
"I decided to check it out," he said. "I got in some games and it just felt really fun to play; it was just right. Then I stopped working and had plenty of time on my hands, so I just continued."
This summer, Gordon is taking private lessons to improve his game. He's also taking his 10-year-old grandchildren to the court. "I'm going to try to teach them pickleball, too," he said.
Sports for all ages
Capitol Heights resident Gwen McMurray, 76, has attended seven National Senior Games tournaments and has won several gold, silver and bronze medals in archery.
She took up archery in 1993 when she was working as a library technician for the Library of Congress.
"I never was athletic," McMurray said, but her friends competed in local archery competitions. "I watched them and just got interested."
When she retired in 2004, McMurray was able to pick up a bow more often. Today, she practices with the Mohican Bowmen of Washington, D.C., at an archery range in Davidsonville, Maryland.
"It's definitely good for your concentration — you have to be very focused in order to shoot well. If your mind wanders the least bit, you're going to miss your target."
In addition to the brain-sharpening benefits of archery, McMurray has found it to be a friendly sport.
"You get to meet people from all around the country and around the world," she said. "And you stay in touch with them because each year at the tournaments you're likely to see some of the same people."
Archery "is a sport that [people of] any age can participate in," she said. "At the Senior Games it's just absolutely wonderful — we have people who are still competing in their 80s and 90s."
Those in the upper age brackets enjoy some benefits when participating in the National Senior Games, as competition is grouped by age cohort.
"Usually I'm the only one in my age group," said bowling champion Sorensen, who will celebrate her 99th birthday this fall, "and therefore I win a medal."
Sorensen, Moyer, Gordon and McMurray plan to return to the National Senior Games again next year; they're scheduled to take place in Pittsburgh next July. First, though, athletes must qualify for the national event by doing well in a state tournament.
Our local area has several opportunities for those looking to qualify.
Local games coming soon
The Maryland Senior Olympics offers events from July 9 through October 16. Registration is now open. A detailed information and registration guide can be downloaded at mdseniorolympics.org.
Registration fees vary by event, which take place at locations throughout Maryland. You do not need to be a Maryland resident to participate, and you may register shortly before most events.
For more information about the Maryland Senior Olympics, call (240) 777-4930 or email Stacy.Sigler@montgomerycountymd.gov.
The Northern Virginia Senior Olympics will take place Sept. 10 through 24, but registration is open from July 6 to August 31. To find out more about the 77 events that will take place at venues throughout Northern Virginia, email nvso1982@gmail.com or visit nvso.us.
Participation in the competition is limited to residents of Northern Virginia age 50 and over. The public is invited to the opening ceremonies on Sept. 10 at 9:30 a.m. at Thomas Jefferson Community Center in Arlington, Va.
The DC Senior Games were postponed last year due to the pandemic, and new dates haven't been announced for this year. To ask about upcoming plans, call (202) 255-1369 or email marion.speight@dc.gov.