Arts
Shakespeare transformed at the National Building Museum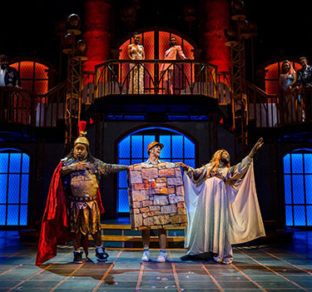 Bottom (Jacob Ming-Trent, left), Snout (Brit Herring), and Flute (John Floyd, right) perform their version of "Pyramus and Thisby." (Pictured top, l to r: Renea S. Brown and Bryan Barbarin, Nubia M. Monks and Rotimi Agbabiaka, Lilli Hokama and Hunter Ringsmith.)
Photo by Brittany Diliberto
In the Folger Theatre's entertaining production of A Midsummer Night's Dream, you might be forgiven for wondering if director Victor Malana Moag nudged Puck (Danaya Esperanza) to sprinkle a scattering of the director's own magic over the characters and script.
Or does the Bard resonate differently in the National Building Museum (NBM), where production designer Tony Cisek and lighting designer Yael Lubetzky embrace the unusually generous space to bring fairy worlds to light?
Performances take place on a specially constructed stage in the Great Hall of the museum as part of the NBM Summer Block Party (stage design is by Tony Cisek in collaboration with Jim Hunter of the University of South Carolina and South Side Design and Building).
Never fear, the expected story is there — and wonderfully acted. When the Mechanicals, artisans who have formed an acting troupe, assemble to rehearse their play, they are eager, silly, misspoken.
Jacob Ming-Trent as Bottom is as engaging to the audience as to his fellow actors. As always, he trips over himself to play every part in the play. Sabrina Sawyer as the Snug/the lion is endearingly shy, and John Floyd as Flute is irked to play Thisbe. As usual.
But this Bottom and the ensemble also unexpectedly regale us in song, which fills the museum space. Throughout the play, music warms the play, while dance scenes choreographed by Alexandra Beller heighten the magic.
Away next to another subplot: We meet the engaged royals Hippolyta, Capital "Q" Queen of the Amazons (Nubia M. Monks), and Duke Theseus. In her gold gown and his shiny magenta suit and matching velvet shoes, the two take on a red-carpet look, thanks to costume designer Olivera Gajic.
In one arresting scene, the self-possessed Hippolyta has a tart, monosyllabic disagreement with the Duke (Rotimi Agbabiaka), who situates himself on the wrong side of history. This Queen may be marrying under duress, but she makes clear her terms with the hint of threat. It is not the only moment in this play when a comment brings a fresh look at problematic language or character traits.
The Duke agrees the Egeus's daughter Hermia (Lily Hokama) should marry Demetrius, a young gentleman of her father's choosing with plenty to recommend him. Unfortunately for Demetrius (Bryan Barbarin), Hermia loves Lysander (Hunter Ringsmith), an equally deserving gentleman, who loves her in return. Lysander and Hermia make plans to elope.
Deviates from the original
In the final subplot, Titania, queen of the fairies (also played wonderfully by Monks), resplendent in gold — this time couture style, with an astonishing train stretching across the stage and up, up a full story high — exudes power, allure and dignity as she feuds with her husband, King Oberon.
Oberon (Agbabiaka) is as unrestrainedly glorious as his magenta evening gown (whose train required much skill to avoid his in-your-face patent-leather platform boots). And jealous.
To teach him a lesson, Titania — in a twist from the original play — directs Puck/Robin Goodfellow, played with equal parts malicious skill and loyal adoration by Esperanza, to locate a flower that will inspire the king to fall in love with the first thing he sees upon waking.
This turns out to be Bottom, his head transformed into a dread-locked donkey's head, who eagerly accepts the temporary role of cosseted lover.
Queen Titania watches Demetrius search for Hermia, closely followed by the tenacious, lovelorn Helena (Renea S. Brown). Titania interferes with the human lovers, directing Puck to use the flower potion on Demetrius.
As in every traditional Shakespearean comedy, errors ensue. Demetrius and Lysander are bewitched by a confused and angered Helena. The suddenly abandoned Hermia assumes that Helena betrayed her. The wronged women lash out, quite literally, turning the stage into a professional wrestling ring.
Eventually, the magic is undone — mostly — and everyone ends up where they should be. As long as you are in the audience, you are where you should be too.
Tickets to A Midsummer Night's Dream range from $40 to $85 depending on performance and seating. Shows run through August 28; Tuesday to Saturday at 8 p.m.; Sunday at 7 p.m. There are also matinees Wednesdays at 4 p.m. and Saturdays at 4:30 p.m. The performance is 90 minutes with no intermission.
Proof of vaccination is required as is a mask wearing while inside the theater. For more information or tickets, visit folger.edu or call (202) 544-7077.