Arts
Signature makes Sunset Blvd. succeed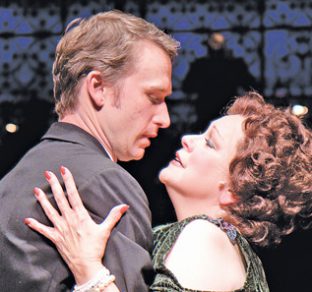 Andrew Lloyd Webber's Sunset Boulevard has had mixed success on the stage, though it did win the 1994 Tony Award for best musical on Broadway. It has never played Washington before.
But now, thanks to years of effort by Signature Theatre's guiding light Eric Schaeffer, it is here, and the wait has been worth it. The sumptuously staged and dazzlingly performed musical shows that he truly appreciates and understands Billy Wilder's 1950 film noir classic of the same name, on which the musical is based.
Schaeffer recreates the fast-moving but steady pace of the film and captures its dark, stylized mood. The result is that Signature's Sunset Boulevard is a ride of sensational twists and turns hurtling toward an unnerving but satisfying destination.
Overcoming challenges
There are many challenges involved with making Lloyd Webber's version of the iconic Hollywood tale of faded dreams and redemption work on the stage, and Schaeffer has mostly surmounted them.
The story itself is dark and lurid, and lends itself to camp. Norma Desmond (played here by Broadway actress Florence Lacey) was a major star of silent movies. But it has been several decades since her career faded and she sank into obscurity. She's now a museum-piece, a relic shut away with her memories and dreams of a comeback in her Beverly Hills mansion.
When destitute young screenwriter Joe Gillis (D. B. Bonds) stumbles into her realm, Desmond entices him into her unwholesome fantasies. Both are opportunists, but Gillis is a naïf compared to the grotesque and scheming Desmond.
The film was a dark masterpiece, brooding and intense, and Gloria Swanson's stunning performance as Norma Desmond is one of the most famous portrayals in Hollywood history.
The material is operatic in scope, so transforming the film into an opera would seem like a natural progression. In fact, director Billy Wilder is reported to have told Stephen Sondheim, who considered working up a stage version in the 1960s, that it could only be an opera.
However, Sir Andrew has not given us an opera. In fact, while there are some lovely ballads here, the score is not one of his best.
Some songs are romantic and melodious, but the themes are repetitious, almost to the point of excess. Some of the song lyrics from Don Black and Christopher Hampton (also responsible for the book) veer dangerously close to campy parody.
Improving on the original
So, what did Schaeffer do about the show's weaknesses? First, he did what he could with the music.
Lloyd Webber's score plays like that of a film, underscoring much dialogue and evoking a variety of genres and repeating themes. In fact, the repetition is sometimes clumsy, an obvious ploy to cue previously generated sensations.
But the ballads evoke the passion and obsession of the characters, and Schaeffer's cast fully exploits this power.
Furthermore, Signature broke the budget for this production, hiring an orchestra of 20 musicians. It's the biggest orchestra the theater has ever used, and it pays off with a compellingly rich sound that fills the MAX Theatre, a relatively intimate space of fewer than 300 seats.
Regarding the sensational elements of the plot and histrionic personalities of the characters, Schaeffer has pushed his cast to build three-dimensional characters as much as possible. Caricature is, with several exceptions, avoided.
And Schaeffer's pacing is brisk, slowing only in portentous moments. For example, shortly after Desmond and Gillis meet, she invites him to sit. When the writer hesitates, the action pauses. Lacey glares at Bonds.
The atmosphere electrifies in stillness until Desmond bares her teeth and commands Gillis to sit in a steely voice. His will crumbling, the young man sits, and we know his fate is sealed.
Another example of how attention to detail helps build character is the way Desmond ascends her mansion's grand staircase after that scene. Previously, she has glided up and down the stairs. This time, however, Lacey scuttles back like a spider.
A softer Norma Desmond
It must be daunting to take on the role of Norma Desmond. Anyone who has seen the film has seared into his or her brain the image of Gloria Swanson hypnotically fixed on the camera and telling us she is ready for her close-up. It's an enduring image.
Broadway's Florence Lacey seems like an unlikely Desmond. Doughy and soft-featured, she lacks the sinewy presence of the manipulative, aging creature who has created her own spider-web of a world.
But when she sings, Lacey fully inhabits this woman. Her singing is powerful, but she layers her arias with the nuance of vulnerability, allowing us to understand that Desmond's fantasies are how she keeps her insecurities at bay.
There is also an important scene where Lacey literally shines, letting us glimpse the charisma that made Norma Desmond a star. When Desmond descends upon a Paramount Studios soundstage, home of her long-ago cinematic triumphs, Lacey's performance of the lovely "As If We Never Said Goodbye" provokes the show's most intense emotions.
A stagehand off-handedly shines a spotlight on her, and Lacey's slack features tighten, the eyes ignite, and her face re-animates. As Lacey deftly shows, this is the moment Desmond is ready for her close-up, though she may not realize it.
That makes the character's iconic call for her trademark camera shot in the show's stunning climax, when her grasp on reality is shattered, resonate so powerfully.
D. B. Bonds exudes boyish charm as Gillis, softening the sharper edges of the screenwriter's opportunism. He is joined by Susan Derry as Betty, an appealing love interest who stirs Gillis' flagging conscience in "Too Much in Love to Care." Their soaring voices, meshing with Jon Kalbfleisch's orchestra in the old-fashioned duet, are magnificent.
Ed Dixon plays Max, Desmond's vaguely menacing servant. His cartoonish outfit by costumer Kathleen Geldard seems to force him into odd posture and movement, accenting a performance that is unfortunately campy much of the time.
Dixon usually overdoes the melodrama with his dialogue, but he displays an astonishing vocal range, from bottom-most bass to tenderest tenor in his poignant ode to Desmond, "The Greatest Star of All."
Local stage favorites Harry A. Winter (as famed director Cecile B. DeMille) and J. Fred Shiffman are also here, doing their usual fine work in supporting roles.
The musicians are perched behind Mediterranean-style grillwork above Daniel Conway's remarkable set — a theater-filling thrust platform (the audience sits on three sides) on which Desmond's ornate palazzo, with its grand staircase, magically disappears and re-assembles during the numerous scene changes.
This show sounds great, looks great, and tells its tale with style and power.
Sunset Boulevard continues through Feb. 13 at Signature Theatre's MAX Theatre, 4200 Campbell Ave., in Arlington, Va.
Performances are Tuesdays and Wednesdays at 7:30 p.m., Thursdays and Fridays at 8 p.m., Saturdays at 2 p.m. and 8 p.m., and Sundays at 2 p.m. and 7 p.m.
Tickets range from $59 to $85. There are no senior discounts, but $30 "rush" tickets are sold one hour prior to every performance on a first-come, first-served basis, two per person, subject to availability.
Tickets may be purchased online at www.signature-theatre.org, by calling Ticketmaster at (703) 573-SEAT, or by visiting the box office during business hours. The theater's phone number is (703) 820-9771.
The theater is accessible for people with disabilities, but mention special seating needs when tickets are purchased. Free listening devices are available. Parking is free in the garage adjacent to the theater complex.