Technology
Simple gadgets that can help older drivers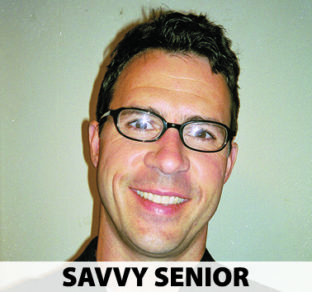 Dear Savvy Senior:
Are there any specific auto gadgets you can recommend that can help older drivers?
Both of my parents are in their 80s and still pretty good drivers, but due to arthritis and age they're very stiff, which causes them some driving problems. 
— Researching Daughter
Dear Researching:
To help keep older drivers safe and prolong their driving years, there's a plethora of inexpensive, aftermarket vehicle adaptions you can purchase that can easily be added to your parent's vehicles to help with many different needs.
Here are some good options:
Entry and exit aids
To help arthritic/mobility-challenged drivers with getting into and out of their vehicle, there are a variety of portable support handles you can buy. These include the "Emson Car Cane Portable Handle" ($12), which inserts into the U-shaped striker plate on the doorframe, and the "Standers CarCaddie" ($13) nylon support handle that hooks around the top of the door window frame.
Another useful product is the "DMI Deluxe Swivel Seat Cushion" ($22), which is a round, portable cushion that turns 360 degrees to help drivers and passengers rotate their body into and out of their vehicle.
Enhanced rear vision 
To help those with limited upper body range of motion, which makes looking over their shoulder to back-up or merge into traffic difficult, there are special mirrors you can add as well as back-up cameras.
For starters, to widen rear visibility, eliminate blind spots and even help with parallel parking, get an oversized rear view mirror like the "Allview Rearview Mirror" ($50) that clips on to the existing mirror. You should also purchase some "Ampper Blind Spot Mirrors" ($7.50), which are 2-inch adjustable convex mirrors that stick to the corner of the side view mirrors.
If your parents' cars don't already have built-in backup cameras, another helpful device is the "Auto-vox M1W Wireless Backup Camera Kit" ($110). This comes with a night vision camera that attaches to the rear license plate, and a small monitor that mounts to the dash or windshield. When the vehicle is in reverse, it sends live images wirelessly to the monitor so drivers can see what's behind them.
Seat belt extenders
To make buckling up a little easier, there are a variety of seat belt extension products offered by Seat Belt Extender Pros. These include the "Seat Belt Grabber Handle" ($8), which is a rubber extension handle that attaches to the seat belt strap to make it easier to reach, and the "7-inch Rigid Seat Belt Extender" ($20) that fits into the seat belt buckle receiver to add a few inches of length, making it easier to reach and fasten the buckle.
Gripping devices
If your parents have hand arthritis that makes gripping the steering wheel, turning the ignition key, or twisting open the gas cap difficult or painful, consider these products.
The "SEG Direct Steering Wheel Cover" ($15) fits over the steering wheel to make it larger and easier to grip. The "Ableware Hole-In-One Key Holder" ($9) is a small plastic handle that attaches to the car key to provide additional leverage for turning the key in the ignition or door. And for help at the pump, the "Gas Cap & Oil Cap Opener by Gascapoff" ($12) is a long handled device that works like a wrench to loosen and tighten the gas cap.
All of these products can be purchased online on Amazon.com. Just type the name of the products in the search bar to find them.
Safety and security
A device that may help ensure your parents' safety, and provide you and them peace of mind, would be an in-car medical alert system like "splitsecnd." Offered through Bay Alarm Medical (BayAlarmMedical.com, $30/month), this small device plugs into the vehicle's cigarette lighter to provide 24/7 roadside and emergency assistance at the push of a button, automatic crash detection and response, and GPS vehicle location and monitoring capabilities.
Another device, called the Raven dashcam, sits on top of your dashboard. It provides turn-by-turn GPS directions, but has many other features. Information can be sent to loved ones to let them know when you're on the road and when you return home safely. A history of driving trips is also accessible via an app.
Live video from both inside and outside your car can also be sent to family to let them see you and what you're experiencing, along with your GPS location.
The Raven can also summon emergency help, and provide alerts regarding fuel level, vehicle-related maintenance problems and service reminders, if your car offers onboard diagnostics.
The Raven can be purchased on Amazon.com for $299. Service plans range from $8 to $32 a month depending on the amount of video and other services used. To learn more, see https://raven.is.
Send your questions to: Savvy Senior, P.O. Box 5443, Norman, OK 73070, or visit SavvySenior.org. Jim Miller is a contributor to the NBC Today show and author of "The Savvy Senior" book.