Arts
South Pacific revival delights and disturbs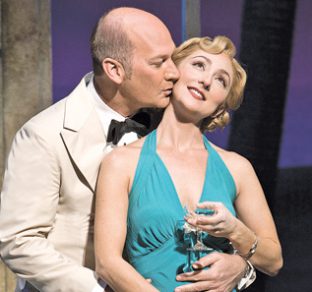 Rodgers & Hammerstein were masters of the memorable, hummable musical. And among their most hummable is South Pacific, the 1949 hit based on James Michener's Pulitzer Prize-winning Tales of the South Pacific.
The musical's 2008 revival on Broadway won seven Tony Awards, including best revival, best director, best set, costumes, lighting and sound, plus a special posthumous Tony for its original orchestrator, whose arrangements are used in the revival. Now on national tour, South Pacific is playing at the Kennedy Center, complete with a 26-piece orchestra.
For those who adore the show, its music and its two love stories, it's a dream come true. For those who are put off by the story's simplistic view of love and war, and its amplification of the power of prejudice, there is still much to enjoy.
A musical masterpiece
From the first scene, the show is a masterpiece of design and direction, voice and vision. It opens on the terrace of Emile de Becque's elegant, tropical home. The sun is setting over the ocean and islands visible beyond the terrace, as the light turns to dusk and early night.
Meanwhile, a playful, light-hearted love scene unfolds between de Becque, a now-wealthy Frenchman who fled to the island decades ago after killing a man, and Nellie Forbush, a nurse and ensign with the U.S. Navy, stationed recently on the island and who is clearly falling for de Becque.
"Some Enchanted Evening," de Becque's paean to love at first sight, is a romantic tour de force, and the voices of the two leads are extraordinary.
Carmen Cusack, who plays Forbush, has a lovely, expressive voice full of power, though perhaps a touch too heavily tinged with her character's Arkansan accent.
David Pittsinger, a bass-baritone with the Metropolitan Opera Company, plays de Becque with panache and grace, and sings, well, like a member of the Met. (It's interesting to note that in the Oscar-winning movie of 1958, Rosanno Brazzi's singing voice was dubbed by a Met bass-baritone of the time.)
Pittsinger and Cusack have real chemistry, and reveal the depth of their emotions as much by what they can't bring themselves to say and do as by what they say (and sing) to each other. It's a very effective and moving opening.
The other main characters of the story are immediately introduced through a trifecta of great songs: "Bloody Mary," "There is Nothin' Like a Dame," and "Bali Ha'i."
The first two numbers are performed by the Seabees: the "construction battalion" servicemen (CBs, get it?) stationed there with the Navy.
Four black Seabees serve with about a dozen white ones, but the two groups keep to themselves, intimating the first elements of the racial prejudice that develops into one of the main themes of the story.
Memorable supporting cast
Bloody Mary, played with gusto by Jodi Kimura, attempts to make a living selling grass skirts and shrunken heads to the Seabees and other servicemen. A tough cookie if there ever was one, she's nonetheless a favorite of the troops.
The Navy's answer to Bloody Mary's entrepreneurial machinations is Luther Billis, a born leader and loveable but somewhat sleazy Seabee who runs multiple businesses on the island with little regard for the rules.
Timothy Gulan puts his all into the part, especially in the second act, when he both comedically performs in drag, then touchingly shows his sensitive side to Forbush.
Gulan also leads the pack in "There is Nothin' Like a Dame," a rousing production number that typically shows off the gymnastic and dancing skills of the company. The choreography here, however, is creative and amusing, rather than truly spectacular.
A particularly dramatic entrance is reserved for Lt. Joseph Cable, a Marine who we later learn has come to perform a secret and highly dangerous mission infiltrating a nearby island controlled by the Japanese. We also learn that the mission depends upon Cable being able to convince de Becque to come along as his guide.
Cable is played by Anderson Davis as aloof and full of himself. It's not the approach to the role made popular by John Kerr in the 1958 movie, but it may be closer to what the part calls for. It does, however, make him hard to like as a character.
We respect Cable for his strong sense of duty and self-sacrifice, but we also get a sense that he lacks the ability to feel deeply. This is suggested in Cable's first song, when he tells Forbush about his (former?) fiancé in the States.
He sings: "My girl back home, I almost forgot. A blue-eyed kid, I liked her a lot. We got engaged, both families were glad." There is no wistfulness in his manner; he's all matter-of-fact.
It's not clear whether the engagement was broken off before he enlisted, sometime since then, or whether she's still waiting for him to return (perhaps unaware of his dangerous upcoming mission). But what is clear is that he's singing of the past, and that he didn't consider it love.
We're reminded of this later in the story, when Bloody Mary, seeing Cable as son-in-law material, matches Cable up with her stunning and younger-than-springtime daughter, Liat.
The two beautiful young things instantly fall for each other — a second case of love at first sight — though in contrast to the de Becque/Forbush liaison, here there appear to be even more cultural and language differences in the way.
Enter prejudice, stage right
Bloody Mary urges the young lovers to marry, wanting them to "make beautiful children together," and offers to support them.
Cable, a Princeton graduate and proud Marine, briefly considers whether he could happily chuck it all to live a primitive life on a tropical isle. There are many good reasons a person in his position might decide not to do that, but in the show he attributes his decision solely to racial prejudice.
Forbush has a similar emotional reaction when she learns de Becque has two children of color from a former Polynesian wife. She seems determined to reject his marriage proposal as a result, even though she knows she loves him.
These two irrational decisions seem to be more a reflection of how Rodgers & Hammerstein understood the feelings of their 1949 audience than how the characters in such situations might be likely to act, even back then.
That's suggested when Cable goes on to sing about how prejudice and hate are unnatural and how "You've Got to be Carefully Taught" to hate. If he believed what he says, and truly loved Liat, he would be talking himself out of his decision.
De Becque — who had adamantly refused to join Cable on his mission when he thought Forbush would marry him — now changes his mind, and the two go off together.
The somewhat disturbing claims the story leaves us with include the following:
Older men appreciate true love, especially later in their lives. But as long as they have such love, they fear personal sacrifice and are unwilling to risk death even for higher causes they believe in.
Those who are willing to sacrifice for a cause are younger men like Cable — not yet capable of true love and more enamored with adventure and risk — and older men who have lost what they love.
A third option not explored in this show, which is perhaps what most of us like to think is true, is that people are willing to risk their lives to protect those whom they love and the life they dearly want to live.
If you don't think about it too much, the show is a delightful way to spend an evening, and the tunes will dance in your head for days to come. Sometimes the disturbing thoughts may, too.
South Pacific runs at the Kennedy Center Opera House through Jan. 16, evenings at 7:30 p.m., with Sat. and Sun. matinees at 1:30 p.m.
Tickets range from $39 to $150 and are available at the Kennedy Center box office or by calling Instant Charge at (202) 467-4600 (extra fee applies). For more information, visit www.kennedy-center.org.
Half-price tickets for patrons 65 and over may be available for some performances. Call the box office or visit www.kennedy-center.org/tickets/spts.cfm for details.