Arts
SpongeBob musical is great for families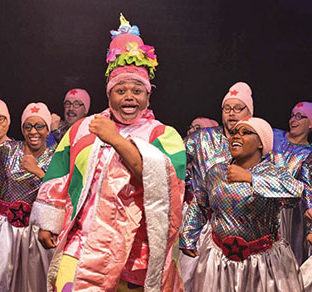 Kyle Dalsimer stars as SpongeBob SquarePants, the hero of the eponymous musical, which garnered 12 Tony Award nominations. With humor, wit and songs written by musical greats such as Cyndi Lauper, John Legend and Sara Bareilles, the show is not only for children. The SpongeBob Musical runs at Toby's Dinner Theatre in Columbia, Maryland, through July 31.
Photo by Jeri Tidwell Photgraphy
Okay, full disclosure: Before I stepped into Toby's Dinner Theatre to see the current production of The SpongeBob Musical, I didn't know anything about the wildly popular animated television series SpongeBob SquarePants. Not one thing. I figured I'd learn about it soon enough. And so I did.
One thing is for sure: I am now better able to answer the question posed to me many times when people found out I was going to see it: "Isn't that a show for kids?"
My informed answer is, yes and no. It is most definitely family entertainment, but it's more than just a show for kids. In fact, I saw a lot of older kids in the audience, many of them claiming to be grandparents.
The TV show "SpongeBob SquarePants" was indeed created for kids. It first aired on Nickelodeon in May 1999, running for 13 seasons with 276 episodes.
The humorous series chronicles the adventures of the title character and his aquatic friends in the underwater city of Bikini Bottom.
It is television's fifth-longest-running animated series and Nickelodeon's highest-rated series. Twenty years later, believe it or not, it had garnered $13 billion in merchandizing revenue.
The musical is based on the animated television series created by Stephen Hillenburg, with a book by Kyle Jarrow. It also features music by many artists you'll know: Cyndi Lauper, David Bowie, Steven Tyler of Aerosmith and Jon Legend. The musical production was conceived by Tina Landau.
Tony Award winner
After opening in Chicago in 2016 and then on Broadway in 2017, the show garnered 12 Tony nominations (and one win) and closed in September 2018 after 327 performances. In its review, Variety said, "The show provides a good amount of giddy, goofy fun for all audiences."
In December 2019, SpongeBob Musical: Live on Stage! aired as a TV special featuring members of the original Broadway cast.
Toby's is a theater in the round, and every production features live music of the same high quality we've come to expect from the downtown Columbia gem that opened in 1979.
This production at Toby's was directed by Mark Minnick (who does most of their shows). Music direction is by Ross Scott Rawlings, choreography by David Singleton (and there is lots of lively dancing), costume design by Flo Arnold (fabulous job), sound by John Pantazis and Nathan Seavilla, and scenery by Shane Lowry.
When a rumbling volcano threatens to destroy Bikini Bottom, SpongeBob and his friends invent a device to save the town. Its residents scheme, argue and finally, when the danger dissipates, apologize.
The characters in the show have rather interesting names: Patchy the Pirate, Patrick Star, Larry the Lobster, Perch Perkins, Sheldon Plankton, Pearl Krabs and Squidward Q. Tenacles.
Let's start with Mr. Square Pants himself, played by Kyle Dalsimer. He is on stage almost the entirety of the show, much of the time either dancing or prancing around the stage.
Also showing lots of energy is Janine Sunday (playing squirrel scientist Sandy Cheeks), a four-time Helen Hayes nominee, and the rest of the ensemble. Longtime Toby's visitors will recognize regulars Jeff Shankle, David James and Darren McDonnell.
After the show, I had the chance to speak briefly with Dalsimer. He said, "It is a privilege to play a character who is so well known." Dalsimer prepared for the role by watching the TV show and listening to interviews with the creators of the show. If you listen closely, you might pick up some subtle political comments.
"Yes, there are subtle but poignant points about government," he said. As for the show, "Kids will of course love it, but I think so will the adults, especially if you grew up on it."
Fun family outing
Speaking of kids, I had to visit a few tables to see what they thought. The Kalivas family from Annapolis loved it, and that included their three children, Lia, Athena and Christas. Their mother, Sara, said, "Really great show, lots of energy and humor. I'd see it again."
At another table from Washington was the Umpierre family: mom Rachael and kids Alexander and Josephine. Mom bought the CD, and after listening to it, the kids insisted on seeing the show. She also met Tom Kitt, who did additional music for the original show.
Since my last visit to Toby's, there have been some changes. For one, you no longer have to show proof of vaccination. Secondly, both the salad bar and ice cream bar are back as part of the buffet dinner or brunch that comes with your ticket.
You do have to wear a glove (provided) while at the buffet, and they do prefer if you wear a mask (also provided) while getting your food.
In short, treat your family to a night (or matinee) out. Forget about your age; just go in and enjoy.
SpongeBob runs until July 31. Next up: a return of Monty Python's Spamalot from August 5 to 21.
Toby's is located at 5900 Symphony Woods Road in Columbia, Maryland. Advance reservations are required. Tickets are $68-$72 for adults and $52.50 for children 12 and under. Patrons 65 and over can attend Tuesday and Wednesday performances for $57.80. There are matinees on Wednesdays and Sundays. Tickets may be purchased online at tobysdinnertheatre.com, or call the box office at (410) 730-8311.