Travel
St. Augustine, Fla., America's oldest city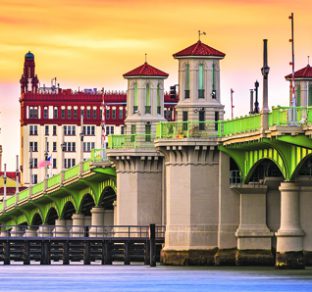 The 90-year-old Bridge of Lions in St. Augustine crosses the intercoastal waterway. It's far younger than the city itself, which celebrated its 450th anniversary last year. St. Augustine remained under Spanish rule from 1565 to 1821, which accounts for its ornate Mediterranean architecture.
Photo by Sean Pavone
In 1607, a small band of settlers founded the first permanent English outpost in the Americas — Jamestown, in the Colony of Virginia. But by that time, another town already had existed since 1565, further south on what would later be called the East Coast.
Each November, we recall the Thanksgiving celebration that took place in 1621, when pilgrims in Plymouth, Mass., shared a feast with friendly Native Americans in appreciation for a bountiful harvest.
What's less well known is that 55 years earlier, Spanish explorers much further south had participated in a similar occasion with members of another Indian tribe.
Last year, St. Augustine, Fla., where that often-overlooked event took place, celebrated its 450th anniversary. That supports its claim to be the oldest continuously-occupied European settlement in America.
A place of many firsts
Given that history, it's no surprise that the city is replete with attractions touted as the "first" and "oldest" in the nation. Together, they offer visitors a setting that captures not just the stories but also an authentic atmosphere of the past.
The appeals of St. Augustine wear the soft veneer of centuries, and attract guests seeking to explore and experience times gone by.
Granted, the influx of tourism has brought with it touches of commercialism. Sprinkled among the history-rich centuries-old buildings, monuments and museums is a smattering of tourist trappings.
But they're overwhelmed by the authentic remnants of the settlement's colorful past, which are scattered throughout the 144 square-block historic district.
The Colonial Quarter is a good place to begin exploring. That bustling two-acre complex recreates the changing chapters of St. Augustine's colorful past as it evolved from a 16th century Spanish colony, to 17th century fortified town, to 18th century garrison.
The neighborhood is a living history museum. A blacksmith, carpenter and other costumed historic interpreters combine facts with fun as they help onlookers relive the way things were over the centuries.
Spanish colonization
St. Augustine traces its European heritage to 1565, when an expedition led by Don Pedro Menendez-de Aviles, a Spanish admiral, landed and set up an encampment near a Timucuan Indian village. That tribe was one of a number of Native American groups which began occupying the area some 10,000 years ago.
Menendez was not the first Spanish explorer to come ashore in the region. In 1513, Ponce de Leon led the first known European expedition there in a quest to find and claim uncolonized islands — a journey that gave birth to the legend of the Fountain of Youth.
At the time, a fable about vitality-restoring waters was familiar on both sides of the Atlantic, but there is no historical evidence that de Leon was seeking to find that allegedly magical potion. Somehow, accounts of his supposed search found their way into history books after his death and the story stuck.
The combination of fiction with fact does not detract from the historical significance of the Fountain of Youth Archaeological Park. This is the place where Menendez encountered the friendly Timucua people and wrote the first chapter of American Colonial history, establishing the settlement which over time evolved into present-day St. Augustine.
Attractions include a reconstructed portion of the Indian village, ship building and other exhibits, a planetarium, and cannon and weapons demonstrations.
As St. Augustine grew, so did its role in Spain's efforts to expand its influence and fortunes. Perched at a strategic point along the route followed by that country's treasure fleet carrying gold, silver and other valuables from the New World to Europe, it served as a vital frontier fortress.
Other than a brief interlude (1763-1784) when Great Britain gained control of Florida, St. Augustine remained under Spain's rule. That accounts for the Mediterranean architecture and other reminders of Spanish influence. By the time the United States took possession of the city by treaty in 1821, it was already 256 years old.
Recreating the past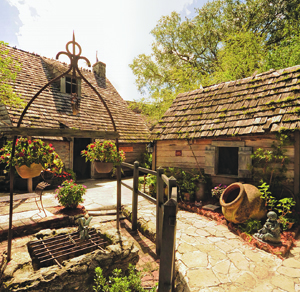 The Oldest Wooden School House, which dates back to 1716, is open to the public. It features an animatronic schoolmaster and pupils, dressed in period clothing, who describe what classes were like 300 years ago.
Photo courtesy of FloridasHistoricCoast.com
Reminders of those early years line the cobblestone streets. A section of the Gonzalez-Alvarez house, aka "The Oldest House," was constructed in the 1720s and is part of a small museum complex that traces 400 years of life in St. Augustine. The home was built in the Spanish Colonial style, with touches of Britain's Colonial architecture, which were added when that country briefly controlled St. Augustine.
There's more action of a sort at the Oldest Wooden School House, which records date back to 1716. The modest one-room timbered structure served as a dwelling before a second story was added and it became a school. Speaking animatronic figures of the schoolmaster and pupils dressed in period clothing introduce themselves and describe a typical day of classes.
The Old Drug Store traces its history to about 1875 when, along with medicine and tobacco, it sold ancient Indian remedies and concoctions formulated by the pharmacist.
The Oldest Store Museum recreates the "modern" wonders of a general store that opened for business in 1900. Clerks demonstrate turn-of-the-century — the 20th century, that is — wonders like "health underwear," a gas-powered iron, and a goat-driven washing machine!
Given its important role at a time of exploration and conflict in the New World, St. Augustine has its share of forts. Most imposing is the Castillo de San Marcos, a massive 17th century stronghold built by the Spanish to defend the Florida coastline.
The fort was built of coquina (ko-KEE-nuh) — soft limestone composed of broken sea shells — which absorbed the force of cannon balls and did not crumble. Some rooms surrounding the central courtyard are furnished to reflect garrison life, while others contain exhibits about military history.
A different story comes to light at the site of Fort Mose (Moh-say), hidden away in marshes north of St. Augustine. There, in 1738, a group of slaves who had escaped from British colonies built a log fortress and founded the first free community of ex-slaves.
While the original structure is long gone, a small museum describes the events by means of videos, interactive exhibits and objects found during archaeological digs.
Speaking of archaeology…
St. Augustine's age makes it an archaeologist's dream location. A wealth of artifacts has been uncovered over the years, and much more remains buried beneath the streets, buildings and back yards.
So seriously do locals take this quest for knowledge that St. Augustine claims to be the only city in the country with an archaeologist on its payroll.
Some 100,000 artifacts have been uncovered at the Fountain of Youth Park, including Native American pottery, carved beads, shell tools and three dog burial sites.
Work at the Fort Mose site has uncovered objects that shed light on the social, religious and military life at that unique settlement. There's often a dig underway somewhere in the city that interested visitors may observe.
While the more than 60 historic sites and attractions are the main reason most people visit St. Augustine, it also manages to keep one foot planted firmly in the present. Sun worshippers find a choice of inviting beaches that stretch some 40 miles north to Ponte Vedra.
The two-mile long beach at Anastasia State Park consists of gleaming white quartz sand. Aptly-named Crescent Beach is one of the most scenic and unspoiled in the area.
Places to stay and dine can become part of the immersion in St. Augustine's history and atmosphere. The St. Francis Inn was constructed in 1791, and it clings proudly to vestiges of its Spanish Colonial heritage.
Complementary amenities include breakfast featuring hot entrees, and evening wine, beer and tasty treats. Rates begin at $149. For more information, call 1-800- 824-6062 or log onto www.stfrancisinn.com.
The name of Barnacle Bill's Seafood House indicates its focus, and the good food and budget-stretching prices attract many locals. Florida 'gator tail (yes, it tastes like chicken), costs $10.95, and a choice of shrimp dishes prepared any of nine ways is priced from $13.25 to $16.25. Several of the 16 side dishes can constitute a meal in themselves. For more information, call (904) 824-3663 or log onto www.barnaclebillsonline.com.
The closest major airport to St. Augustine is in Jacksonville, about 40 miles away. The lowest roundtrip fare from BWI in mid-March is $315 on American Airlines. For more tourist information on St. Augustine, call 1-800-653-2489 or log onto floridashistoriccoast.com.