Travel
St. Lucia's natural beauty and happy vibe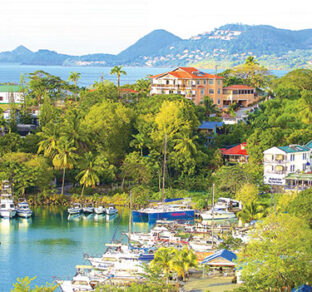 The island of Saint Lucia offers more dramatic views and lush greenery than many other Caribbean islands. The deep-water harbor of the capital city of Castries welcomes visitors from cruise ships. Tourists enjoy the island's white-sand beaches, handicraft markets and historical sites.
Photo © Irishka777 | Dreamstime.com
Shortly after my wife Fyllis and I arrived on the Caribbean island of St. Lucia, we spotted locals wearing T-shirts with welcoming notes: "Be happy." "Don't worry, just party." "Forget your troubles."
Not surprisingly, many people go to St. Lucia for its beaches and splendid views of the multi-hued sea, which ranges from light green to turquoise to deep blue. Its 98 miles of sand include gently curving seashores overlooking sweeping bays and small slivers, which are favored by residents of the island.
After our first encounter with Viggie Beach in the capital, Castries [Cas-trees], Fyllis and I made that our go-to respite. It's lined with palm and almond trees that provide welcome shade.
Several modest snack bars offer food, beverages and opportunities to meet and mingle with St. Lucians. They often comprise the majority of sun seekers there and, when a cruise ship is docked at the nearby port, may be joined by passengers.
Day-trippers, who use their brief stay on St. Lucia to soak up the sun, experience little of the history, culture and traditions of the tiny island, which has a square footage only about three times larger than Washington, D.C.
Our two-week stay provided opportunities for Fyllis and me to delve into the "real" St. Lucia and discover why some 1.3 million people — about seven times as many as live there — visit the island each year.
For starters, the island's dramatic topography and lush interior differentiates it from other, flatter Caribbean islands. Greenery lines roadsides and covers ridges that rise into sheer cliffs and mountains. A profusion of flowers transforms the entire setting into a natural botanical garden. Photogenic waterfalls add to the picture-perfect scenery.
Towering over it all are the twin Gros and Petit Pitons, pointy volcanic spires that even in this rugged terrain demand attention and respect. Although it's possible to hike to the peak of the Pitons, we happily skipped that challenging clamber, preferring to explore the island — which has plenty of other mountains — by car.
Driving can be tricky
On the other hand, I discovered that driving on what passes for roads in St. Lucia presents other challenges.
Because Great Britain has held sway over St. Lucia since 1814, both the cars and roads reflect that influence. That means the steering wheel of automobiles is on the right side, and cars drive in the (narrow) left lane.
(By the way, control of the island switched between England and France 14 times during the 18th century. As a result, names of towns and sites serve as reminders of both of those nations.)
Picture yourself navigating a vehicle along a roller coaster track, multiply the number of twists and turns by three, add the largest potholes I've had the misfortune to encounter anywhere in the world, and you have an idea of what it's like to maneuver around the island by car.
Frequent "Hairpin Turn" signs are an understatement, and while most residents are understanding about newcomers, a few tailgaters sped past us as if they were racing at Le Mans. As one hotrodder passed our car, I was just able to make out the rather intimidating message on his bumper sticker before he sped around the next turn in the road: "No gears, no fears."
Village hopping
Once Fyllis and I were able to catch our breath after driving to various destinations around the island, we were able to enjoy them.
St. Lucia's tiny towns, many consisting of colorfully painted houses fronting the sea, each have its own attractions and personality.
Castries is the hub of the island's economic activity. Its port — rated as one of the best deep-water harbors in the Caribbean — berths both cruise liners and cargo ships.
At the weekly Saturday market, a lively, colorful bazaar, venders sell everything from spices, soaps and souvenirs to homegrown produce, homemade adult beverages and homespun clothing. Food stalls serve local fare at bargain-basement prices.
Soufrière [Soo-free-air], which is French for sulfur, is home to Sulphur Springs, a collapsed volcanic crater where people willing to put up with the pungent scent may take soothing mineral-rich mud baths, which are touted as beneficial for the skin. Also home to the Pitons, Soufrière has stunning beaches and waterfalls.
We drove through a number of small fishing villages, such as Anse la Raye, each with pastel bungalows, brightly painted boats, and fishermen cleaning their catch and mending nets.
Gros Islet [Groze Eelay] is another quiet fishing hamlet —except on Friday nights. That's when the weekly "Jump Up" street party provides dinner and dancing, imbibing and liming (Caribbean for partying).
The event was born decades ago, when the proprietor of a rum shop set up a grill outside to attract customers. Neighboring businesses soon followed suit.
The "jumping up" begins in the evening when a crowd munches on grilled fish, chicken and other fare, and strolls through the narrow streets, swinging in time to music blaring from giant speakers. As non-islanders begin to depart, locals arrive to take their place, some arriving by boat to the town dock.
Forts and bunkers
That fun and frivolity contrasts with sites that relate serious chapters of St. Lucia's history, such as bloody Revolutionary War-era clashes between France and England.
The British built Fort Rodney at the northern tip of the island in 1780, when they were vying with France for control of St. Lucia and other Caribbean islands. Its massive cannon could attack approaching enemy ships attempting to enter the harbor. Barracks, bunkers and the remains of the commander's residence are among reminders of that time.
It was the French who first established a military presence on Morne Fortune, an imposing mountain that looms over Castries. Later, the British claimed the position and built fortifications, gun emplacements and other military structures scattered about the area.
After seeing the island's historic sites, I discovered that my personal favorite place was neither a man-made military base nor bunker, but rather a natural attraction.
A tour of the Bay
Marigot Bay combines some of Mother Nature's magnificent handiwork, historic tidbits, welcoming accommodations and inviting places to dine. The cove is surrounded on three sides by steep, forested hills, and the inland portion forms a protected area known as a hurricane hole, where boats seek refuge from big blows. James Michener called it "The most beautiful bay in the Caribbean."
The French and British navies fought a number of battles for control of the bay, and it serves today as a peaceful docking place for boats, ranging from small outboard motor craft to massive super-yachts.
For a closer look at Marigot Bay, we hopped on a boat tour. Given its name, it wasn't surprising that a festive feel manifested itself shortly after our Spirit of Carnival Party Cruise catamaran left the dock. Passengers sipped and supped, danced to piped music, and oohed, aahed and photographed the superb scenery the boat passed.
Stops along the way included an immersion in the mud baths at Soufrière, a photo op standing beneath a plummeting waterfall, and a warmer experience snorkeling in the tepid Caribbean Sea.
As one guidebook puts it, the island has been "blessed by nature," and offers "geographic and cultural riches enough to embarrass far bigger nations." After acclimating to St. Lucia's roads and absorbing its cheerful, calm atmosphere, we found that to be true.
If you go
Round-trip flights from D.C. to St. Lucia start at around $580. Accommodations range from budget-priced local B&Bs, to medium-range boutique inns, to luxury all-inclusive resorts.
We chose to stay at a furnished villa at Chateau Mygo, perched at the edge of Marigot Bay. Our two-bedroom apartment had an expansive living-dining-kitchen area, outside deck and small plunge pool. Rates begin at $1,200 a week. For more information go to chateaumygo.com.
Its excellent seaside open-air eatery features seafood, such as ample portions of sesame seared tuna or fish and chips (each $28), served with several sides. Guests of Chateau Mygo receive a 15% discount on food and beverages.
For more information about St. Lucia, see stlucia.org.