Travel
Street food, friendly people in Osaka, Japan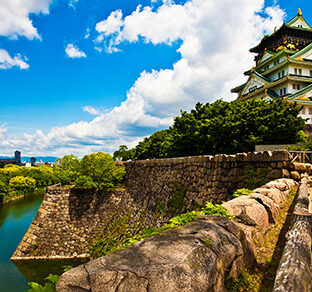 The landmark Osaka Castle rises over Japan's third largest city, reminding people of its long history. Located six hours southwest of Tokyo, Osaka is worth a visit for its architecture, world-class aquarium and street food scene.
Photo © Khim Wai Woon | Dreamstime.com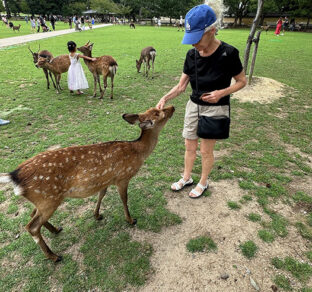 Katherine Mankin, the author's wife, feeds a wild fawn in pastoral Nara Park, a 30-minute drive from Osaka, known for its herd of docile, but hungry, deer.
Photo by Don Mankin
"Why go to Osaka?" a fellow travel writer asked at an annual adventure travel conference. "It's like San Bernardino."
To anyone from California or who knows its cities, that was not a ringing endorsement.
Another travel writer spoke up and disagreed: "It's the only place in Japan with soul."
My wife, Katherine, and I were attending the conference in Sapporo, Japan, and looking for a place to visit afterward. I've toured Tokyo and Kyoto, hiked the Kumano Kodo trail, and visited the southernmost island of Kyushu.
I was looking for someplace new to explore. Osaka, like Tokyo, is huge and sprawling. It's the third largest city in Japan and is often considered its economic hub.
Osaka is also a major port and is, therefore, one of the most culturally diverse cities in the country. It's more working-class than Tokyo, and according to several of my travel writer colleagues, the people are friendlier and more outgoing.
And most importantly, Osaka has a reputation for great street food. That's all I needed to know! We were going to Osaka.
Osaka's street food scene
Our hotel was located next to the airport bus terminal, subway and railroad stops. More importantly, it was only a short walk to Dotonburi, the heart of the nightlife and street food scene.
Once a thriving theater district, the primary attractions now are wall-to-wall crowds of people, and prominent, almost hallucinatory, signage above the many restaurants that line the promenade — including a giant crab, a large cow and a sea serpent.
One could just find a place to sit, gaze at the neon and watch the people streaming by. But I was there for the food.
Our first stop was at one of the many stalls selling takoyaki, doughy dumplings stuffed with bits of octopus, which are synonymous with Osaka street food. I nibbled carefully at the molten hot ball of dough before wolfing it down.
At my wife's urging, we moved on to a conveyor-belt sushi restaurant for our next course. If you are not familiar with the concept, you sit at a counter as a conveyor belt whisks all manner of sushi past.
You have to make a split-second decision as to whether or not you want the particular morsel whizzing by and grab it before it passes out of reach. The effect is not unlike a buffet or smorgasbord where the pull of something new and different leads to serious overeating.
Over the next three days, I continued my research on Osaka street food, including okonomiyaki, a savory pancake filled with meat, vegetables and whatever else the chef decides to throw in. I also visited (twice!) a stall that sold one of my favorite hand-held desserts, a sweet bun sliced in half with a slab of vanilla ice cream in the middle.
World's largest aquarium
Of course, we did more than just eat. The city's famous world-class aquarium is a must-see both for its impressive setting and unique architecture.
Located on the bay, the aquarium claims the title of world's largest aquarium. Visitors walk down a ramp descending from the top floor, winding around a huge, multistoried tank filled with all kinds of fish and aquatic mammals, including a whale shark.
The outer rim of the ramp features tanks with animals from various natural environments around the Pacific Rim, including Japan, the Aleutian Islands, Panama, the Great Barrier Reef and Antarctica.
Another attraction was Osaka Castle, one of Japan's most famous landmarks. The current castle, a reconstruction of the original built in the late 16th century, looms over a moat. Inside is a museum that traces the history of the castle and the critical battles that played a major role in the unification of Japan.
The observation deck at the top of the castle offers a 360-degree view of the city. It's well worth climbing seven stories to get there (you can take an elevator, but it takes at least half an hour's wait to get on).
Nara's wild deer
From Osaka, it's just a 45-minute subway ride to Nara — a relatively small, walkable city that was the capital of Japan in the 8th century.
One of Nara's main draws is the herds of wild deer that roam city parks looking for snacks from accommodating tourists. Park vendors sell special "deer crackers" made of wheat flour and rice bran. The deer can get a bit pushy, gently nudging visitors for yet another snack.
We saw more than a couple of kids cringing and crying because of the insistent deer. It's a fun thing to do for a while, but the novelty soon wears off.
For me, the main attraction of Nara, a UNESCO World Heritage Site, was the ancient temples, shrines and Japanese gardens throughout the city.
My favorite was Todai-ji Temple, which contains one of the largest Buddhas in the world, close to five stories high. I could have spent hours wandering from one temple, shrine and garden to another.
Leafy, green and peaceful, with a bit of wildlife, Nara may well be my favorite destination in Japan.
Welcoming, outgoing people
As for Osaka, the street food was tasty, the aquarium was great, the castle was imposing and Nara was charming. But maybe the best thing about the city was the people.
Almost everywhere we went, people smiled and asked us where we were from and engaged us in what passes for conversation when one party speaks little English and the other speaks no Japanese at all, aside from Konnichiwa (hello) and Arigato (thank you). Smiles and gestures said a lot.
Nowhere was this spirit more evident than at the jam session in Jazz Bar 845, a jazz club close to our hotel, which we discovered on the last night of our visit.
Everyone welcomed us, asked where we were from, and loved my stories about seeing the giants of jazz in my youth — Coltrane, Miles and Rahsaan, among many others — when I haunted the clubs of Philadelphia. I was even invited to sing at the open mic. (Fortunately for all concerned, I demurred. I have a lousy voice and can't carry a tune.)
As for my other colleague who compared Osaka to San Bernardino, I've never been to San Bernardino, but if it's anything like Osaka, maybe I'll have to visit.
If you go
Round-trip airfare from Baltimore/Washington area airports runs about $2,000.
We stayed at the Hotel Monterey Grasmere Osaka. Rooms start at about $150 per night. Rooms at the nearby Agora Place Osaka Namba are about $110 for a standard double.
In addition to street food, we also ate at several restaurants, including at Sushitojizakeigossou, a sushi bar near the hotel. Very little English is spoken there.
My favorite meal was at a tiny restaurant, Senzou, down an alley a couple of blocks from the hotel, which served platters of beef cooked on a charcoal grill in front of us. Little English was spoken there as well.
For more information on Osaka, see osaka-info.jp/en. For a self-guided walking tour in and around Nara, see bit.ly/Nara5days.