Technology
Students rewarded for innovative ideas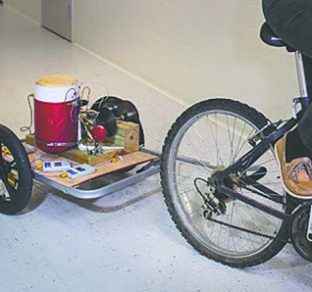 Clarksburg, Md., high school senior Anurudh Ganesan won a $25,000 college scholarship from the Davidson Institute for his invention that keeps vaccines refrigerated without electricity as they are transported to remote locations. Power for cooling can be provided mechanically, such as by pedaling a bicycle, as Ganesan shows here.
Photo courtesy of the Davidson Institute
As a infant in Southern India, Anurudh Ganesan needed his grandparents to carry him 10 miles to a remote health clinic to get vaccinated against polio. But when they arrived, they found the vaccines were useless due to the lack of safe refrigeration and high temperatures.
Years later, when his parents told him the story, the teen was shocked and did extensive research on the problem. Ganesan found out that, according to UNICEF, 1.5 million children die annually due to diseases that could have been prevented by vaccination. He was disappointed to see that this was still a problem 15 years after his own experience.
Now a high school senior in Clarksburg, Md., Ganesan has won a college scholarship for inventing a device that can keep vaccines cool in remote locations without electricity. He is one of 20 fellows age 18 or younger selected this year by the Davidson Institute of Talent Development, who awards them with scholarships between $10,000 and $50,000. Ganesan is one of four Washington-area winners.
The institute supports very intelligent young people, providing opportunities for them to develop their talents to make positive change.
Empowering refrigeration
Called the VAXXWAGON, Ganesan's invention is basically a refrigerator on wheels. It uses the same technology as a home refrigerator, except that it runs on mechanical energy rather than electricity. A person walking, bicycling, or even an animal could power a VAXXWAGON just by towing it.
"I am confident that this system will save countless lives by providing safe and effective vaccines globally," Ganesan said. "I was inspired by my grandparents, who still live there, to develop the VAXXWAGON. Ultimately, I want to go back to India to see it in action and how it might bring safe vaccines to my cousins and other relatives."
In addition to being awarded $25,000 through the Davidson Institute, Ganesan has received many other accolades for his invention: he won the LEGO Education Builder Award in the 2015 Google Global Science Fair, was invited to the 2016 White House Science Fair, is a Popular Mechanics Breakthrough Winner, and a 2016 Global Teen Leader.
When he's not working on creative inventions, Ganesan loves playing tennis and listening to rap music. In the future, he wants to become a social entrepreneur — creating companies and investing in ideas that benefit many people who are less fortunate.
Making history accessible
Like Ganesan, Christopher Huh is also a senior at Clarksburg High School, and his work also involves grandparents. Huh is the first graphic novelist to win one of the Davidson scholarships.
It was in middle school that Huh wrote a historic graphic novel called Keeping My Hope. It follows the fictional story of a grandfather who recounts to his granddaughter his tragic, yet captivating, memories of living through the Holocaust and WWII.
In the 7th grade, Huh's English class was addressed by a visiting Holocaust survivor. Huh was vaguely familiar with the Holocaust, but he was shocked to hear in detail the lessons on history and humanity first hand.
As the speaker went on, Huh couldn't help but notice the class was not interested in listening. He said he felt compelled to write Keeping My Hope after that experience, thinking this might be another way to engage students, both in and out of the classroom, to learn about an important and sensitive subject.
"History is a major part of what makes us human," he said. "Without it, we as a species would not be able to look into the past. More importantly we would not be able to learn from our mistakes.
"I have high hopes that someday books can provide valuable lessons for people to learn and still be entertaining pieces of literature," Huh said.
Scientific advances
Another local Davidson winner is delving deeply into plant biology in an effort to find ways to mitigate climate change.
The ability of plants to remove carbon dioxide from the air and synthesize sugars and oxygen is essential for human survival. But our production of pollution and deforestation have outstripped the ability of the earth's plants to process it all.
Wyatt Pontius's project showed a way to enhance the photosynthetic capabilities of plants. He also developed a prototype of a lightweight, cost-effective oxygen-producing system that could not only help in the fight against climate change, but also play a role in future space travel.
Pontius lives in Sterling, Va., and is starting Stanford University this month.
Josephine Yu, who lives in Potomac, Md., and will attend MIT this fall, also won a fellowship. For her project, Yu conducted scientific research with a material called graphene, which is known for its extraordinary thinness, strength and conductivity. Possible uses for graphene include touch screens, coatings and computer chips.
Yu developed a theoretical model to study what happens when the top layer of two stacked graphene sheets is moved, causing both sheets to stretch and wrinkle.
Learn more about this year's Davidson Fellows at www.davidsongifted.org.