Travel
Sublime wine, scenery in central Virginia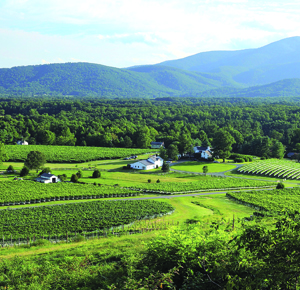 The view from the Veritas Vineyard and Winery looks beyond the vineyard to the misty Blue Ridge Mountains that form the backdrop to central Virginia's rural Nelson County. Wine, beer, spirits and apple cider are widely crafted in the county.
Photo courtesy of Veritas Vineyard & Winery
The masseuse's golf balls gently rolling across my back in the dimly-lit spa put me into a Zen-like trance.
So did the thick clumps of interrupted ferns carpeting the forest floor as I hiked, while the haunting, flute-like call of the wood thrush wafted through the trees.
And a little while later, in a cider taproom, the sparkling hard cider gave me a slight buzz.
This is Nelson County, Va., population 15,000 — a place for reverie, revelry and recreation. With mountains on the west and the James River on the south, it's a small-town, bucolic county in the Blue Ridge foothills, about 185 miles southwest of Baltimore.
Wintergreen Resort, an all-season playground, offers spa services, golf, tennis, dining, nature walks, performing arts, winter skiing and more.
Down below, in Rockfish Valley, wineries, cideries, breweries and distilleries have sprung up like spring wildflowers in recent years. They dot the rural landscape between the county's seven orchards and fields of contented black Angus cows. Sunsets paint the mountains a bluish-purple every evening.
A one-stoplight county, Nelson is a mix of hip yuppie and down home country. You can sip chardonnay at a winery one minute, and sniff "fragrant" cowpiles warming in the sun the next.
"Nelson County is becoming the 'Napa Valley of the East,'" says Connie Brennan, a Board of Supervisors' member.
Apples, fresh and fermented
Nelson County's Fruit Loop Trail (www.blueridgefruitloop.net) is a series of farms and orchards selling pre-picked and pick-your-own apples and other fruit.
The county has long been an apple-growing region, said John Bruguiere with Dickie Brothers Orchard. "The higher elevations above 900 feet provide a good altitude. The higher the elevation, the cooler the night temperatures during the growing season, which helps develop [apples'] red color," he explained.
Apple trees do well on slopes where water drains away. "Since there was little else to do with hilly land, apples are a good fit," he added. And, he jokes, "Most of our cows have two legs shorter than the others from walking on hillsides."
The Brew Ridge Trail (www.brewridgetrail.com) showcases the craft beers, ales and lagers of five breweries. The county has three distilleries, like Silverback which offers enticing spirits like Strange Monkey gin.
Ten wineries host tours and tasting rooms for trying wines like chardonnay, merlot, pinot gris and more. Veritas Vineyards and Winery, which boasts a wine portfolio reflecting 15 years of hard work, features tours of the crush pad, wine cellar and barrel room, and talks on wine-making basics.
Cideries are increasingly popular. Nelson has two: Bold Rock and Blue Toad. Bold Rock, next to the South Fork of the Rockfish River, bottles five days a week and presses 80,000 pounds of apples weekly. On cidery tours Tuesday to Saturday, visitors can learn the fine details of making hard cider.
Here, the citrusy Indian Pressed Apple is a favorite. Former U.S. President and Virginia ciderist Thomas Jefferson hailed the beverage as "nearer to silky Champagne than any other." Cidermakers like Charlotte Shelton of Albemarle Ciderworks promote their product's drinkability and low alcohol content (five to seven percent).
Hurricanes and history
Hurricane Camille devastated Nelson County in 1969 when this Category 5 monster of a storm unexpectedly hurtled through the county's heart, dumped over 27 inches of rain in five hours, and left a trail of devastation and death behind.
The whole story — tragedies and heroics — is relayed in detail at Oakland, the Nelson County Museum of History, such as painful recountings of youngsters snagged in trees as family members are washed away.
The museum is in a red brick, Greek Revival house built in the early 1800s. By 1838, it became an "ordinary" — a combination inn and tavern on the Stage Road, now route 29, where the Washington City to Lynchburg stage coach ran past three times a week.
Visitors today see the tavern room with exposed beams and a "cage bar" replica — a tavern-keepers' container for locking up the spirits overnight. Other exhibits explore the county's public school history, and electricity's arrival in the 1930s. Oral histories describe life in the country without electricity. Learn more at www.historicnelson.org.
The county seat, Lovingston, founded in 1808, is an historic district. The star "attraction," if you're not in legal trouble, is the historic courthouse which opened in 1810, a stuccoed brick building in the English town-hall style.
The little town of Schuyler gets its fame as the hometown of Earl Hamner, the creator of "The Waltons" — a 1970s television series about a family living in the rural Blue Ridge mountains during the Depression.
The Walton Museum is a replica of the studio set of the Waltons' television home, including John-Boy's bedroom, the living room and the kitchen. Ike's General Store set is a souvenir shop for Walton memorabilia. In March, most of the surviving actors who played the characters on the show came to the museum for a reunion, attended by hundreds of fans.
The great outdoors
If sipping cider or Chablis in the sunshine isn't quite enough nature, there's plenty more. Twenty-five miles of the Appalachian Trail slice through the county.
The Virginia Blue Ridge Railway Trail follows the banks of the Piney and Tye Rivers, along a former short-line, timber-hauling railway. Also along the Blue Ridge Parkway is Crabtree Falls, one of the highest, vertical-drop cascading waterfalls east of the Mississippi River with five major cascades that plummet 1,200 feet. One overlook is near the upper parking lot. The adventurous can hike the 2½-mile Crabtree Falls Trail to four other overlooks.
Naked Mountain harbors some rare plants, like shooting stars, on globally-rare landscapes known as barrens and woodlands. Crawford Knob is home to a rare type of swamp, called a mountain-piedmont basic seepage swamp, where orchids, lilies, ferns, grasses and sedges thrive.
The Quarry Gardens in Schuyler have various native plant communities around a former soapstone quarry. Visitor center exhibits explain local ecosystems and the soapstone industry.
Lavish Wintergreen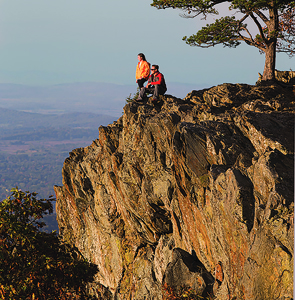 The Wintergreen Resort's 9,000 acres of protected land includes miles of hiking trails. Visitors can indulge in a massage or other spa treatment afterward at the resort, which includes a variety of lodging, from hotel rooms to vacation houses.
"Sumptuous luxury" is how Wintergreen's publicists describe the four-season, 11,000-acre resort, most of which sits atop Wintergreen Mountain.
The spa promises to "restore balance to your body, soul and spirit." Choices include aromatherapy massage, Blue Ridge Swedish massage, mountain stone massage, Blue Ridge mud wrap, lavender body glow, de-stress eye treatment and a gentleman's facial. And there are seasonal indulgences like a berries and cream facial (summer), a pumpkin chai pampering (fall) and a fig manicure and pedicure (winter).
The resort also has golf clinics, meditative yoga, swimming, archery, miniature golf, children' activities and winter tubing and skiing, thanks to "automated snowmaking."
Accommodations include individual rooms, studios, homes, and condominiums with up to nine-bedrooms. The Mountain Inn has lodge-type rooms. Four restaurants offer "Southern-inspired cuisine," Mediterranean dishes, burgers, pub fare and gourmet pizzas.
Sumptuous and upscale are certainly respectable choices at Wintergreen, but visitors on top of a mountain surrounded by 9,000 protected acres and many trails might want to also get outdoors. Resort officials take pride in their environmental stewardship, and partner with the Nature Foundation at Wintergreen, dedicated to conserving the natural and cultural resources of the Blue Ridge Mountains.
Outdoor trekkers might see flying squirrels, wood rats, bears, coyotes, bobcats, deer, turkeys and many birds. The Trillium House, headquarters of the Foundation, offers hikes, lectures and other nature-oriented programs.
Wandering, wining, dining and picking locally-grown, golden delicious apples can yield some golden delicious days in Virginia's Nelson County.
If you go
Getting there: Nelson County is a four-hour drive from Baltimore, taking I-66 west and then Rt. 29 south. The closest Amtrak station and airport are in Charlottesville.
The Nelson County Visitor Center has lists of transportation services, like limos, to Nelson, some of which offer one-day wine and brewery tours.
Information on Lovingston is available at www.virginia.org/cities/Lovingston.
Lodging: Wintergreen's wide array of options is available in a range of prices. Basic hotels rooms range from $134 to $244 a night, while condos start at $149 for a one-bedroom to $439 for a five-bedroom. See www.wintergreenresort.com or call (434) 325-2200.
Besides Wintergreen, there is one motel in Nelson County, the Village Inn in Lovingston, http://villageinnlovingston. webs.com, (434) 263-5068. The Nelson County tourism site has a list of B&Bs, cabins and campsites. See www.nelsoncounty-va.gov/departments/tourism or call (434) 263-7015.
There are many events in the region throughout the year, and frequent live music at breweries and cideries. Check http://www.nelsoncounty-va.gov/events/category/ events-calendar/.