Cover Stories
Survivor and self-taught painter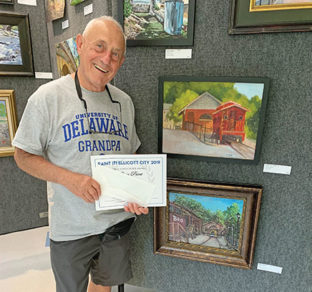 Al Biegel started painting decades ago but picked up the pace after retiring from the U.S. Army. His works are on display at the Bernice Kish Gallery at Slayton House in Columbia through August 12.
Photo courtesy of Al Biegel
Al Biegel escaped the Nazis in Vienna, where he was born, joined the U.S. Army, rose to the rank of colonel while engaging in combat during the Vietnam War, retired from the military after 25 years, then went on to serve another quarter of a century in the national intelligence community.
Now 84 and an artist-teacher, Biegel is displaying several works from his "plein air" (outdoor landscape) period at the Bernice Kish Gallery at Slayton House in Columbia. The exhibit also includes paintings by several of Biegel's students, most of whom, he said, are at least 45 years old.
Biegel, a Columbia resident since 1970 (he also lives part of the year in Boca Raton, Florida), noted in a recent interview with the Beacon that his art work — which he began some 60 years ago — had often offered him a mental stability, especially during his years of military combat.
"While serving two combat tours in Vietnam, I focused on painting just to find psychological relief," Biegel said, adding: "Once you pick up the brush, you forget about everything else."
He first experimented with painting in 1959, when he and his wife, Marilyn, also a Holocaust survivor, were living in a one-room apartment in the Bronx.
Marilyn had admired a painting of bottles in an art store. It was for sale at the outrageous price (for them at the time) of $75. That led Biegel to spend $5 on art materials, including a canvas.
"I had never used a paintbrush before," he said. Nonetheless, "after a week of effort, a crude picture of bottles 'graced' our walls."
He has since applied oils, acrylics and watercolors to canvases he has set up in, among other places, Germany, where he was stationed in the Army, in the colorful French countryside of Provence, Palm Beach and Howard County, among other locations where he has created his paintings, which now number "several thousand."
'I never saw my father again'
Biegel's life had a tragic early beginning. When he was 11 years old, Nazi soldiers took his father from the Jewish family's home and sent him to the Buchenwald concentration camp.
"The Nazis banged on the door, and I never saw my father again," Biegel said.
Biegel, his mother and brother escaped Vienna, and in late 1940 were passengers on what Biegel described as "the last ship from Trieste carrying passengers to the U.S."
His mother remarried and the family settled in the Bronx, where Biegel affected a tough guy attitude, along with a high pompadour to boost his 5-foot, 4-inch stature.
A high school guidance counselor told the teenage Biegel that his persistent low grades showed he was "not college material."
Biegel noted that he countered the assessment by scoring well on the SAT exam. He was accepted into tuition-free City College of New York, joined the ROTC there (where he served under cadet Col. Colin Powell), and managed an A-minus average in his coursework.
Admires 'radical' impressionists
Biegel pointed to two French painters as his all-time favorites: Claude Monet and Paul Cézanne. "They painted beautiful landscapes," he said.
The Impressionists of the mid-19th-century, when Monet and Cézanne painted, were considered radicals in their time. They violated the traditions of painting by using freely brushed colors that took precedence over lines and contours. Other differences included that they painted realistic scenes of modern life and often painted outdoors.
Previously, still-life and portraits, as well as landscapes, were almost always painted in a studio, with landscapes usually serving only as background.
Meanwhile, painters of en plein air, a French phrase meaning "in the open air," artistically painted the landscapes they actually saw outdoors, where they had set up their easels.
Biegel acknowledged that recently he has, like other painters, completed plein air paintings in a studio, working from photographs. But he indicated that the beauty of the mountains, trees, sky and water give artists and viewers a true feeling of the light and the colors of the outdoors.
His paintings, which convey atmosphere and inner beauty, have brought him awards in such venues as the art gallery of Garmisch, Germany; the Howard County Arts Council, where he was cited in three different exhibits; four awards in plein air painting competitions in Palm Beach and Delray Beach, Florida, as well as in an annual arts competition in the Solomon Islands.
Art critics, he said, "have noted that I am self-taught and that I have painted worldwide. They have also noted that my favorite subject matter has long been flowered windows, antique doors and the lavender fields of Provence — all of which are on display in the current exhibit at Slayton House.
Any closing remarks? Just this: "One word: will," he said.
"With will, with willpower, as long as you have it, it will take you to where you want to go. Set your star in the direction you choose and, with willpower, you will get there."
Biegel's paintings can be viewed at the Slayton House gallery, located at 10400 Cross Fox Lane in Columbia, through Aug. 12. Gallery hours are Monday to Friday, 9 a.m. to 4:30 p.m. Call ahead of time to make sure all areas are open to the public: (410) 730-1987.