Features
Taking a chance on romance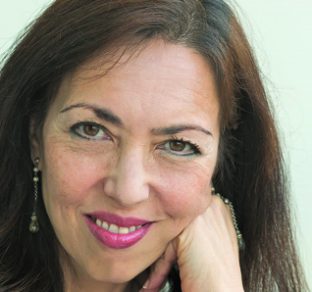 Naiomi Kooritzky founded Options dating service 23 years ago. More recently, she started a Prime Time matchmaking service for older adults. People looking for love later in life usually have a different set of priorities than when they were in their 20s. But like young people today, more of them are turning to online dating sites and companies that screen participants.
Photo courtesy of Naiomi Kooritzky
Hillary Finkel discovered "it was a whole new world out there" when she decided to try online dating four years after her husband passed away — swiping right or left, catphishing, photo editing apps that make people look 10 years younger.
Finkel considers herself lucky that she didn't encounter anyone who had created a fictional persona, the definition of catphishing, and didn't venture onto Tinder — a dating app where users swipe their fingers left to reject a profile or right to say they'd like to learn more.
In fact, using the online dating sites Match.com and JDate, which is for Jewish singles, she "met a lot of really nice people. But we didn't click, for me at least. The chemistry wasn't there," she said.
It took some perseverance, but Finkel reports that, "Finally, I was very successful and met the love of my life."
Finkel, who is 59 and an attorney who just published her first novel, recently moved from Howard County to Bethesda to live with the boyfriend she met online.
Whether people are looking for love at one of the dozens of dating websites that promise happily ever afters (or short-term flings), or using dating services that serve as matchmakers, many of those over 50 have a different outlook on dating than they did when they were in their 20s.
"We're older, and we're wise enough to know what we want," said Stephen Grossman, 65. "Our philosophy changes as we get older. Companionship and friendship have moved up as priorities. The concept of give and take has grown as we've gotten older. It's a two-way street."
The dating service option
At the same time, Grossman, a resident of Rockville, Md. who has been married twice, says, "I think I'm done with marriage. I've done too many tours of duty."
Also, unlike Finkel, Grossman has eschewed online dating. "I've never really been into computer dating because I've heard too many negatives about it — that people weren't really what they appeared to be in their biographies or their pictures," he said.
Instead, Grossman turned to Options — a dating service that matches up clients after a thorough screening process that can include an interview and in-depth questionnaire about preferences.
This more personal touch can help establish trust and ensure compatibility, said Naiomi Kooritzky, who founded Options 23 years ago in Tysons Corner, Va. The company now works with clients nationwide.
She says that Options has an 87 percent success rate, defined by the number of members who put their profiles on hold for at least a year, signaling they are in a long-term relationship.
"Sadly, we live in a society where people have an insatiable shopping mentality," Kooritzky said. "When it comes to dating, they think they're on Amazon shopping for a mate. It's all about what someone sees on the surface, and that skews. That can be totally distorted."
A few years ago, she began Options Prime Time for clients over 50. Her father, a retired lawyer, now oversees that program.
"We realized we have a number of older clients, and they have some differing needs and priorities," Kooritzky said. In fact, most clients in Prime Time are in their 60s through 80s.
Among the questions asked of participants in this program are ones about hearing loss and whether they walk with a cane. If they answer yes to either question, "we tell them it will be more challenging. We [also] tell people if they're obese it's going to be more challenging. We tell people if they're a smoker it's going to be extremely challenging because that is a non-negotiable item for many people," she said.
Dating coaches
Options also offers coaching to help dates go more smoothly.
"We have to tell people to leave the cell phone in the car. Do not leave it on the table and discreetly glance at it. That's rude behavior. That's letting your date know they're not the priority," Kooritzky said. "People are completely oblivious to what they're doing during the date, sabotaging future dates."
Susan Trombetti, founder of Exclusive Matchmaking, agrees. "Not everybody needs matchmaking. They think they do. But they are really making some sort of mistake with the people they're dating.
"Ninety percent of the people who say they can't find anybody, I could put them with the perfect person, and they could screw that up," said Trombetti, whose company is located in Annapolis, Md., but has an international reach.
Not only does Trombetti coach her clients on the primary dating no-nos — such as talking about their exes or medical problems, and texting during the date — she also addresses what they should be doing instead.
She asks that clients go into the date with an open mind and not expect instant "chemistry." She tells them to dress up and flirt a little rather than starting the date with a list of qualifications that they are looking for.
Some men, she says, will have a literal list in hand when they call a woman, while women often treat a first date like a job interview.
"So, essentially, both people are grilling each other like a job interview. Literally, people end up shaking hands at the end. So there's no flirtation," she said.
A string of bad dates
Some of the women Andrew (who asked that his last name not be used) dated could have benefitted from some coaching. He's 63, and experienced a cascade of bad dates on Match.com. So he has gone back to meeting "the old-fashioned way," through friends or shared activities.
"The people I ended up meeting, while they seemed nice initially, after the first couple of meetings, I could tell perhaps there were issues they needed to work through or perhaps [reasons] why they were sitting home.
"I'm not being unkind when I say this. We all have issues. But if I have a choice, I would rather meet someone without so much baggage," he said.
There was the one who got too drunk to drive home. Another talked the whole evening without pausing to take a breath or ask him a question.
"Sometimes it's almost funny. But there was a serious one where I felt bad. She looked nothing like her photo. She was extremely thin.
"My first thought was, 'Should we go to the ER or something?' She was pushing her food around, and talking about how many hours a day she exercises. She was basically bragging to me how she's anorexic," he recalled.
A warning about scams
Sandy, who is 71 and lives in Silver Spring, Md., left her abusive husband at age 58 and decided to step back into dating using JDate.
A few years later, she fell hard for a man overseas whom she had never met in person. She even went so far as to shop for a wedding dress. They talked for hours each day on the phone or online, and he proposed to her within a few months.
Then there was silence for several days, until she got a call saying he had suffered a "terrible accident" in Malaysia. Unconscious, he was unable to pay the bills, so she sent money to the "hospital." He asked her for money to help orphans there, as well as to get his "millions" out of a safety deposit box.
"He cleverly had an answer any time I confronted him with the red flags I recognized, somehow making me feel guilty that I'd even raised them — even when I couldn't find the name of his 'doctor' on the hospital's website or that they'd even admitted him.
"I dismissed this last one when my colleague at work mentioned that her mother, who was in Hopkins at one point, had had friends who were never able to phone her because the operator always said she wasn't there.
"Things happen like that. When you want to believe, you're easily misled," she said.
In the end, he had bamboozled her out of $400,000. Sandy lived alone and told no one about the money she was taking from her IRAs, but finally someone at her job at the State Department caught on and said she would report it if Sandy did not.
So she reported the scam to the FBI's Internet Crime Complaint Center (www. IC3.gov) and was told that her scammer was probably in a group of half a dozen criminals living in Nigeria, traveling to Malaysia to pick up her money periodically.
Sandy is working to get an essay and a book published about her ordeal to warn other online daters.
Her experience has not deterred her from continuing to date men online. But now she is much more cautious, meeting them in person in public places. "I tell them to look for the lady with a smile and red hair," she said.
Sandy has recently reconnected with someone in Pennsylvania she met online years ago. "You're never too old to have a spark," she said. "Never too old to fall in love."