Travel
The Golden Isles of Georgia and Florida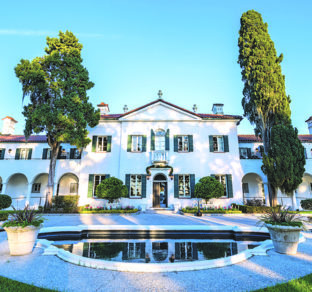 The Italian Renaissance style Crane Cottage (built in 1917) is the largest of the once privately-owned cottages on the grounds of the Jekyll Island Club Resort, situated just off the Georgia coast. The resort dates back to 1886, and was frequented by such wealthy families as the Rockefellers, Pulitzers and Vanderbilts. Today, the cottages host overnight visitors, weddings and parties.
Photo courtesy of GoldenIsles.com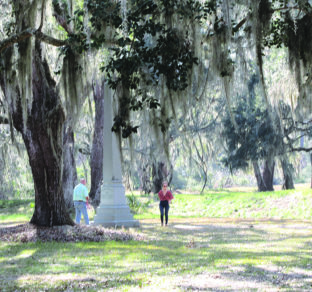 Spanish moss is ubiquitous in the Golden Isles, draping live oak trees and even nearby camellia bushes in the crinkly strands. Natives discourage naive amateurs from collecting it because bundles can be full of pesky chiggers. Early settlers used it in mattresses, hence the origin of the advice, "Don't let the bed bugs bite."
Photo by Glenda Booth
Vast saltwater marshes fringe southeast Georgia's and northern Florida's barrier islands, acres of luscious wetlands of thick golden reeds and grasses swaying in the gentle breeze as far as the eye can see.
The Spanish dubbed them Islas de Oro (the Golden Isles) in the 1700s, even though they failed to find the hoped-for gold.
But eventually the gold came to them, when northern millionaires with names like Astor, Morgan, Rockefeller, Pulitzer and Vanderbilt capitalized on the beauty of these islands and created an exclusive winter retreat at the Jekyll Island Club in 1886.
Today, Georgia's barrier islands and Florida's Amelia Island are a relaxed world of low-key small towns, subtropical beauty, salty air, tranquility, history, marshes and mosses.
They also boast many golf courses, plenty of sunbathing spots, friendly villages and a dose of southern charm.
Jekyll Island
Jekyll Island features 10 miles of beaches and 28 miles of trails. To preserve the barrier island ecosystem, the agreement under which the state bought the island in 1947 for $675,000 stipulated that only 35 percent could be developed, and that holds today.
Today's historic district consists of the erstwhile 240-acre compound of the aforementioned Yankee millionaires. On a 90-minute tram tour, visitors learn that the original Jekyll Island Club had 53 members, 120 buildings and 16 houses. During the winter, the elite northerners indulged in the "simple life," while during "club season" they were waited on by more than 200 employees, from cooks to caddies.
Besides the big-name visitors, the club's other claim to fame is that on Jan. 25, 1915, the first transcontinental phone call originated at the Jekyll Island Club. The building is now a 157-room hotel.
Some of the surviving two- and three-story "cottages" are open to the public, like the 8,000-square-foot Moss Cottage built in 1896. Most had wraparound porches and a game room, great room, sun room, parlor, and third floor quarters for servants, butlers, governesses and nannies.
Tidelands Nature Center, nestled next to a marsh, offers a fitting introduction to outdoor low country with tidal creek kayak tours and nature walks. Exhibits detail wetland wildlife like fish, snails, crabs, coastal birds and other beach critters.
Between December and March, North Atlantic right whales probe the ocean waters, and from May to July, loggerhead turtles, weighing 170 to 315 pounds, come ashore to nest. The center's Snake Room has black, gray and red rat snakes, corn snakes and a yellow-bellied slider turtle.
St. Simon's Island
Though the most developed of the Georgia islands, St. Simon's Island has a natural feel, too. Scattered around are 20 mysterious, evocative "tree spirits" — carvings in century-old trees, many moss draped, each carving unique. Contemplative faces seem to gaze at unsuspecting visitors.
Their creator, Keith Jennings, said he works with each tree's soul: "The trees do it all. I don't have that much to do with it. The wood speaks to you."
This Manhattan-sized island is slow-paced too, with winding roads, beaches, marshes, inlets and rivers, and a salty ocean aroma always pushing in.
The Coastal Georgia Lighthouse and Museum explores the life of African Africans forcibly brought to the area, people who introduced West African basketmaking and fish net weaving.
Former slaves established communities and toiled on plantation rice fields — the "golden grain" that brought their masters wealth before cotton was king. The barrier islands are part of the Gullah Geechee Cultural Heritage Corridor, a designation recognizing the enslaved Africans who created a unique culture along the coast.
The quaint Christ Episcopal Church, designed like an overturned ship, is made of never-stained Georgia heart pine and has no nails in the walls because of its tongue-in-groove construction.
The Spanish invaded the British colony of Georgia in 1742, and Fort Frederica's visitor center tells the story of how locals repulsed these unwelcomed aggressors in the Battle of Bloody Marsh.
Cumberland Island
Cumberland Island is a Georgia barrier island still "in the raw." It is 36,000 acres of pristine maritime forests, beaches, dunes, marshes and moss. The largest barrier island wilderness on the East Coast, Cumberland is a national park of quiet trails and dunes secured by sea oats that thrive in sun and salty air.
A ferry from St. Mary's takes adventurers for day trips to Cumberland Island twice a day to see turkeys, armadillos, gopher tortoises, lizards, anoles, alligators, saw palmettos, live oaks and cordgrass marshes. Lucky visitors might see a stealthy bobcat in the dense vegetation.
In these marshes, freshwater meets salt water and nurtures tiny creatures like fiddler and ghost crabs, periwinkle snails and various mollusks. Wild horses graze on spartina grasses near the shoreline.
The Carnegies once owned 90 percent of the island, but it became a national park in 1972. There is only one place to stay — the pricey, Georgian-style mansion, the Greyfield Inn — which has 17 rooms with four-poster beds and clawfoot bathtubs. John F., Jr., and Carolyn Kennedy had their wedding reception in the Greyfield.
Amelia Island
Just south of the Georgia-Florida line, Amelia Island is the southernmost in the chain. The island doesn't have the laid-back, close-to-nature feel of Georgia's islands, but rather offers a taste of old Florida.
The visitor center in the 1878 railroad station has materials for a self-guided walking tour through downtown — 50 blocks of historic gems. The Museum of History recounts that long before English settlement in the New World, there was a lot going on in Florida.
The pre-Columbian Timacuans were here 4,000 years ago. Eight flags were flown over the area, including the British, Spanish and French. The 1800s saw rampant piracy and slave smuggling because of an embargo on slave sales.
The Golden Age brought steamships full of northern vacationers who visited "for the vapors." The museum is in the old Nassau County jail, which was racially segregated and held drunks, rum runners and moonshiners from 1878 to 1938.
The historic Tabby House is made of a distinctive local concrete containing crushed shells. The Palace Saloon is Florida's oldest operating saloon and may have sold ice cream during Prohibition.
The Florida House, dating to 1857, is the oldest operating hotel in Florida. Here, Ulysses S. Grant campaigned for president in 1866, and Cuban patriot Jose Marti lived in 1893.
The Maritime Museum is devoted to sunken treasures recovered from the sea. The owners have hauled up objects from Spanish and Dutch galleon ships wrecked along the Florida coast prior to 1750. Guides tout their 20 years of finds, including jewelry, tools, nails, belt plates, brass spikes, pipes and eyeglasses. The most prized item is a jeweler's furnace used by Spain's Royal Jeweler to check for purity of gold.
These islands are made for leisurely meandering and slow-paced savoring. A local guide noted that Spanish explorer Ponce de Leon in 1512 wrote back home, "There's nothing in Florida. Only bugs, snakes and alligators." Seems like he missed the mystery of the marshes and mosses.
If you go
Jacksonville, Fla., is the most convenient airport. Jekyll Island is 73 miles, and Amelia Island is 34 miles, from Jacksonville. The lowest roundtrip airfare from the Washington area in mid-November is $262 on United Airlines from Dulles.
Rooms at the Florida House Inn on Amelia Island start at $150 per night. For more information, see www.floridahouseinn.com or call (904) 491-3322.
The following websites provide additional lodging, dining and tour options.
www.Goldenisles.com
www.Jekyllisland.com
www.stsimonsguide.com
www.gullahgeecheecorridor.org
www.ameliaisland.com
---
Upcoming events in the Golden Isles