Travel
The last call for long-distance train trips?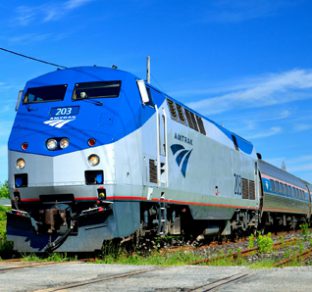 Trump's budget proposes to cut all funding for Amtrak long-distance trains. The administration isn't happy with Amtrak's ongoing losses, and long-distance trains face an uncertain future.
So if you're interested in a long rail trip, you don't have to worry for this year, but the future will be much cloudier.
Most scenic trips
For most people, the main reason to ride a long-haul Amtrak train is to enjoy the scenery in comfort. And rail buffs around the country generally agree on Amtrak's top four scenic long-haul trips with good daytime viewing (which I list east to west):
• The Adirondack between New York and Montreal, with great all-day Hudson River and Lake Champlain viewing in both directions.
• California Zephyr between Chicago and Emeryville (near San Francisco), with top daytime segments westbound through the Rockies from Denver to Salt Lake City, and in both directions between Emeryville and Reno over Donner Pass.
• The Empire Builder between Chicago and Seattle/ Portland, with daytime segments in both directions passing close to Glacier National Park, and through the Columbia River Gorge eastbound from Portland to Spokane.
• The Coast Starlight between Los Angeles and Seattle, with daytime segments from Emeryville or San Jose to Los Angeles along the coastal route of the famed Daylight.
Except for the one-day Adirondack, if you're doing a land cruise with one or two nights onboard, you'll want a private compartment. Although they're expensive, they're selling out fast for the peak summer season.
Long term, however, you might be inclined to worry. Long-distance trains are money losers, costing taxpayers somewhere in the vicinity of $200 per passenger in coach, up to double that in sleepers.
Furthermore, today's long-distance trains serve no essential transportation role. Air travel and buses are both faster and more efficient: air for long hauls, buses for short trips.
Those luxury trains are really "land cruises" for people who like trains, and even the most vocal supporters have a tough time justifying their heavy subsidies. Still, Amtrak's current long-haul route system exists because of politics, not economics. And funding based on politics isn't going away any time soon.
Consider Canada
If you're really interested in an extended train trip — but not quite ready for the trans-Siberian express — your best bet remains the Canadian, on VIA Rail Canada, between Toronto and Vancouver.
You go through some terrific mountain scenery during the four-night trip, along with some fascinating semi-wilderness north of Lake Superior. With four nights on a train, you'll want at least a sleeper and, more likely, a compartment.
Sleeper/compartment fares include all meals — prepared fresh in a real dining car, not a microwaved "snack." As with Amtrak, the Canadian's popular single and double compartments are already sold out on many summer trips, so consider waiting for fall. Buy tickets at virarail.ca on any "discount Tuesday" for the best prices; kids and riders 60 or over get discounts.
In the longer term, many economists conclude that the future of passenger railroading lies in frequent, high (or at least "higher") speed trains on routes of up to 400 miles to and from hub cities that suffer both highway and air traffic overloads. That's why the Northeast Corridor will survive.
That's also where the Midwestern folks are placing their chips with incremental speed and frequency improvements on the corridors radiating from Chicago, and what California is trying to do with its high-speed project.
But Amtrak still faces long-term problems. Even if it can keep its long-haul trains, Amtrak is perennially short of sufficient funding for maintenance and buying new equipment. And given the sorry revenue picture, the highly touted "public private partnership" funding system is likely to be ineffective.
More than ever, if you want to experience modern train service, head for Europe, China or Japan.
Send e-mail to Ed Perkins at eperkins@mind.net. Also, check out Ed's new rail travel website at www.rail-guru.com.
© 2017 Tribune Content Agency, LLC.