Arts
The stars shine in Olney's delightful Annie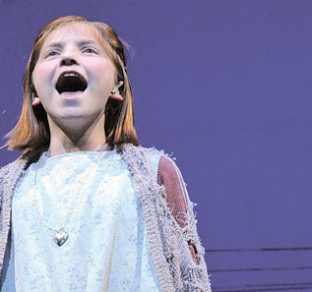 The sun may have set on the "Little Orphan Annie" comic strip when it appeared in newspapers for the final time last summer, but the spunky carrot-topped urchin still shines on stage at Olney Theatre.
The ever-optimistic musical about Annie, her dog Sandy and her bald benefactor Daddy Warbucks is proving to be almost as popular here as it was when it premiered on Broadway in 1977 and won seven Tony Awards.
Just a week after it opened in mid-November, some performances of Annie were already sold out, and its run was extended for a week, until Jan. 9.
Set in December 1933, Annie focuses on a gaggle of girls in the New York City Municipal Orphanage overseen by their tippling, mean-spirited caregiver Miss Hannigan. They spend their days scrubbing floors, eating mush and singing about their "Hard Knock Life."
Annie's trademark red hair seemingly offers the only bright spot in the orphanage's sea of gray, from the plaster-peeling walls, to the cast iron bed frames, to the girls' patched pinafores.
Annie pines for her parents, who left her at the orphanage 11 years earlier with a locket and a note saying they'd be back someday, but were never heard from again.
She runs away, finding herself on the streets of Depression-era Manhattan, first tricking a policeman into thinking an adorable golden retriever is her own dog and then seeking her parents under a bridge in a rickety "Hooverville."
Finding a home
She's dragged back to the orphanage just in time to be plucked up by the secretary to billionaire Oliver Warbucks, who's looking to polish his image by taking an orphan in for the holidays. Annie manages to beguile not just Warbucks but his entire vast staff as well.
When Miss Hannigan's oily brother and his girlfriend disguise themselves as Annie's real parents in a plot to capture a large reward check from Warbucks, even the young kids in the audience will bet their bottom dollar that Annie will ultimately triumph.
After all, the sun will come out tomorrow. By now, there's probably not too many on the planet who don't know that it's only a day away.
Caitlin Deerin, a sixth grader at Montgomery County's arts magnet middle school, plays Annie at Olney, and she can belt out "Tomorrow" with the best of them, making the song more poignant than cloying as she searches for a better day. This is Deerin's second time performing Annie; last year, she took the title role in Toby Dinner Theatre's production of the musical.
Stars small and large
Deerin and the half dozen other girls who play the orphans bring an endearing brightness to the stage, despite their ragged color-leached sweaters and torn dresses.
While Deerin appears each night, the other orphans are each played by two actors at alternate performances. On opening night, 6-year-old Heidi Kaplan made her stage debut, playing the smallest orphan with enough charm and wit to reform the Grinch.
But the littlest stars don't entirely steal the show. The adult actors play their roles with gusto. Unfortunately, the hyperactive sound system on opening night rendered some of the singing ear-splittingly shrill, especially that of Channez McQuay, who plays the scheming orphanage director Miss Hannigan with blowsy verve and otherwise standout vocals.
Broadway veteran George Dvorsky smoothly transforms from gruff to paternal as Daddy Warbucks. He's at his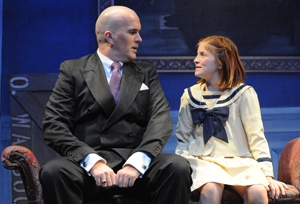 best when extolling the virtues of the city in the song "NYC."
Hannigan's miscreant brother Rooster (Bobby Smith) and his girl Lily St. Regis (Jenna Sikolowsi) heat up the stage as they strut through the song "Easy Street," about their get-rich-quick schemes.
While most of the songs aren't as memorable as "Tomorrow" or "Hard Knock Life," they lend era-appropriate jazz and vaudeville tunes to the musical and are ably accompanied by a six-piece orchestra.
As big a star as the actors is the scenery. Painted backdrops evoke 1930s New York, from bustling downtown street scenes to the bleak orphanage. Daddy Warbuck's mansion includes an ornate curving staircase that the actors swoop up and down, as well as a massive Christmas tree.
The sets, designed by nationally acclaimed Ming Cho Lee, are borrowed from other regional productions of Annie.
This is the kind of show you'll want to share with the children in your life. It might even spark a discussion about the Great Depression and some of the sober parallels to today's stubbornly sluggish economy.
It's a show about being home for the holidays, even if not the home you imagined. And on a dark December night, it will leave you believing the sun really will come out tomorrow.
Annie continues at Olney Theatre, 2001 Olney-Sandy Spring Rd., Olney, Md., through Jan. 9.
Tickets are $49 to $54. Students and patrons 65 or older receive a $5 discount, except for Saturday evening performances. The discount is also not available for seniors at Sunday matinees.
Days of performance and times vary. Call the box office at (301) 924-3400 or go to www.olneytheatre.org for tickets and more information.