Features
They are hardly the retiring types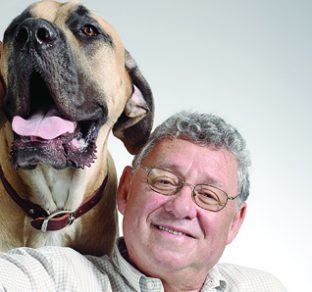 At 77, Alan Goldberg has no plans to retire from his job as professor of toxicology and chairman of the board of the Johns Hopkins Center for Alternatives to Animal Testing. He's shown here with his son's dog, an American mastiff named Atlas. Goldberg is one of a growing number of people working past the traditional retirement age of 65.
Photo courtesy of Alan Goldberg
"I don't feel like someone who shouldn't be working." said Mike Gimbel, a 65-year-old resident of Timonium. "Retirement hasn't even been a thought."
Gimbel is a substance abuse consultant. He says, "Work keeps me going, physically and emotionally. I like being active, as well as being a contributing member of society. There will always be people [for me] to help."
Gimbel is part of a growing trend of people who continue to work full-time past the age of 65, traditionally considered full retirement age.
"Almost 20 percent of Americans 65 and older are now working, according to the latest data from the U.S. Bureau of Labor Statistics. That's the most older people with a job since the early 1960s, before the U.S. enacted Medicare," reported Ben Steverman of Bloomberg News.
With people living longer, it's not surprising that they're working longer as well. According to the Social Security Administration, one in four people who reach age 65 will live past 90, and 1 in 10 will live past 95.
And with more years to live, people need more money to live on. According to Bloomberg, "Three in five retirees surveyed by the Transamerica Center for Retirement Studies said making money or retaining benefits was at least one reason they had retired later than they planned to. Almost half said financial problems were their main reason for working past 65."
More than money
But making money is far from being the only reason. Baltimore retirement and career coach Barbara Harman sees more people working later in life because they find their work gives them a sense of purpose, a structure to their days, and a social life.
"You don't even have to continue in the same career," Harman said. "Ask yourself why you're working, and what you want to do that will bring you positive emotions, meaning, and a reason to look forward to your day."
In a survey by Merrill Lynch and research group Age Wave, 62 percent of respondents said their primary motivation for working was to stay mentally active.
That's what keeps Alan Goldberg going to his job as professor of toxicology and chairman of the board of the Johns Hopkins Center for Alternatives to Animal Testing. Goldberg, 77 and a resident of the Inner Harbor, likes the intellectual stimulation of working.
Goldberg cites as his role model his former friend and neighbor, Baltimore civic leader Walter Sondheim, who died in 2007 at the age of 98.
"I really admired his attitude," said Goldberg of Sondheim, who continued showing up at his office until a week before his death. "I can't see myself sitting around."
Goldberg's own father retired at the age of 66 and died two years later, a story Goldberg said he's heard all too often. He acknowledged that he feels fortunate to be physically and mentally fit enough to continue working.
The only concession Goldberg has made to changing his work life has been stepping down from a major administrative position eight years ago, though he continues his role as a professor.
The adjustment "means I spend less time in meetings," he said, "and also have the opportunity to extend my frequent business travel to Europe so my wife and I can have more time to enjoy ourselves."
Women working longer, too
And it's not only men who are enjoying longer careers. A recent New York Times article reported that today's women are more than twice as likely as those 30 years ago to work into their 60s and even 70s, often full time, and just as much, if not more, for enjoyment and fulfillment as for income.
Specifically, Harvard economists Claudia Golden and Lawrence Katz found that almost 30 percent of women 65 to 69 are working today, as compared to 15 percent in the late 1980s, while 18 percent of women 70 to 74 work, up from 8 percent.
Ricki Henschel, who oversees business development operations for a global consulting and technology services firm, finds being engaged in solving the world's complex problems — such as climate change, transportation and education — too "exciting" to think of retiring.
Henschel, who is 63 and lives in the Inner Harbor, enjoys the fact that she's constantly learning, working with interesting people, and "trying to make the world a better place in which to live."
Though her career has been varied, Henschel said she has never taken time away from working, and currently has no plans to retire. Like Goldberg, Henschel also had a role model — her father, who died at the age of 91, and was still working on projects six weeks before his death.
"As long as you believe that you're making a difference and you're enjoying the people you're with, working is a good thing," said Henschel.
Continuing a lifestyle
Henschel believes that one of the reasons women are now willingly working past traditional retirement age is that "we worked hard to get where we are."
"When you've worked so hard to achieve success," she observed, "it's harder to let go. And to finally be in a place where you can help other women…that matters. In fact, the most important thing I do is help the next generation."
Law firm administrator Shelly Abrams, who is 67 and lives in Reisterstown, also has no plans to retire. "I like what I do," she said, observing that the friends she has who have retired have gone back to work part-time to stave off boredom.
Abrams also likes the fact that, because both she and her husband are working, they can continue to travel frequently, and she can continue enjoying the horse she owns — a passion she discovered in her 40s.
"Maybe when I'm 70, and reach full Social Security age, I'll think about working four days a week," Abrams said. "Until then, [no change] is planned for the foreseeable future."