Travel
Three-generation travel adventure to Italy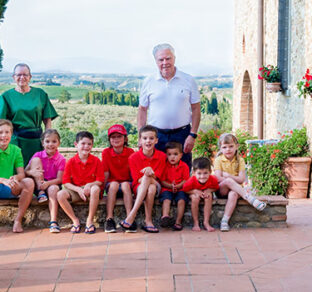 Ann Cochran and her husband splurged on a trip to Italy for their children and grandchildren. They rented a villa in Tuscany and took day trips to Siena and other towns.
Photo by Siena Hilt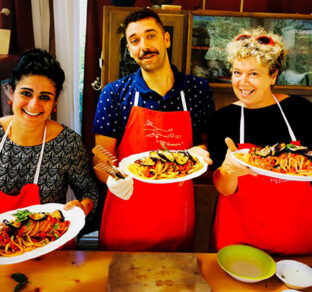 Cucina Guiseppina's staff passes on Italian cooking techniques to tourists. Taking a cooking lesson while on vacation is a great way to meet local chefs, learn a few skills and have fun.
Photo courtesy of Cucina Giuseppina
Our lovely two-bedroom apartment in a Tuscan villa is all warm yellows and muted shades of rose. Vineyards and olive groves surround the villa, stretching far into the hills.
Through the large windows, we can see the pool sparkling and, in another direction, the terrace where our family gathers for breakfast.
Our eight grandchildren often run across the driveway and up the steps from their villa to ours for a snack.
Later, two by two, they arrive with toothbrushes and PJs to spend the night in the twin beds of our second bedroom.
Our oldest grandson, age 12, brings his late-rising grandmother, LaLa, an espresso every morning.
Heaven? No, Tuscany! But it felt like heaven.
After the Covid years, which included two family members' bouts with cancer and one death, my husband and I rented a villa in the Chianti region of Tuscany and invited our four adult children and their families.
Why Italy? Why not? But in my case — because my late mother was Italian, and Italy has always been a big part of my identity — I wanted my sons and grandchildren to appreciate their heritage. Not a hard sell.
Better than the pictures
When you rent, you never know completely how your accommodations will look, feel and smell. But our villa was glorious — even better than the photos.
As a bonus, it had an almost identical second building with an office on the ground floor, plus two full apartments. My husband and I chose the second-floor, two-bedroom apartment for its view.
We assigned all the rooms beforehand, so there was no scrambling or hard feelings. They were all beautiful.
The 18 of us arrived at the villa in waves — and during a heat wave. July was a less-than-ideal time to go, with high temperatures and bees buzzing around the poolside flowers. But with so many school-age grandchildren, we couldn't schedule the trip in a more desirable month.
Our six grandsons and two granddaughters, toddler to pre-teen, skipped all over the place on arrival, exploring everything from the outdoor pool to the indoor spa.
Our family joined millions of others in Italy last summer. We called it our "trip of a lifetime," partly because we spared almost no expense. But as a survivor of stage 3 lymphoma, I say go for it if you can.
Hired some experts to help
We hired a wonderful small company to plan our week. Pam Mercer, owner of Tuscany Tours, and her team did an excellent job mixing day trips — always including large, delicious lunches — with enough relaxed time at the villa. With eight children, pool time was a priority.
We visited Siena, Montalcino and Lucca. The longest bus ride was 90 minutes, but it was relaxing and fun. The kids had snacks and played with each other in various combinations. The oldest three joined the adults as fans of Wordle and Spelling Bee.
Every excursion began with gelato and coffee. Tours followed, always with a second guide dedicated to the children. There were Italian language lessons at the beginning and along the way.
In Siena, we learned about the ancient traditions of the Palio horse races. My husband and I met with my Zoom Italian teacher, Chiara, for a joyful in-person coffee.
In Lucca, most of us rented bikes and rode along the thick city walls under canopies of leafy trees. One son veered off to visit a tailor and had a suit made.
In Montalcino, those not doing a Brunello wine tasting explored a large fortress and had more gelato before lunch.
Local flavor and cooking lessons
Since we were in Italy, food was a huge focus. The refrigerator and cabinets had been fully stocked for us at the villa, according to a list I had emailed our host a week ahead.
Giuseppina, the owner of a cooking school called Cucina Giuseppina, prepared our first and last dinners. She also taught the grandchildren to make pici from scratch. Made with just flour, water, salt and olive oil, this thick Tuscan pasta dates back to the Etruscans.
Of all the outings, the cooking lessons with Giuseppina and her family were a family favorite. With the benefit of her 20 years of experience, she set up the lunch lesson well for this group, ages 2 to 75. Even the littlest one was handed a mezzaluna knife and, with supervision, chopped rosemary.
The kids did so much: mixed dough, rolled gnocchi and prepared zucchini flowers and sage leaves for frying. One of her sons laid out a checkered blanket, and the eight kids gathered there, talking and playing, framed by olive trees and hillsides. It was a scene out of a movie or a dream.
When we returned and told friends about the trip, many remarked that the time must have flown by. In part because so much planning was in place, I didn't let it. I soaked in every moment, holding on, appreciating this dream becoming a reality.
I can close my eyes right now and feel the cool terracotta tiles under my feet. I can hear the laughter of a granddaughter and grandson playing in the next room, too giddy to sleep. I can taste the homemade lasagna, the zucchini flowers and the delicious grocery store pizza.
Perhaps my favorite memory was the afternoon one grandson came up to me when we were alone in the apartment and, in a serious tone, said, "LaLa, I'm glad you're my grandmother."
I lowered my post-chemo, barely-haired head to him and said, "I am so lucky to have you!"
Some tips if you go
Round-trip tickets to Italy in the summertime can be pricey. At press time, the lowest-priced roundtrip ticket from D.C. airports to Rome was $1,200. There are no direct flights from D.C. to Milan, near Lake Como.
If you're planning a large group vacation in Italy, here are some tips:
Hire a bus. Our bus and bus drivers were wonderful, and we never had to worry about navigating unfamiliar roads, directions or parking.
Rent a villa with air conditioning. We also made sure to rent a villa where the windows had screens. We didn't open the windows in July's heat, but they'd be great in spring or fall.
Hire a professional photographer. Even though iPhones take fantastic shots, you will want some of the whole family.
Carry along snacks for children. Even though you can buy food everywhere, pulling something out of a bag or backpack is nice if you are stuck.
Make time before and after the trip to rest. Arriving a couple of days early in Rome allowed us to adjust to the time change. Moving on to Lake Como afterward gave us a much-appreciated rest after the joyful chaos of the family week.