Travel
Time traveling in Colonial Williamsburg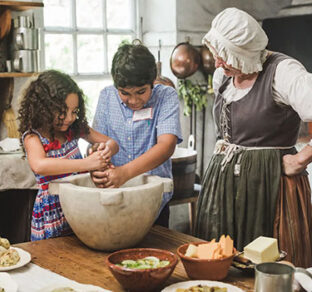 Visitors to Colonial Williamsburg can roll up their sleeves and help cook authentic colonial dishes using period kitchen gadgets.
Photo by The Colonial Williamsburg Foundation
My husband Paul and I have loved Williamsburg, Virginia, ever since we brought our two kids here more than 25 years ago.
After all, it has something for those of every age, whether you're traveling with children, as a couple or solo. And you can choose to stay in a five-star, four-star or budget hotel.
Best of all, there are so many activities in the area: an indoor-outdoor museum that brings the 18th century to life for history lovers, amusement and water parks for kiddies, and golf for the sports-minded.
Of course, the main attraction is Colonial Williamsburg — the world's largest living-history museum. Set on 301 acres, it features more than 89 original buildings, 500 replica structures built on excavated, original foundations, 30 gardens and two world-class art museums.
Here you will be transported back to the 18th century, amidst the colonial capital and political, cultural and educational epicenter of Virginia. It was in Williamsburg that many of the ideals and principles of our nation were forged.
Always more to learn
It's best to start at the visitors center, where you can get tickets, information on special events, and watch an excellent short movie, "The Story of a Patriot," about Williamsburg's role in the fight for American independence.
You can stroll through the colonial area for free, but you need tickets to enter the buildings, which is a must-do. A flag outside designates that a building is open. Not every building is open each day, so allocate a couple of days for your visit.
Although we have been here many times, we find there's always more to learn and experience. In part, that's because the Colonial Williamsburg Foundation is continuously working to bring more accuracy to the stories they tell about life back then.
For example, like many families, we took goofy pictures of our kids years ago with their heads in the stocks in front of the courthouse. Today, the stocks and pillories are bolted shut after historians discovered they were not accurately depicted. They should have been higher, smaller and less comfortable.
We passed by the ongoing restoration of the Bray School, which educated free and enslaved Black children in the 1760s and 70s. The structure was recently moved here from The College of William & Mary after research revealed that the building was in fact the Bray School.
Costumed interpreters dressed in 18th-century attire are busily engaged in their trades, telling stories and answering questions. In addition to the women and men in period clothing, we were drawn into an earlier century by the horse and buggies clopping along cobblestone streets, and the fife-and-drum corps marching down Duke of Gloucester Street.
Jefferson's stomping grounds
At the Raleigh Tavern, considered one of the better establishments back then, we learned that "only" six people slept in each bed, and you got your own bowl of soup. At less expensive places, you could have 11 bedfellows and three people usually ate from the same bowl.
And in the Raleigh, you might encounter Thomas Jefferson holding a meeting. We loved learning these fascinating little tidbits at each stop.
The Governor's Palace was the official residence of the royal governors of the Colony of Virginia — as well as of the first two elected governors of independent Virginia, Patrick Henry and Thomas Jefferson. It was built to impress, with wrought-iron gates and a marble entryway.
In the 18th century, marble was very expensive, and most people had dirt floors. So, this entrance signified that this was the home of someone very wealthy. And powerful: Its enormous cache of weapons — including 230 muskets (80 original pieces), 18 reproductions pistols, and 300 reproduction swords arrayed on the entryway walls — was meant to intimidate visitors.
Become part of the story
For a chance to experience colonial life, we headed inside the courthouse, where the audience becomes participants. The case we witnessed was someone wanting a liquor license. Paul volunteered to play the person who wanted one.
Kids of all ages were lined up to go into the silver, millinery and gun shops, where living history demonstrations are offered on an ongoing basis. Other kids and parents were at the Tarpley Thompson & Company store to buy 18th-century clothing: caps, straw hats, breeches and petticoats.
There are also outdoor musicals and amusing performances to watch. What we found most interesting was a lecture by none other than "Thomas Jefferson."
The interpreter spoke about the importance of education, the need to listen to all sides of an argument, and the evils of book banning — all this to resounding applause from the audience.
Afterwards we spoke to "Jefferson" about the apparent relevance of his remarks to the present day, and he assured us that everything he said came from Jefferson's writings.
After a day in the 18th century, we finished up with 18 holes of golf at the famed Golden Horseshoe course adjacent to the historic area and behind the five-star Williamsburg Inn.
While driving home, we couldn't stop thinking about when we could bring our grandchildren, ages two and four, with us to Colonial Williamsburg. Maybe in a few years.
If you go
The visitors center is about two and a half hours from Washington, D.C.
In addition to the historic attractions, the Colonial Williamsburg Foundation oversees five accommodations in or near the historic area: The Williamsburg Inn, The Williamsburg Lodge, Williamsburg Woodlands, The Griffin Hotel and select Colonial Houses.
They also operate several eating establishments, two golf courses and a spa (see colonialwilliamsburghotels.com).
We stayed at the Williamsburg Lodge, a Marriott Autograph Collection hotel. Besides being able to use Marriott points, we were able to walk to everything within Colonial Williamsburg.
We clocked more than six miles each day, so wear comfortable shoes. Or you can choose to take the shuttle buses.
If you choose to stay away from Colonial Williamsburg, your admission ticket will include a bus ticket. If you choose one of the properties on site, two free admission tickets are included (if you book at the official site).
Nearby are two amusement parks: Busch Gardens Williamsburg and Water Country USA.
Visit colonialwilliamsburg.org.