Travel
Tips for taming the most hostile airport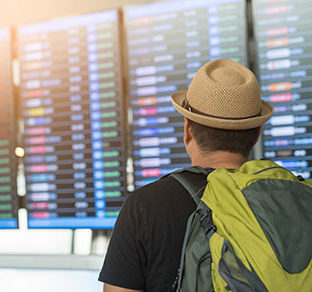 Photo by nopphonpattanasri on Vecteezy
In your day-to-day life, you seldom encounter an environment as hostile as that of a big airport. Even if your home airport is, like mine, small and friendly, you'll likely encounter big-field hostility at your destination, connecting point, or both.
Fortunately, you can help avoid some of the worst hostilities with a little forethought — and usually a few extra bucks.
Parking. If you plan to park your car at your home airport for the duration of your trip, consider an independent airport parking facility. They're usually cheaper than long-term parking at the airport's lots, and they generally offer smoother transport to/from the terminal.
Check Airport Parking Reservations (airportparkingreservations.com) or The Parking Spot (theparkingspot.com) to see what's available at your airport.
Baggage check. Where available, curbside baggage check can help you avoid a long schlep to the check-in counter and long lines when you get there. If it's available, the cost — typically $1 to $3 per bag — is often a good value.
Check-in. These days, most airlines allow you to check in online and avoid lines at a counter. Use it.
Lounges. Unless you're on a business or first-class ticket, lounge access isn't free; typically, annual programs cost $400 or more, and one-time access can cost from $25 to $50. But that fee includes access to a comfortable setting with good Wi-Fi, attractive meal/snack spread, and as much as you want to drink.
Still, a lounge program is one of the several hassle-reducing possibilities priced to make more sense to a frequent flyer than a once-or-twice a year leisure traveler.
If you're serious about an annual program, consider one of the premium credit cards that include a lounge program as one of several important benefits. AmEx Platinum ($695 per year) and Chase Sapphire Preferred ($550 per year) offer the widest range of lounge options. A primary member can take up to two guests at no extra charge.
Occasional travelers should check Lounge Buddy (loungebuddy.com) for single-use passes to a lounge at any airport you visit. Prices start at $25 and may include guests.
TSA. As with lounges, the two programs that do most to ease the hassle of security screening are priced to be more attractive to road warriors than occasional travelers.
At most big airports, security puts you through two different choke points:
Clear, run by a private company, helps you bypass the first choke point: screening your boarding pass and ID to get into the actual screening area. This is usually the worst security line.
Clear provides an alternate — and much faster — channel to get into the screening area. It's available at 50 large U.S. airports and makes sense mainly to travelers who usually start their trips at one of those airports.
It costs $179 per year, with up to three additional family members at $55 a year. An extensive enrollment process — including eye scan and fingerprinting — verifies your identity. Visit clearme.com for details.
Pre-Check, run by the government's TSA, [generally puts you at the head of the line for the document ID review, and then] puts you in what is usually a fast lane through security. (No need to take off shoes, take out laptops, etc.) Enrollment costs $85 for five years and requires a personal verification interview.
Pre-Check works through airlines: Once you have a "trusted traveler" number, you submit it to each airline you fly, and when you actually take a trip, a pre-check entry OK is printed on your boarding pass.
If you travel outside the U.S., you may want to enroll in Global Entry, a program that allows you to bypass what are often extremely long lines at incoming customs and immigration stations. It costs $100 per year (and includes Pre-Check). It also requires an enrollment interview and a trusted traveler number. Check cbp.gov/travel/trusted-traveler-programs/global-entry for details.
Several premium cards cover the cost of Global Entry or Pre-check. AmEx Platinum credits the entire cost of Clear, and several cards credit part of the cost.
Send email to Ed Perkins at eperkins@mind.net or check out his rail travel website at rail-guru.com.
© 2021 Ed Perkins. Distributed by Tribune Content Agency, LLC.