Arts
'Tis the season to celebrate in Baltimore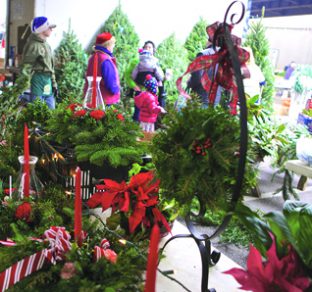 The Baltimore Farmers' Market & Bazaar is one of many places to celebrate and shop for the season.
It's that time of year again. Whether you celebrate Christmas, Chanukah, Kwanzaa, or simply the fact that a new year is on the horizon, this is when Baltimore sparkles!
Time to shop
Holidays mean gifts, so why not skip the mall and look for some unique items at these local venues?
Baltimore Farmers' Market & Bazaar
Underneath the Jones Falls Expressway at Holliday and Saratoga Streets, Sundays 7 a.m. to noon.
The Baltimore Farmers' Market & Bazaar features local crafters, artists and artisans selling handmade items like jewelry, wine racks, clothing and accessories, soaps and candles. You'll also find an abundance of trees, wreaths, greenery, and seasonal food to give as gifts or use for holiday cooking. The market is open every Sunday through Dec. 17. There will be a special holiday art expo on Dec. 3.
For more information, visit http://promotionandarts.org/events-festivals/baltimore-farmers-market-bazaar or call (410) 752-8632.
Holiday Bazaar & Tea at the Cloisters
The Cloisters, 10440 Falls Rd., Lutherville
Friday, Dec. 8, 4 to 8 p.m. and Saturday, Dec. 9, 11 a.m. to 4 p.m.
The Holiday Bazaar & Tea features local Maryland artisans selling handmade items inside the historic Cloisters Castle. The bazaar is free to attend, but tickets for the tea are $30. For reservations, call the Cloisters at (410) 821-7448 or visit www.cloisterscastle.com/upcoming-events.
Studio Artists' Holiday Sale at School 33 Art Center
School 33, 1427 Light St.
Saturday, Dec. 9, 10 a.m. to 7 p.m.
Select your gifts from a variety of painting, sculpture, works on paper, photography and more from School 33's studio residents and visiting artists. Works will be available for purchase at prices ranging from $10 to $200. For more information, visit www.school33.org.
Charm City traditions
2017 Christmas Village
Nov. 23 to Dec. 24
Enjoy an authentic German Christmas market from Thanksgiving through Dec. 24, when Christmas Village in Baltimore returns to the Inner Harbor to transform West Shore Park into a European wonderland. A heated festival tent and beautiful outdoor wooden booths will host 45 vendors and their arts and crafts from all over the world.
When you're finished shopping, stop by the Bavarian Beergarden for German delicacies such as Brautwurst, pretzels, Lebkuchen (gingerbread), mulled wine or a good German beer. There will also be daily performances of local choirs, bands and performers, and special themed weekend events. For more information, visit www.baltimore-Christmas.com.
Miracle on 34th Street
Hampden
Nov. 25 to early January
One block in Hampden bursts with light each holiday season as residents illuminate their row homes and mount quirky ornaments — from a giant snow globe to a Christmas tree made of hubcaps. For more information, visit www.christmasstreet.com.
Little Italy Christmas Tree Lighting
Little Italy
Dec. 1, 7 p.m.
Decorate Little Italy's enormous Christmas tree, sing carols with the Baltimore Choral Arts Society, and enjoy complimentary refreshments, Italian cookies and roasted chestnuts. Visit www.littleitalymd.org for more information.
The Holly Jolly Trolley
Royal Sonesta Harbor Court Baltimore
550 Light Street
Beginning Dec. 1, 8:30 p.m.
The two-hour tour on an old-fashioned trolley, conducted by an expert guide, will begin at Royal Sonesta Harbor Court in downtown Baltimore and will proceed through the decorated neighborhoods of Harbor East, Fells Point and Canton. Next, the Trolley will head north to Hampden to see and enjoy the block-long 34th Street Annual Christmas Festival of Lights. On the way back to the Inner Harbor, guests will ride past the George Washington Monument in Baltimore's Mount Vernon neighborhood where it has been decorated for the season.
Tickets are $15.95 to $29.95. For reservations, visit www.eventbrite.com/e/holly-jolly-trolley-lights-tour-tickets-38819915412.
Baltimore Parade of Lighted Boats
Inner Harbor and Fell's Point
Dec. 2, 6 p.m.
Baltimore's nautical spirit is all aglow for the annual Parade of Lighted Boats. More than 50 boats and pleasure crafts, bedecked and sparkling in their holiday finery, make their way from the Inner Harbor to Fell's Point. Visit www.fellspointmainstreet.org for more details.
45th Annual Mayor's Annual Christmas Parade
Hampden
Dec. 3, 1 p.m.
The attendance along the 2.5 mile route reached 25,000 people last year in this parade with about 160 marching units. The parade features floats, local TV and radio personalities, over 100 Harley Davidson motorcycles, a steam calliope, great bands, Mummers of Philadelphia, Miss Yuletide and, of course, Santa. Visit www.mayorschristmasparade.com for more information.
Kwanzaa Celebration
Enoch Pratt Free Library
Central Library, 400 Cathedral St.
Dec. 6, 6:30 p.m.
Charles Dugger presents the principles of Kwanzaa.
Visit www.prattlibrary.org or call (410) 396-5430.
46th Annual Monument Lighting
Mount Vernon Place
699 Washington Place
Dec. 7, 5 to 8 p.m.
Illuminating the historic Washington Monument is a Baltimore tradition that includes caroling, food and good cheer. Fireworks cap the festive evening that marks the official start of the holiday season. Visit www.promotionandarts.org for more information.
A Very Sephardic Hanukkah
Jewish Museum of Maryland
15 Lloyd St.
Dec. 10, 10 a.m.
Part of Baltimore's Downtown Dollar Day, enjoy Chanukah activities at the museum for just $1 admission. The day features kids activities and a storyteller who will share Sephardic Hanukkah stories. For more information, visit www.jewishmuseummd.org or call (410) 732-6400.
Six13 Chanukah Concert
Beth Tfiloh Dahan Community School
3300 Old Court Rd.
Dec. 12, 6:30 p.m.
Celebrate the first night of Chanukah with Beth Tfiloh's a cappella group, joined by Six13, whose seven award-winning albums are played on mainstream music stations around the world. Tickets are $10 for the concert. A traditional Chanukah meal will be served at 5:15 p.m., the cost for which is also $10. For ticket information, visit www.bethtfiloh.com or call (410) 486-1900.
Cookies & Carols
Harbor East, S. President St.
Dec. 13, 6 to 9 p.m.
Join the residents and retailers of Harbor East on a delicious cookie quest. Participating neighborhood shops will each feature a unique bite-sized holiday confection. $5 reserves your spot on the "tour," and includes one cookie at each shop, a signature Cookies & Carols ornament, and free parking for the evening.
All of the proceeds will go to Ronald McDonald House Charities of Baltimore. Enjoy complimentary photos with Santa Claus, carolers and a festive cocktail bar. Limited on-site tickets are available. For more information, visit www.itsawaterfrontlife.org.
Chanukah Car Parade
Cheder Chabad
Dec. 14, 6 p.m.
On the third night of Chanukah, the parade will leave Cheder Chabad, 5713 Park Heights Ave., and end by Clover and Manhattan Avenues near Cheder Chabad for menorah lighting. For more information, call (410) 585-1498.
Walk-In Tour: The Christmas Story in Art
The Walters Art Museum
600 N. Charles St.
Dec. 16, 1 to 2 p.m.
In the spirit of the season, enjoy a tour examining religious art that celebrates the story of Christmas, featuring Renaissance and Baroque paintings depicting the birth of Christ. To learn more, visit www.thewalters.org or call (410) 547-9000.
Holiday Karaoke
Mount Vernon Marketplace, 520 Park Ave.
Dec. 20, 7 to 11 p.m.
Celebrate the holiday love with karaoke, an ugly holiday sweater contest, and an annual Nog It Off event with a friendly competition for the best eggnog in the marketplace. For more information, visit www.mtvernonmarketplace.com.
http://reservations.baltimore.org/attraction/single/2193/1545.
50th Anniversary of Kwanzaa Celebration
Reginald F. Lewis Museum of Maryland African American History & Culture
830 E. Pratt St.
Dec. 30, noon
Bring out the family to celebrate the holiday's 50th anniversary and the Kwanzaa principle Nia ("Purpose"). Enjoy storytelling, African dancing and drumming by Sankofa Dance Theater. Sallah Jenkins leads holiday craft-making. Travel with teaching artist Culture Queen through Culture Kingdom Kids' Kwanzaaland to explore the seven Kwanzaa principles at workshop stations. This event is $5.
On a date still to be determined, Kwanzaa founder and Marylander, Dr. Maulana Karenga, will give a talk to commemorate the 50th anniversary of the holiday. Tickets are $15 for museum members; $20 for the general public. Children up to age 6 are free.
For more information, call (443) 263-1800 or visit www.lewismuseum.org.