Housing
To sell your home, give every room a role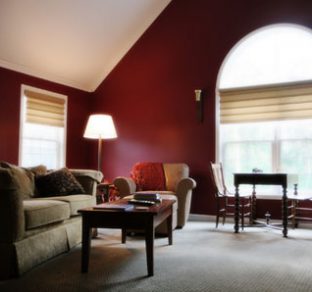 Many of us have one room in the house that doesn't really have a job. Maybe we set it up with an air bed once in a while for guests, or shove out-of-season clothing boxes in there, or use it as a holding zone for stuff we're not sure what to do with.
But when your house is on the market, every room has a role to play to make the sale. Next to fixing whatever's broken, staging — decorating rooms in an inviting way to help people imagine living in them — is important.
"The purpose of home staging is to draw the buyers into the house emotionally so they say, 'Wow, we want to live here!'" said Melinda Bartling, a real-estate agent and home stager in Overland Park, Kansas.
"Buyers must be able to see themselves living in the house, not questioning why it looks the way it does. For example, if you use your finished basement as a catch-all, buyers will wonder what's wrong with the space.''
New York-based real-estate agent Nathalie Clark's motto is "minimalism with personality.''
"The owner's presence must be as discreet as possible, but the rooms have to feel inhabited and should clearly state their function,'' she said.
Here are some ideas from stagers on what to do with an unused space:
Make it a closet
Everyone wants good storage. Turn a potential shortcoming into a valuable feature by transforming a small room into a large closet or dressing room.
Install a shelving system. If money's an issue, just outfit one long wall to achieve the purpose. Add a chair or ottoman and a large mirror, perhaps, so buyers can imagine a dressing room.
If your home is short on storage, consider outfitting an under-stair niche or other "dead'' space with shelving, and stock the shelves with smart-looking boxes and bins.
But leave some empty space in a closet, too. "Closets filled with items other than clothes send the message there isn't enough storage in the house,'' said Bartling.
Make it creative
Transform a bedroom with a tiny closet into creative workspace. Suggest a craft or art studio with a table and some neatly displayed materials.
Line up a series of identical bookshelves and make a small yet inviting library by adding a rug, a comfortable chair and a side table.
Make it an office
Real-estate agents tend to prefer that bedrooms be staged as bedrooms, because buyers usually want lots of those. But depending on your market, it may pay off to stage one of those rooms as a home office.
If you've got more than four bedrooms, Clark said, turn one into a home office. In a four-bedroom home, "use the room farthest from a bathroom,'' she advised.
Add a desk, chair and lamp, and lay down a fresh new rug in either a chic neutral hue or a style-savvy pattern that ties it into neighboring rooms.
Make it a workout space
Empty nesters often have basements that once were playrooms. Clark suggests converting a space like that into a cozy TV room or gym.
"For a gym, you don't need a lot of fancy equipment,'' she said. "A bench, some neatly stacked weights, a few ropes or bands hung on pretty hooks, a mirror and a mat can all easily be arranged to create a powerful visual effect.''
—AP