Travel
Travelers: don't forget 'overhead' costs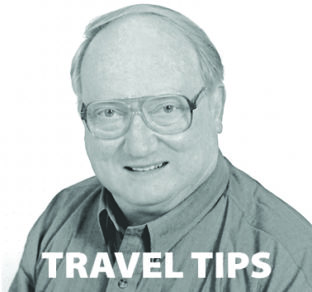 Over the years, you've probably seen many "tips" about avoiding high city-center hotel prices by staying in suburban hotels. But when you factor in the "destination overhead," you often conclude that rather than fight the hassle and time of commuting, you're better off finding a cheaper hotel in the city.
By "destination overhead," I mean the daily or hourly out-of-pocket cost of just being in a destination. A lot of travelers don't seem to realize how much they pay just to be somewhere other than home.
Here are two examples:
Trip One: Two people visit Chicago from Dallas for four days and three nights. Let's say the round-trip airfare is $300 each, plus $120 for checked baggage; the hotel rate is $250 a night (including taxes and extras), and they spend $100 a day more, total, for food than they would at home. The total cost is $1,870.
Out of the four-day, three-night period, each of them has 42 total useful sightseeing/activity hours. So their destination overhead — the cost of just being in Chicago — amounts to around $22 an hour each, or $44 an hour for the couple.
Trip Two: Two people visit Paris from Los Angeles for a week in June, seven days, five hotel nights (plus one night on the overnight flight to London). Let's say the nonstop, round-trip airfare is $1,500 each, the hotel rate is $250 a night, and they spend $200 a day more for food then they'd spend at home. The total cost is $5,650.
On a seven-day stay, they each have 84 useful sightseeing/activity hours, so the overhead cost of just being in Paris is about $33 an hour each or $65 for the couple.
The hourly overhead rate can vary over a wide range, depending on destination costs, airfare deals, traveling lifestyle and such. I've calculated figures from $10 to $100. But regardless of how you travel, the concept applies: Just being in a destination has an out-of-pocket hourly cost. And it can (or should) influence your choice of hotel location and local activities.
Time is money
The biggest risk is staying in the suburbs to beat high city-center hotel rates. Take London as an example: Many years ago, my wife and I tested the suburban stay idea in London. We found a nice hotel in Richmond, just outside London, and paid $79 a night for a room that easily would have cost $125 a night in Bloomsbury.
But each trip between Richmond and central London took 45 minutes on the underground, so we probably used up 20 hours of overhead on unproductive underground travel. At a then-likely overhead rate of $20 an hour, those trips cost us $400 in overhead to "save" $275 in hotel costs.
That wasn't a good value proposition. Furthermore, staying in Richmond meant we couldn't easily return to our hotel to rest or take it easy for an hour or two between activities, such as visiting a museum and going to a restaurant.
Overhead also figures into decisions about how to navigate a destination city. Taking an hour crossing London to find a 1 percent better exchange rate, as one traveler I knew did, makes no sense.
Often, a $10 cab or Uber trip that cuts a half hour off public transit time is well worth the extra cost. Alternatively, a subway trip that zips past rush hour gridlocked traffic can more than compensate for the hassles of schlepping baggage or purchases.
I always feel smug on my way to and from O'Hare as my Blue line "El" train passes miles of bumper-to-bumper traffic on the Kennedy Expressway.
I'm not suggesting that you subject every little decision to a rigorous cost-benefit analysis. But I do suggest that you include the idea of destination overhead when you decide where to stay or how to navigate in any large city.
Send email to Ed Perkins at eperkins@mind.net and visit railguru.com.
© 2019 Tribune Content Agency, LLC