Travel
Try bargain vacations for smaller crowds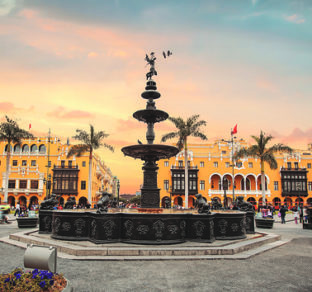 Visit Lima, Peru instead of Barcelona for a bargain vacation without the crowds.
Hordes of tourists swarming the world's most popular destinations can make travel unpleasant. For example, Barcelona and Venice are so crowded that disgruntled residents have staged protests over the influx of visitors.
Governments looking for ways to reduce the crowds in Barcelona and Dubrovnik are considering limiting hotel construction or capping the number of cruise ships that unleash swells of day-trippers.
If your heart is set on viewing Paris from atop the Eiffel Tower or skiing at a chic Colorado resort, the crush of people with the same idea may not deter you. But if you prize a less-crowded experience, consider these alternatives to popular vacation spots around the world.
One way to avoid the crowds is to travel during the off-season. But scheduling time off from work or school, and risking rainy and cold weather, aren't for everyone. So we chose places that are less packed all year round and offer good value even in peak season. Here are two suggestions.
Snowbasin, Utah instead of Vail
Colorado has a slew of ski resorts that draw plenty of season pass holders and other visitors, thanks to a variety of terrain, high-quality facilities and plentiful lodging. To spend more time on the slopes and less time shivering in line for the lift, venture further afield.
The facilities at Snowbasin, an hour's drive from the Salt Lake City airport, were revamped for the 2002 Winter Olympics (the resort hosted the downhill, Super G and combined races). But its location is just remote enough to put off the masses.
Trails are suitable for all levels of skiing across more than 3,000 acres, and the terrain is varied, too. "Snowbasin has bits of Utah all in one place, from the rolling mountains of Park City to the steep, rugged terrain of Cottonwood Canyons," said Evan Reece, CEO of Liftopia, an online seller of lift tickets.
An excursion to the nearby ski resort of Powder Mountain can be tacked on to the same trip. Facilities there are not as fancy as Snowbasin's, but it has more than 8,464 skiable acres — more than any other resort in the U.S.
You'll also pay less to schuss down the slopes. A lift ticket for a Saturday in February at Vail recently cost $164 online. For the same date, you could buy a lift ticket for $89 at Snowbasin or $79 at Powder Mountain.
There are condos and rentals near both mountains. But in nearby Ogden, you'll have your pick of accommodations and apres-ski activities, including indoor skydiving, rock climbing and stand-up comedy.
Public buses connect both Snowbasin and Powder Mountain with several stops in Ogden ($7.20 for a 24-hour pass). The bus ride takes about 45 minutes each way.
Lima, Peru instead of Barcelona
Fans of architect Antoni Gaudi may settle for nothing less than a trip to Barcelona, where his sculptural buildings and towering Sagrada Familia Church enliven the city. Barcelona also features dozens of museums, Catalan cooking, a thriving nightlife and sandy beaches.
But you will be far from alone: The city hosts more than 30 million visitors each year.
If you simply want to spend a few days reveling in art, architecture and cuisine in a lively city, head south to Lima, Peru, instead. (You'll also avoid the Catalonia turmoil in Barcelona.)
The old colonial town of Lima comes to life in its historic center, designated a UNESCO World Heritage Site. You can tour the catacombs at the San Francisco Church and Convent for $3, or watch the changing of the guard outside Government Palace, the former residence of Francisco Pizarro, a Spanish explorer and founder of Lima.
Or explore Huaca Pucllana, 1,500-year-old ruins that rise up in the upscale Miraflores district. On the artsy side, pre-Columbian objects and textiles are on display at the Lima Art Museum and the Larco Museum.
We found flights from the Washington area in May in the $500s, or in the $600s later in the summer (which is Lima's mild winter).
Four-star hotels averaged $138 a night in the summer of 2017, compared with $233 in Barcelona, according to rates from Expedia. Rooms at Hotel Dazzler, in the Miraflores district, recently started at a discounted rate of $132 per night for July 2018 if booked online 60 days in advance.
© 2018 The Kiplinger Washington Editors, Inc. Distributed by Tribune Content Agency, LLC