Travel
Try Finger Lakes for hikes, food and laughs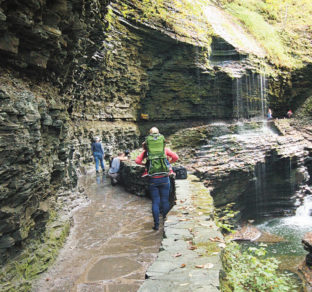 Hikers marvel at the 200-foot cliffs and 19 waterfalls of Watkins Glen State Park in New York. The state's Finger Lakes Region offers adventure, relaxation, sophisticated food and local wine.
Photo by Stu Gallagher Photography
A race is underway at Watkins Glen International, a track whose roots go back to 1948 and has long hosted NASCAR and Grand Prix events. But almost every day, time is set aside for members of the public to zoom around the 3.45-mile circuit in their own cars for a taste of the thrill.
Photo by Kevin C. Cox/Finger Lakes Wine Country
One afternoon during a recent trip to the Finger Lakes region of Western New York State, I was clocking 80 miles per hour (zooming around an automobile racetrack). On another day, I slowed down on the road to pass a horse-pulled Amish buggy.
In between were hikes through other-worldly scenery, visits to intriguing museums, and opportunities to become acquainted with the opulent lifestyle of the wealthy.
The Finger Lakes region is within an easy six- or seven-hour drive from Washington, D.C. You'll pass through countryside with splendid views of rolling farmlands and dense forests. When the drive ends, visitors face a long, diverse list of sightseeing and activities.
On something called the Empire State Road Trip, I followed an itinerary that linked enticing things to see and do with inviting accommodations along the way. The road trip was laid out by the Harbor Hotel Collection — three properties about a three-hour drive from each other in Chautauqua, Watkins Glen and Clayton, the latter located in New York's Thousand Islands District (there actually are 1,864 islands).
Each location offers its own unique reasons to visit, while also sharing appealing traits and treats. Let's begin with the latter.
Foodies be forewarned! You may have to loosen your belt during the sojourn in this diet-busting destination. Farm stands and pick-your-own fruit orchards vie with cheese shops and bakeries to tempt passersby with hard-to-resist tasty treats. Wineries, craft breweries and cideries provide beverages to accompany those delicacies.
Oenophiles may think they've gone to grape heaven. More than 70 wineries line the shore of Seneca Lake alone, almost half of them connected by a Wine Trail.
Museums to explore
The area's museums range from tiny establishments to world-class collections. The often-overlooked Fenton History Center, located in the mid-19th century home of a former U.S. congressman, senator and governor, tells much more than his story.
One room is devoted to the War of 1812 between the United States and Britain, much of which was waged along the New York-Canadian border. Other exhibits bring to life the role of New Yorkers who helped enslaved people escape through the Underground Railroad.
A smaller but no less interesting site is the Mark Twain Study. Built in 1874 on a farm outside Elmira, the hometown of his wife, the tiny octagonal structure is where Twain (Samuel Clemens) wrote some of his most famous works. It now sits in a place of honor on the Elmira College campus.
At the National Comedy Center in Jamestown, a personal profile is created for each guest, and more than 50 immersive displays deliver content tailored to each person's taste. All the famous names from comedy are represented, and a "Blue Room" delves into adult humor.
Close by is the Lucille Ball Desi Arnaz Museum, which explores the life of that popular couple. Ball was born in Jamestown and retained lifelong ties to the area. Her California home contained furniture made in Jamestown, which was nicknamed "Furniture Capital of the World" when that industry thrived there from about 1860 into the early 20th century.
Both museums are open, with COVID safety adjustments in place.
At the Antique Boat Museum in Clayton, the heart of the Thousand Islands area, visitors can see a priceless collection of over 350 vessels ranging from canoes and kayaks to sleek power boats. Even a landlubber like me can appreciate the beauty and craftsmanship of the exhibits.
Visitors may row a traditional St. Lawrence skiff, ride in a triple-cockpit speedboat, and tour La Duchesse, an elegant houseboat built for George Boldt. He was a German-born hotelier and one of America's wealthy tycoons who, during the Gilded Age, built opulent mansions on some of the islands in the archipelago region of the St. Lawrence River.
Boldt planned a castle as a gift of love for his wife, Louise. He changed the island's name from Hart to Heart, had stone and wood hearts carved throughout the structure, and directed that flowerbeds be planted in the shape of hearts. When Louise died before the palatial structure was completed, Boldt abandoned the project.
Today the six-story, 127-room castle has been restored and opened for visitors, who reach the island following a 10-minute boat trip.
Grand Prix speedway
Another ride provided a more adrenaline-boosting experience. I knew that Watkins Glen is a racecar fan's dream destination but wasn't sure why until I heard the town's origin story.
The first chapter was written in 1948, when a race was held over a 6.6-mile route along streets in and around the town. After a mishap several years later, which resulted in the death of one onlooker and injuries to others, the Watkins Glen Grand Prix Race Course was constructed. Today the racetrack is open to the public between races.
I opted to try the "Drive the Glen" program and lined up my somewhat clunky Honda sedan on the track with eight other vehicles, including a snazzy Corvette, a stylish Nissan and the pace car that led the pack.
The motorway combines stretches of straightaway with banked pavement leading into sharp hairpin curves. Despite the admonition not to exceed 60 miles per hour, I must admit that after slowing to open the distance between my car and the vehicle I was following, I saw my speedometer hit 80.
Contrast that velocity and the roar of engines with the gentle clip-clop of a horse pulling an Amish wagon through quiet countryside. Here and there residents of local Amish communities cling to their traditional lifestyle. Those pockets of the past are comprised of tidy farms and massive barns, some with the image of a quilt painted on the side.
Hiking trails
Many trails crisscross the area, suitable for all skill and stamina levels. My personal favorites offer more than just a walk in the woods.
Panama Rocks Scenic Park in Chautauqua County is an ancient forest that has been attracting visitors since the 1880s. A mile-long loop leads through a jungle-like world of towering rocks, deep crevices and small caves. Signs identify features with names like Paradise Alley and Indian Fireplace, which Native Americans used as a stone oven.
You'll encounter a very different environment at Watkins Glen State Park, where a deep gorge cuts through a landscape of water-sculpted rock and dense northern forest.
Adding to the scene are 19 waterfalls squeezed into the first mile of the path. Some plummet over sheer cliffs while others trickle across flat rocks in the river bottom. The route requires climbing up (and down) a total of 832 stone steps.
If thoughts of this mountain-goat experience don't excite you, other opportunities on the Empire State Road Trip certainly will. From picking apples in an orchard to chuckling at zany humor at the National Comedy Center, the challenge in the Finger Lakes region is selecting from among the long list of something-for-everyone choices.
If you go
The three Harbor Hotel properties share pleasant waterfront settings, AAA four-diamond caliber facilities, and touches of their locations and history. The use of stone, unpainted wood and water designs hint of their surroundings. Rates begin at $101 a night in November.
Among vintage photographs that line lobby walls in the Chautauqua Harbor Hotel are Frank Sinatra, who performed there, Lucille Ball and Desi Arnaz, and even some depicting the amusement park that occupied the site from 1893 to 1962.
Memorabilia related to car racing is scattered about the Watkins Glen property, while antique boats are a focus of photos and displays in the 1000 Islands Harbor Hotel.
The hotels' dining rooms offer the same menu, plus nightly specials. A cheese plate of four choices plus sides ($19) is more than enough for two people to share. Two Maine lobster rolls ($19) and fettuccini with roast chicken ($27) are popular favorites.
The Drive the Glen experience, in which you drive your own car on a 3.45-mile Grand Prix circuit, costs $30. It is open July through October.
Like Drive the Glen, many attractions are open seasonally, so it's best to check before you visit.
NOTE: At the hotels, COVID restrictions are in place, restricting visitors from certain states, and requiring masks and social distancing at all properties. For more information, call (607) 535-3759 or visit harborhotelcollection.com/experiences/empire-state-road-trip.