Cover Stories
Unsung hero of chamber music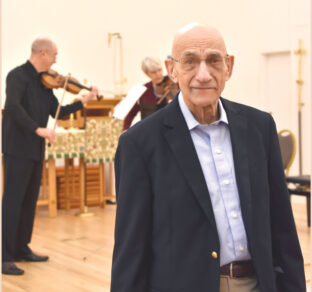 Harry Glass, impresario of the county's Sundays at Three chamber music series, has run the program for more than two decades, attracting top-notch musicians from around the area for popular, affordable concerts.
Photo by Tori Cleveland
Harry Glass, 84, has been called a "true impresario" as well as the "chief cook and bottle-washer" who, for the past 22 years, has made possible the highly regarded Sundays at Three chamber music concerts in Columbia.
The concerts have featured many of the region's top musicians — including members of the Baltimore Symphony and the National Symphony Orchestras, faculty from the Peabody Conservatory and distinguished local teachers.
They have been moving and soothing Sunday afternoon audiences at the Christ Episcopal Church on Oakland Mills Road for nearly three decades.
In 2001, Glass took on the non-salaried role as vice president of the series. Now managing director and president, he hires musicians for the events, publicizes the concerts, and even opens church doors, sets up chairs, and locks up afterwards.
"I love the music. Basically, I'm a manager, and get a lot of satisfaction out of helping the institution do what it does," Glass said.
In his earlier years, he worked in planning and organizing in the healthcare field, which included, among other stints, managing at George Washington University Hospital in D.C., health planning in the Nixon and Carter administrations, and a three-year stint as director at the Boston University Health Policy Institute.
The Boston native moved to Columbia in 1971, just four years after the new planned community opened to residents. Glass has remained here for more than a half century because he loves the people here, he said.
"This has been a very diverse, friendly community of people of all ages who take advantage of the leisure and other activities in the community," Glass said.
Popular concert series
Many locals adore the popular chamber music series. Thea Jones, 82, of Columbia, has been a Sundays at Three concertgoer since 2013, when she and husband, Bob, now 93, became subscribers.
"We hear a wonderful variety of programs — chamber music groups, soloists, brass players, violinists — all played by excellent professional musicians. We would not hear such unique music at such a high level in any other place in the area," said the retired educator.
The chamber music concerts date back to 1994, when Daniel Malkin, a 30-year-old cellist and teacher, organized the Sunday events at the church. Malkin planned the concerts with the help of his wife, Wonju Kim, who was a violinist with the Baltimore Symphony Orchestra.
Three years later, Malkin died of cancer, and after an interlude of six months, local music lovers and musicians formed the Sundays at Three group. Its first president was the Rev. James Shields, the rector of the Christ Episcopal Church, who suggested they perform in the church sanctuary, which is still their current venue.
In the sanctuary of the two-story church with a balcony, the musicians and concertgoers enjoy "an abundance of natural light and wonderful acoustics," according to the organization's website.
'Blown away by the quality'
A year after the chamber music series found a home in the church, Glass wandered into a performance.
"I started going to the concerts in 1998," he said. "I was blown away by the quality of the musicians, even though the audience was quite small, about 50, 60 people."
At one intermission, a Sundays at Three board member invited audience members to join the board. Glass, who felt inspired to lend his management experience to help the group, attended a meeting on a whim.
To his dismay, he discovered Sundays at Three was in danger of dissolving mid-season due to a lack of funds. "I took that opportunity to speak up. I suggested that a special subscription offering should be created," he recalled in an email.
So, Glass and two board members mailed out letters and plastered local bulletin boards with a brochure about the new subscription program. "That effort turned out to be successful. We ended the season with money in the bank," he said.
When a spot on the board opened up in 2001, Glass agreed to serve as vice president. That term lasted eight years, and as soon as Glass retired from his career, he was able to dedicate even more time to Sundays at Three, serving at times as managing director, treasurer and eventually president.
Glass operates an all-volunteer organization. "The only ones who get paid are the musicians," he said.
Modest ticket fees, subscriptions
The group's operating funds, he said, come from the $20 admission price (admission is free for high school students and younger children) and grants from the Maryland and Howard County Arts Councils, as well as private donations.
Subscriptions for the eight- or nine-concert seasons also keep the series going. Glass noted that for $120, or less than $15 per concert, Sundays at Three subscribers get non-dated, discounted tickets to all the concerts.
They can choose to skip concerts and use their ticket rights to bring friends or relatives to offerings later in the season. He asserted that the flexibility of the subscription program "is unparalleled."
At first, Sundays at Three attracted fewer than a dozen subscribers; a decade later, its subscriber base increased to more than 100.
At times a deus ex machina drops in to help. Glass noted that a frequent Sundays at Three concertgoer whom he had never met recently left the chamber music group $62,000 in her will.
With her donation, the program decided to present more music written for larger ensembles, not just duos or trios. This season, for instance, they had enough money to pay 38 full-time musicians, including an octet, for its nine concerts.
The organization, which Glass noted was also strongly dependent on the board's vice president, Mary Ratcliffe, and artistic director, Ronald Mutchnik, is doing well financially, thanks to the recent bequest, and will continue to host concerts with larger ensembles.
Although the pandemic cancelled one season, the concerts launched again in 2022 with a few safety suggestions. The audience is "encouraged to wear masks and greet friends with elbow bumps or the like," Glass said.
Encouraging future musicians
Sundays at Three also sponsors an award program in the area's 12 public high schools. Howard County music teachers recommend two junior-year students from each school, and the program awards them $100 each at the end of the school year.
The students also attend the Sundays at Three concerts "to get a chance to listen to the pros," Glass said.
While he noted that the Baltimore-Howard County-D.C. area has "no shortage of fine professional musicians," Glass hopes the music programs in the area's high schools will create more highly tuned-in graduates.
"[The award] serves as a motivating factor — at least we hope it does — and the music teachers view it that way, too. When students see someone get an award, the hope is that it will inspire other students" to practice their instruments or even pursue a career in music.
Maybe one day those students will perform at Sundays at Three.
This season's last three performances will take place on March 12, April 16 and May 21. For more information about the performers and programs, visit sundaysatthree.org or call (443) 288-3179.
---
Coming soon from Sundays at Three
Here is the remaining schedule for the 2022-2023 season:
March 12: Lyric Brass Quintet
This quintet will perform selections from the musical Les Misérables and masterpieces from the Baroque, Romantic, 20th and 21st centuries by Bach, Ewald, Cheetham and McKee.
April 16: Trio 180
Haydn • Piano Trio No. 45 in E-flat major
Beethoven • Piano Trio in D major, "Ghost"
Ravel • Piano Trio in A minor
Plus two short pieces commissioned for Trio 180's 20th anniversary:
Richard Einhorn • "Floe"
Dorothy Chang • "Points of Light"
May 21: Peabody/BSO Piano Quartet
Brahms • Piano Quartet in A
Dvořák • Bagatelles
Mozart • Piano Quartet in E-flat