Travel
Vacation bliss in the colorful Cook Islands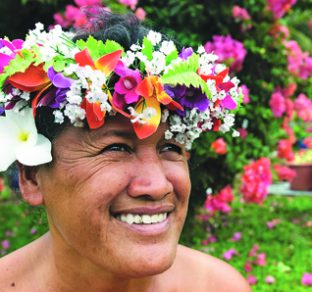 A Polynesian woman wears a crown of exotic flowers grown in her garden on the remote island of Aitutaki, part of the Cook Islands in the South Pacific.
© ChameleonsEye
Swaying in a hammock hung from coconut trees, floating down a cyan-blue channel, or swimming in a cloud of tropical fish, all I could think was, this place is too perfect to be real.
Aitutaki consists of a handful of small islands encircled by a lagoon in the middle of the South Pacific. It's the paradise you always dreamed of, but never quite believed could exist: uncrowded, inexpensive, safe and friendly, and stunningly gorgeous around, in and under the ocean.
Here's the catch on visiting Aitutaki: It's not that easy to get to. First you fly to Rarotonga, the largest of the Cook Islands — 15 volcanic islands and atolls scattered over an area the size of the Mediterranean.
There are flights to Rarotonga from Los Angeles, Tahiti, New Zealand and Sydney. From Rarotonga's open-air airport, I walked into town for the quintessential Polynesian souvenir, black pearls, then hopped on the city bus that circles the island in an hour to snorkel off Aroa Beach.
A 50-minute Air Rarotonga flight took me to Aitutaki, which has about 2,000 inhabitants and only 229 rooms for visitors, hidden among the palms. When three couples from the luxury hotel next to my cabin took out kayaks, the miles-long white beach felt outrageously packed.
Huts on the beach
For Bora Bora-style overwater bungalows at over $1,000 a night, check in at the Aitutaki Lagoon Resort and Spa. For 1/20th of that price, at Matriki Beach Huts, I got a cabin on the sand with private outdoor shower and deck exactly 19 steps from the lagoon surf. See www.matriki.com.
Bright red petals were on the bed, but manager Lisa Green also shared a jar of peanut butter, drove me to three tiny grocery stores for picnic lunch provisions, and let me pick star fruit in the garden.
For about $20, including cold beer, I had just-caught tuna steaks with homemade passion-fruit marinade at Puffy's Beach Bar, and ika mata — raw tuna cubes in coconut cream — at the Boat Shed on the eastern tip of the island.
A safe destination
I went to the Boat Shed on a rented bicycle from Matriki, and was told that if the half-hour after-dinner ride was too much, I could just park it outside the restaurant (no locks required) and any driver would get me home.
I decided to pedal instead along the pitch-black road through the fragrant night, but I cannot think of anywhere else I would have considered either option safely possible.
Even in larger Rarotonga, an airport representative told me I could safely spend a short overnight layover napping on the terminal's outdoor picnic benches after the building closed. "There may be some roosters though," was the one note of caution he sounded.
Because the Cook Islands are independent but in "free association" with New Zealand, they use NZ dollars, speak English (and Maori), and drive on the left side of the road.
Although I visited in early July, during the Southern Hemisphere winter, Aitutaki was bursting with palm fronds, in shades of mint to lime to shamrock green, and luxuriant blossoms of bougainvillea, hibiscus and frangipani.
Many of the latter ended up around my neck in an elaborate 'ei (what leis are called in the Cook Islands) after I passed by a health conference in a village hall. I was invited to stay for opening prayer, with a rippling polyphonic Maori hymn, and to return for that night's party, when we washed down a gargantuan home-cooked buffet with fresh coconut water.
Technicolor travel
Within wading distance of my bed, I snorkeled among cobalt blue starfish and Pixar-worthy creatures in silver, black or yellow patterns with names like Moorish idol, threadfin butterflyfish and lemonpeel angelfish.
During a daylong cruise to uninhabited motu — tiny reef islands — on Lisa's husband's fishing boat, I saw purple coral and football-sized, sapphire-blue clams.
But the colors were even more surreal above water: transparent over the sand bars, periwinkle in the surf, swirls of turquoise, green and aquamarine in the lagoon, while the lapis-lazuli Pacific roared against the reef.
It struck me that Aitutaki sits blissfully inside its reef like the best vacation amid real life: Sharks, capsizing waves, and cold abysses are still out there, but they can't get at you here.
For travel information on the Cook Islands, see www.cookislands.travel.
Two to four flights daily on Air Rarotonga connect Rarotonga with Aitutaki. Air New Zealand flies from area airports. The lowest early February roundtrip fares to Rarotonga start at about $2,000, and take a total of 38 to 45 hours, including layovers.
— AP