Travel
Vancouver's surprising sites and diversity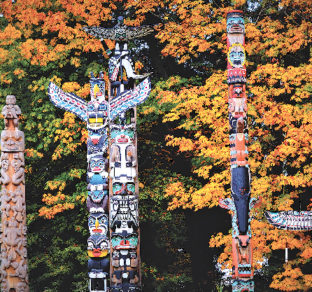 Totem poles stand in Stanley Park in Vancouver, British Columbia, representing the area's 11 local indigenous tribes, or First Nations. The huge park in the city's center is larger than New York's Central Park, and incorporates a rain forest with half a million trees.
Photo by Poemnist/Shutterstock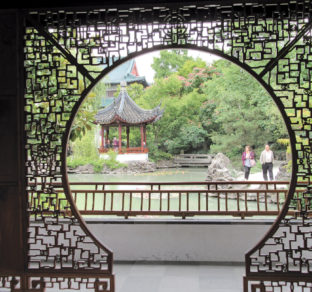 An oasis in Vancouver's Chinatown, the Dr. Sun Yat-Sen Classical Chinese Garden was built by Chinese artisans in the Ming Dynasty style.
Photo by Glenda C. Booth
The city of Vancouver in Canada's British Columbia, once a crown colony, is named for British Royal Navy Captain George Vancouver, who in the late 18th century explored much of North America's northwestern Pacific Coast.
But you can bet you won't drink tea following rigid British protocols when you visit Vancouver. You are more likely to slurp, sniff and savor aromatic Chinese tea poured delicately from clay teapots in the traditional slow-motion, multi-step, ceremonial process.
That's because Vancouver is one of the most Asian cities outside Asia. Of the 2.5 million people in the metro area, 47 percent are of Asian descent (29 percent are Chinese).
That said, Vancouver is also one of the most culturally diverse cities in the world, whose cuisine reflects its diversity. Visitors can sample four types of Chinese cuisine, Japanese steaks, sushi and sashimi, Filipino pastries, African flame-grilled chicken, Scandinavian waffles and Italian gelatos, along with local briny sea urchins, gooseneck barnacles, oysters and, of course, Pacific northwest salmon.
Vancouver is also a place to learn about Canada's indigenous peoples, with at least 11 First Nations in the metro area.
A city of striking beauty and Canada's third largest, Vancouver is a walkable city of towering skyscrapers lodged between the mountains and the sea.
Downtown is perched on a peninsula with water on three sides. Stanley Park's 1,000-acre, temperate rain forest is in the city center. Winters are mild; summers, balmy.
Canada, the big picture
City center's Canada Place is a four-block complex with an expansive esplanade and a roof resembling five Teflon-coated, fiberglass sails. A favorite pastime of visitors here is watching passengers disembark from up to four cruise ships at once, as seaplanes take off and land nearby.
On the western side is Jack Poole Plaza, the setting for a Digital Orca sculpture by Douglas Coupland and a tripod-like Olympic cauldron from the 2010 games that Vancouver hosted.
To get topographically oriented, visitors can zip up 50 stories in the Lookout Tower in less than a minute, for 360-degree views at 553 feet. In the distance looms Mount Baker, 86 miles away in Washington state, an active volcano.
For an even broader perspective, Flyover Canada offers a simulated flight where "passengers" belted in to airplane seats soar and swoop virtually over Canada's 3.8 million square miles. It's also a tactile ride as the airplane zips through "clouds" and "snow" over the Rocky Mountains, the Arctic and Niagara Falls.
While thrilling, even spine-chilling, as the "airplane" dips, turns and shoots up just before almost crashing into a mountain peak, this adventure is not for the faint of heart or those prone to motion sickness.
Gastown
For a more down-to-earth experience, wander through trendy Gastown's cobblestone streets lit by Victorian-era streetlamps.
This is basically where Vancouver started. It's named for the garrulous seaman, Gassy Jack Deighton, who found no
saloon when he arrived in 1867, so he told some workers he would give them free whiskey if they helped build one. They threw up a rowdy drinking establishment in under 24 hours.
The world's first steam clock stands in Gastown. On the quarter hour, the clock plays the Westminster chimes, and on the hour, a steam cloud spews out.
A wok through Chinatown
Next door is historic Chinatown, dating to 1858 and full of beautiful Chinese architecture, golden dragons on lamp posts and back-to-back, open-air stalls where shopkeepers hawk both everyday and exotic products, ranging from vegetables and herbs to conch meat, fish stomachs, sea cucumbers and assorted fungi. Bob Sung, our third-generation-Chinese tour guide, explained, "To know the food is to know the culture."
New Town Bakery sells 1,000 steamed buns a day, a feat that landed the shop on a New York Times travel bucket list. At Herbal Meds, shoppers can learn about natural remedies, such as how to boil down herbs and how to treat asthma with boiled and strained geckos.
The BBQ Shop sells mouthwatering roasted pigs, ducks and cured sausage. Po King has ancestral worship merchandise, including envelopes to hold money for the deceased, and incense for sending a message to ancestors.
At the Chinese Tea Shop, "any time is tea time," said Daniel Lui, who ceremonially serves white tea (aged 12 years) from a small clay pot and patiently guides guests through all the steps. He explained that an experienced Chinese tea drinker slurps the tea as a way to incorporate oxygen and bring aromatic compounds to his or her nose.
A fine place to walk off Chinese gastronomy is the tranquil Dr. Sun Yat-Sen Classical Chinese Garden, which National Geographic rated as the number one urban garden in North America.
A classical Ming Dynasty-style garden, it was built by 53 artisans from Suzhou, China in 1986. Four high walls sharply separate the garden from its urban surroundings to create a peaceful, natural setting. Limestone rocks are naturally weathered, while the terracotta tiles are bat-shaped.
Totem poles and more
The stylized art for which the Haida nation, one of Canada's indigenous peoples, is known is well represented at the Bill Reid Gallery of Northwest Coast Art.
Reid, who lived from 1920 to 1998, was one of British Columbia's most famous Haida artists. The gallery has a stunning totem topped by a raven, and wood-carved trunks, boxes and baskets.
One exhibit explains the coastal tattoo tradition whose practitioners used red ochre and Devil's club root to make thick red and black paints.
Reid delved into his art to find his own origins and honor Canada's First Nations. He argued that contemporary descendants don't know who they are or where they belong, that Christianity shamed indigenous peoples out of wearing tattoos, and that residential schools and potlatch bans (laws forbidding certain traditional ceremonies) almost squelched native cultures.
Nine totem poles in different styles, with carved animals and supernatural creatures, can be found in downtown's Stanley Park. Larger than New York's Central Park, the land was donated by Lord Stanley, the same namesake as hockey's Stanley Cup.
The park features diverse habitats, including lakes, seashore, wetlands, dense fern cover and a temperate rainforest with half a million towering trees, some 800 years old, all of which make for a wilderness escape just blocks from downtown.
On the park's 17 miles of trails, visitors might spot Douglas squirrels, river otters, beavers, seabirds, harlequin ducks and three species of loon.
Other claims to fame
The Sam Kee Building — only 5.5 feet wide, but 120 feet tall — landed in the Guinness Books of World Records as the world's narrowest freestanding building. Today, it is home to Jack Chow Insurance.
The Gothic-style, Anglican Christ Church Cathedral, built in 1889, is designed as an inverted ship with a ceiling of red cedar and Douglas fir. Its stained-glass bell tower, by Sarah Hall, is the only one of its kind in North America.
Vancouver promoters like to dub the city "Hollywood North" because it is the world's third largest city for film, television and movie production. Examples include Fifty Shades of Grey, Dead Pool and The X-Files.
In and around Vancouver, the outdoors beckons — whether for hiking, biking, beachcombing, golfing, sportfishing, skiing or ecotouring.
Between mid-November and mid-February, hundreds of bald eagles gather at Brackendale Eagles Provincial Park in one of the largest concentrations of bald eagles in the world. They hit the water's surface, scoop up salmon and devour them in a stunning example of their natural abilities.
If you go
Information: For lodging, tours and events, visit tourismvancouver.com.
Flights: Delta has flights from BWI Airport in December starting at around $330 (prices are higher in January).
Upcoming events:
November 28 to January 1, Bright Nights in Stanley Park, three million twinkling lights and a Christmas train
January 17 to February 2, 2020, Dine Out Vancouver Festival, 250 restaurants offering meals from $20 to $40 and more than 80 culinary events
January 25, Lunar New Year Festival and Parade, marking the Year of the Rat
February 22 to March 1, 42nd annual International Wine Festival, around 160 wineries from 15 countries, tastings of more than 700 wines
March 7 and 8, World Rugby Sevens Series