Cover Stories
Vets pivot to serving community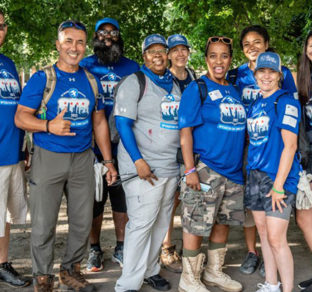 The Mission Continues engages veterans to help out nonprofits in the communities where they live.
Photo courtesy of The Mission Continues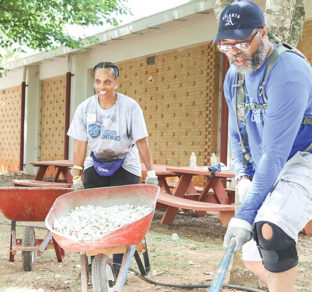 Here two vets assist in an outdoor project. "The skills I acquired during my time in the military I can use for others," said local U.S. Army veteran Flossie Lomax. Participants enjoy giving back, and at the same time strengthen their sense of purpose and connectedness.
Photo courtesy of The Mission Continues
It took three days and a lot of sweat, but last September, 15 volunteers hauled 12,000 tires out of a wooded area in a National Park site in Washington, D.C. They also pulled out sinks, toilets, rusty pipes and other debris that had been illegally dumped in the city's Fort Dupont community gardens.
In addition, they've spread compost, prepared garden beds and cleaned chicken coops. They've built playground benches and pergolas, resurfaced seesaws, handed out food, and put flags on graves at Arlington National Cemetery.
These are accomplishments of the devoted volunteers of the Washington, D.C., platoon of a nonprofit called The Mission Continues (TMC).
Launched in 2007 by a group of veterans, TMC is a national organization of 4,000 veterans who volunteer for community projects in 40 U.S. cities every year. These men and women served their country in the armed forces and are still serving, by partnering with nonprofits and others focused on low-income communities.
"We have skills, and we care," said D.C. resident Darren Thompson, who served on U.S. Navy destroyers, aircraft carriers and relief ships in places like Norfolk, Virginia, and the Arabian Gulf.
"We signed that blank check, and have that common thread in our lives — deployment and being a veteran."
Now retired from the Navy, Thompson works as a program analyst for the U.S. Customs and Border Protection agency. In his non-work hours, Thompson volunteers for community projects. He has been the D.C.-area platoon leader for The Mission Continues since 2020.
Thompson organizes one project every month, supervising 25 to 50 volunteers at each site. "We provide the bodies," he said. He sees the work is a natural extension of his military service and an opportunity to be with other like-minded veterans.
"I like to be around our brothers and sisters and others who want to do good works," Thompson said. "We also want to show that we are not broken" men and women who struggle to return to civilian life after service in war zones (though there are some veterans who do).
Indeed, helping veterans rejoin society is one of the reasons the organization was created, according to its current president, Mary Beth Bruggeman.
"The Mission Continues exists for the veterans — for the purpose, growth and connectedness they gain by continuing to serve in their communities right here at home after taking the uniform off for the last time," said Bruggeman, a Marine Corps veteran.
"By teaming up with our community partners across the country, we see this veteran-led movement making lasting impacts in communities from coast to coast."
Making a difference in DMV
Thompson's group has made an impact on many schools in the area. Washington's Ward 7 school board representative, Eboni-Rose Thompson, sings their praises.
"Working with the D.C. platoon of The Mission Continues is a partnership like no other," she said in an email.
"Often with volunteer groups, there is varying commitment and skill. No matter the project — revamping a teachers' lounge for our neighborhood elementary school or running the registration and cotton candy machine at our back-to-school event — The Mission Continues gets it done and gets it done well."
Some of the Washington platoon's 600 volunteers painted walls at Alexandria's Carpenters Shelter, a temporary home for children and adults without housing.
They installed planter boxes, hauled dirt and built vegetable gardens at D.C.'s Kramer Middle School and Sousa Middle School to help students grow vegetables.
They painted school classrooms and helped distribute book bags and school supplies to children.
In December, a group winterized a greenhouse at Fields 4 Valor, a garden in Brandywine, Maryland that provides fresh produce to low-income veterans. With better insulation in the building, managers hope to jumpstart the growing season.
TMC stalwarts also did some weeding, repaired the chicken coop, put down hay and cleaned the beehives.
Getting dirty, doing what's needed
Not all the work is back-breaking, but it can be dirty. Flossie Lomax of Herndon, Virginia, retired in 2015 from a 27-year Army career as a lieutenant colonel. With TMC, she has repainted bicycle racks, planted vegetables at schools, rebuilt playgrounds and decorated a room at a Washington, D.C., shelter.
"By the time we finished, it looked like the Hilton," Lomax said. "It was exciting to see the transformation."
Lomax especially enjoys the teamwork. She and many fellow volunteers believe their military training helped build their volunteering strengths: skills like time management, supervising others and problem solving.
"The skills I acquired during my time in the military I can use for others," Lomax said.
"It's dirty work, but it's really worth it. It's so fulfilling…because you see the end results and see how happy the recipients are."
Ron Allen of Lorton, Virginia, served in the Army for 33 years, in both active duty and the reserves. In the Military Police Corps, he worked on many U.S. military installations and on a task force in Iraq that detained suspected criminals.
The volunteer service he does today is far removed from the tumult of Iraq and law enforcement. Now retired, Allen loves going to underserved communities and harnessing local partners to assist wherever it's needed.
When he helped build a playground at a southeast Washington community center, for instance, he shoveled dirt, poured cement and built monkey bars. Other times he provides services like handing out backpacks and school supplies.
Working side-by-side with 75 teammates, Allen gained new skills as he helped clean, paint and organize a Washington food bank.
"It makes me feel great," he said. "In the military, I was always taught that it's good to bring a number of resources to the fight," he said. "We have a bigger impact when the entire community is involved."
As the name of the organization implies, there's plenty of work yet to do.
"We are not done, not by a long shot," Bruggeman said. "We have so many more veterans to reach and so much more work to do in our communities. And so, we continue."
Civilians welcome, too
While most TMC volunteers formerly served in the military, anyone — civilian or military — can participate.
The Washington, D.C. Platoon will be engaged in several volunteer projects on January 16 for this year's Martin Luther King Jr. Day of Service. For details or to volunteer for this or other projects, visit missioncontinues.org/service-platoon/WashingtonDC, or email info@missioncontinues.org.
Veterans are also welcome to apply for leadership training through TMC's Service Leadership Corps, Women Veterans Leadership Program and more. Visit missioncontinues.org.